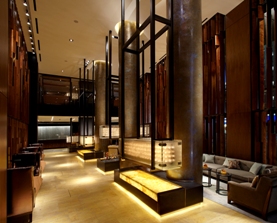 When you go to New York City and stay in a hotel, you know you're most likely getting a cramped room for the price of the average monthly apartment rental elsewhere in the country. And don't get me started about staying in Times Square--I'd rather be dropped in the middle of Carnival in Rio than battle the slow-walking tourists near 42nd Street. With all that being said, I do like to learn about new hotel openings in the city and was curious to read about the latest Trump venture, Trump SoHo. I read a few early reviews of the hotel and some blogs--most tipped to the negative side, calling the building an eyesore and saying it ruins the spirit of SoHo.
So on a recent work trip, I went to check it out and what I found was different than what I expected. First of all, it doesn't have the gilded glitz that's traditionally associated with a Trump property. (The Donald's children helmed this project, giving it a younger, earthier feel.) The inside utilizes metals and woods in the simplistic design. Beyond the hotel's understated lobby, there is a library upstairs from it (full of Taschen books), Quattro restaurant, a soon-to-open outdoor swimming pool and bar, and 12,000-square feet of event space, including SoHi on the 46th floor that's set to open this summer.
The beds in the guest rooms have leather headboards and Fendi pony-hair ottomans. I stayed in a corner suite with an unobstructed view of the Hudson and from my bathtub I could gaze at the Empire State Building (and started to turn into a prune because I stayed in the tub for so long). The room had two bathrooms (unnecessary for most travelers, but deluxe nonetheless), a living room with a sliding door to separate it from the bedroom and a square indented into the wall to give it the feel of a fireplace. Other little touches, like a cashmere throw, an amazing rain-like shower head and a Nespresso cube espresso maker gave this room a modern, luxurious feel.

Regarding the surroundings, it actually feels more like it's in Tribeca, although technically it's above Canal, so it's Soho, but with its proximity to the Holland Tunnel, that famous gateway to New Jersey, you can't help but feel a bit removed from bustling Broadway and the hip shops that crowd Spring street further east. The hotel, on the corner of Spring and Varrick, is somewhat secluded with a Starbucks across the street and a few storage buildings kitty-corner. To make nice with the neighbors, they created an open park space next to the hotel where people can sit and have lunch or listen to live music. So while it feels a bit isolated to be this far west in Soho, it's also nice to step out of the hotel and not be mobbed by throes of rushing walkers and dawdling tourists.
Photos courtesy of Phillip Ennis for Trump SoHo New York