"You really need earplugs here," said model Marissa Miller at the Twilight Saga: Eclipse premiere in L.A. last night. She added that the movie's star, Taylor Lautner, "will be deaf by the time he's 21."
Yes, it was loud: fans, from teenagers to 50-somethings, had camped out for days for the chance to stand along the carpet and greet the actors that star in the beloved Twilight series. But it wasn't just the vampires and werewolves that they fans got to see: plenty of other famous faces came to see the movie, including Laker Ron Artest, Yankee Alex Rodriguez, multiple Dancing with the Stars alumni (I counted four), and other actors/fans of the series.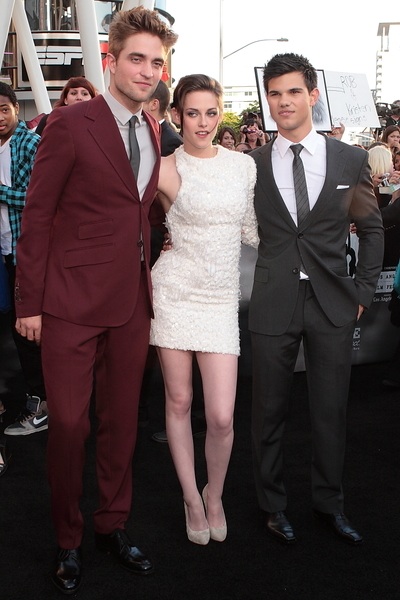 But other than Artest, who got almost as much attention as Robert Pattinson, it was all about the Eclipse cast."The energy's still here," said Alex Meraz, who plays one of the wolves. "You think it will blow over, but it hasn't," added Pattinson, who arrived wearing a rust-colored suit.
What's it like being on the red carpet? "It's a black carpet tonight, which goes with the film's dark side," pointed out Xavier Samuel, who plays vampire Riley and is new to the franchise. He said, "I don't know how to explain it--it's surreal, people yelling your name." Added Michael Welch, who plays Mike and looks a bit like a young Russell Crowe in person: "Being yelled at from a million different directions is an insane experience. It's insane, but it's fun."
Peter Facinelli, who arrived with wife Jennie Garth, had come down the day before to see the camped-out fans. "I wish we had a little more time to get to everyone," he said.
Ashley Greene talked about how she spent the day getting ready: working out, putting on music, having friends over and "then the hair and makeup brigade arrived." Fellow Cullen, Elizabeth Reaser, said it's always "down to the wire" for her when she's getting ready because of last minute fittings and important phone calls that come in at 4 p.m. Kellan Lutz apparently puts on underwear in his getting-ready process. How do we know? When a fan asked to see his Calvins (he's a model for Calvin Klein underwear), he obliged, pulling the waist-band up to show the crowd.
Also new to the franchise is Bryce Dallas Howard, who was absolutely stunning in yellow Dior. Before she spoke with me, she paused to get a piece of gum out of her bag. Her background as Hollywood royalty was evident in her poise and comfort on the carpet--you could tell she'd done this pony show before. Regarding the "fandemonium" surrounding Twilight, she said, "I understand the passion that the stories enlist." She also mentioned her own passion: "I looove Taylor--I feel like a pedophile saying that because he just turned 18."
Also cool and calm on the carpet was Ron Artest, who said he had "an intense week." I asked him who's crazier: Twilight fans or Laker fans? "Twilight fans! But Kobe is like a wolf on the court. No, he's like a black mamba." And how many more championship parades are in his future? He said he has about six more years in the NBA, so he'd like to have seven rings.
Pattinson, Lautner and Kristen Stewart were the last to arrive, and each greeted fans (who they are always generous to, signing photos of themselves and craning their necks back to take self pics). Pattinson whispered to Stewart while they posed for photos together, re-inciting the ever-present rumors that they are together, but which neither will ever address. Stewart, looking amazing in one-sleeve Elie Saab that revealed a smattering of freckles on the exposed shoulder, said she loved that they were playing the soundtrack from the movie tonight--that it helped get her in the mood. I asked her the best part of doing a premiere: "The best part is seeing those guys" (gestures to the fans behind her)--"I'm getting to know some of them now." And the worst? "Right now my feet feel like they're gonna fall off and I don't know if I'll make it [to the end of the carpet]."
Eclipse hits theaters on June 30th.