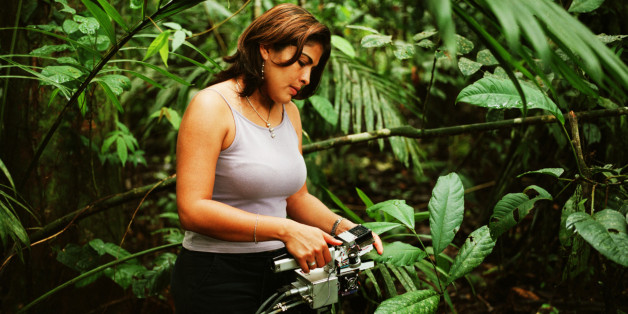 "It has probably become more dangerous to be a woman than a soldier in armed conflict." -- Major General Patrick Cammaert, former UN Force Commander, 2008
On November 6, 2014, 238 scientists -- predominantly women -- signed a proclamation entitled "A call for inclusive conservation" in the prestigious, peer-reviewed journal Nature (Volume 515, pages 27-8, November 6 2014). It was 1920 when women first got the chance to vote in the United States. Now, nearly 100 years later, women are asking for a place at the stakeholder table for conservation and sustainability of our natural resources. I am one of those women who signed this document. In my work as a conservation biologist, I often find myself as the only woman at the table -- or more likely, the lone female on a jungle expedition. Despite the many advances of women in the boardroom and on the corporate payroll, the world of conservation brokers -- especially in most developing countries -- remains male-dominated. There is nothing wrong with men devoted to conservation, but why not engage the other 51 percent of the population?
In the Nature article, our diverse group of authors argues that advocates for conservation solutions have "descended into vitriolic, personal battles in universities, conferences, research stations, conservation organizations, and even the media." In the article, we go on to explain that such debates have been dominated by only a few voices, most of which are male. Throughout the history of women in environmental sciences, gender equity has been slow to take hold. Examples include the recent allegations by women citing harassment while working on Forest Service fire-fighting crews, and young women biologists experiencing sexual assault during field research. In the latter example, Dr. Kathryn Clancy and co-authors wrote in the scientific journal PlosOne (July 2014) that 26 percent of women surveyed had encountered harassment or assault from male advisors and co-workers as part of their "career advancement." As Dr. Clancy points out, there have been several decades of silence about what goes on in the field and the laboratory, but women are increasingly speaking up. For women to become leaders in both science and environmental issues, they require equal opportunities both on their training grounds and in their workplace.
In their Foundation Report of 2013, Bill and Melinda Gates linked their goals to the United Nations Millennium Development Goals -- one of which was to "promote gender equity and empower women." If America cannot achieve this in her own developed landscape, then the opportunities for women in developing countries are likely to be significantly less. The Committee on Women in Science, Engineering, and Medicine (CWSEM) is one of the few standing committees to have the backing of the US National Academy of Sciences, the National Academy of Engineering, and the Institute of Medicine, according to Marcia McNutt, Editor-in-Chief of Science (Volume 341, 26 July 2013). Why? McNutt explains that women remain underrepresented in the STEM disciplines and on average retire with incomes that are 29 percent lower than their male counterparts. CWSEM seeks to find better ways for women in science careers to achieve their full potential, despite the demands of child-rearing and work-family balance.

If you look at photos depicting the history of America's early space missions, launch rooms were filled almost exclusively with white males celebrating big moments with a round of cigars. Fast forward to India's recently launched Mars Orbiter Mission (MOM) and you see a very different looking control room, one filled with excited women in saris, most of whom played key roles on the mission's engineering team. In stark contrast, several hundred miles away from India's innovative space-exploration team, women in rural sectors still endure daily hardships fishing in mudflats, carting water long distances, and harvesting crops with handheld tools. Our diverse world stands at a critical juncture, where the inclusion of women for science and environmental decision-making could emerge as a revolutionary force for conservation -- but we still have a long way to go.
Despite historical setbacks, the authors of the recent Nature article underscore the critical need for an inclusive approach to conserving our planet's natural resources. This new voice is not surprising, because for many generations women have been the stewards of nature -- as water-carriers, gardeners, firewood gatherers, and in turn have first-hand knowledge about the depleting supplies of natural resources in many relatively harsh environments. As the authors point out, our planet deserves a conservation ethic "diverse in its acceptance of genders, cultures, ages, and values." We need the brightest minds of both genders engaged in sustainable solutions for our planet's future. There is no time to delay.