Last week when my family and I were getting ready to drive back to Maine from New York City, we were looking for a quick and fairly healthy plant-based meal for lunch. While I was packing, my husband Tom said, "Why don't I just go over to Chipolte and grab some vegan burritos? I've heard that they have brown rice."
He brought back these gigantic burritos to which I quickly replied, "I'll never be able to eat that whole thing, does anyone want to split it? Neither my husband, nor my son, Francis, were interested in splitting anything so I decided I'd eat half and save the rest for later.
It was absolutely delicious beyond my expectations! I had to hold the Titantic burrito with two hands because it was filled full with black beans, brown rice, chopped tomatoes, shredded lettuce and sauteed peppers and onions. Large as it was, it was light, airy and deliciously satisfying.
In fact, I was pleasantly surprised and delighted to be eating this sandwich of sorts. It reminded me of the Italian sandwiches of my youth that were sold at every mom and pop corner store, in Maine, a sandwich filled with meat, cheese and sliced vegetables, including tomatoes, peppers and shredded lettuce. But, instead of the greasy ham and who-knows-what-kind-of cheese, this burrito was filled with melt-in-your-mouth black beans and nutritious brown rice. The lettuce, chopped tomatoes, peppers and onions were what transported me back to the "eating an Italian sandwich feeling." I easily ate the whole thing!
On our drive back I was pondering a conversation that I'd had a few days before with my friend and Portland Press Herald "Natural Foodie," Avery Yale Kamila. She had interviewed me for her recent article, "Go Ahead, Make The Change." During the interview we talked about how to inspire the average person who is working, has limited time, cooking skills and money to make better eating choices. I believe it's easy-to-prepare healthy food.
I thought of that burrito because it can be made at home economically with canned beans, leftover brown rice or even minute brown rice from a box (less economical, but good for starters). Everyone can shred lettuce and chop tomatoes (or, better yet, open a jar of tomato salsa) and slice and saute onions and peppers (or omit them). The ingredients can be easily assembled and wrapped individually to eat for lunch every day.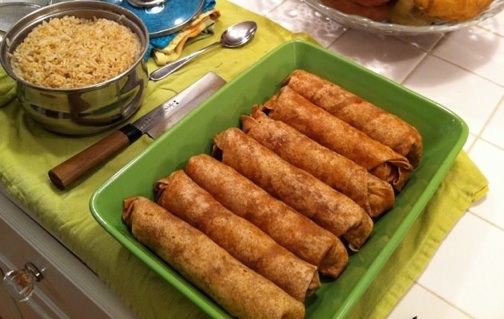 On returning home to Maine I decided to write out this very simple recipe and to show people how to steam the tortilla and assemble this delicious plant-based sandwich of sorts (see video below). When I figured out the cost per piece, they were about a dollar twenty-five each, even with moderately priced organic ingredients (I used Whole Foods 365 brand). It can be done even cheaper if non-organics are used. The bottom line is that either way, they are real whole plant-based foods, high in fiber, nutrient dense with life giving nutrients!
Last Friday I decided to take this Beloved Burrito recipe to the air on my monthly Good Day Maine segment. Steaming the tortilla didn't show up as well in as I was hoping, but I explain how to steam and wrap them in the recipe below.
Beloved Burritos!
Ingredients:
1 cans black beans, drained & warmed (I use lower sodium brands.)
1 cup brown rice, uncooked (Cook it per ingredients on package. Quick brands are OK, too, like Uncle Ben's Minute Brown Rice.)
10 mild green chilies, sliced (1 small can of pre-sliced chilies will be quicker.)
4 large leafs of romaine lettuce, sliced thinly
1 jar tomato salsa
1 package of 8 whole grain tortillas, (I like Maria & Ricardo's brand or a brand without saturated and trans fats.)
For wheat- & gluten-free tortilla review see here.
Steam tortillas one at a time for 1-2 minutes over a pot of boiling water with steam basket on top. To do this used a double boiler with steamer insert.

Fill pan 1/3 full with water. Turn heat to high, turn to medium high when water boils. Put steamer pan over pot and add the first tortilla. Leave on for about one minute or until soft, but not soggy. Remove with tongs and put onto flat surface like a cutting board or counter top.
Spoon on a layer of each of the following nutritious ingredients: brown rice, black beans, shredded lettuce, green chilies and spoon on some salsa. Roll the tortilla up while carefully turning in sides. Don't get discouraged if the first few are messy. After you do a few, you'll get the hang of it!
These can be served immediately or wrapped in foil and frozen to use as needed.
Serves 8.
Would you consider adding this one simple recipe to your lunch options this year? Would this be easy or difficult for you? If difficult, how could it be made easier? Do you make burritos? What are your creative variations? Please share them right here in my Huffington Post comments section.

For more quick & easy plant-based recipes, please sign-up for my free newsletter.