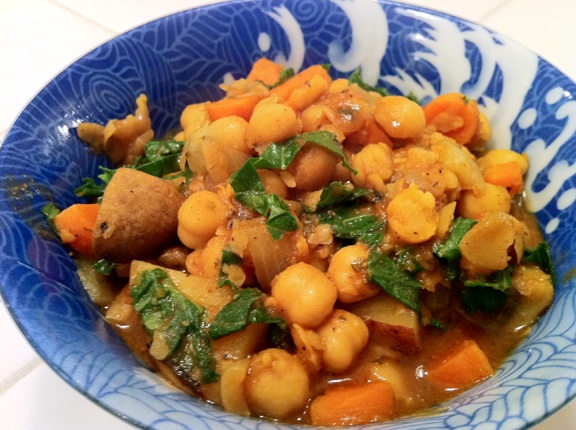 I put this recipe together recently because I felt like eating something with chickpeas and carrots and I was craving something with Indian spices. I was also in the mood for comfort food -- something quick, but satisfying.
My daughter Cammie likes curry, so I've made variations of this kind of dish many times over the years. I like to play around with different combos of vegetables and amounts of spices. For this version, I used canned chickpeas and put it together in less than 30 minutes, including prep time.
Serve over quinoa (15 minutes) or other whole grain and you've got a hearty dinner!
Indian Chickpea Bowl
1 onion, diced, or 6 cloves garlic, peeled
1 teaspoon sesame oil
1/8 teaspoon sea salt
Two 15-ounce cans chickpeas
1 Maine-grown red potato (sweet potato or rutabega can be substituted), diced
6 baby portabellas, quartered
3 carrots, sliced or diced
1/4-1/2 cup of tomato paste (I sometimes use 1 cup of leftover mild salsa)
*Spices: 1/2 teaspoon each of garam masala, coriander, chili powder, cumin and 1 teaspoon curry powder
6 leaves of curly kale, sliced thinly
Optional: juice of 1/2 lemon
* This could also be made without spices.
Saute the onion or garlic in sesame or other oil on a medium-high flame for 2 minutes. Sprinkle on salt while onion is cooking.
Add 2 cans of chickpeas (including the liquid), carrots, diced potato, mushrooms and tomato paste or salsa and spices. Bring to a low boil. Cover and simmer for 15-20 minutes, or until vegetables are soft.
Add kale, cover and cook for 5 more minutes. Turn off heat. If you're adding lemon juice, add it now and stir in.
Makes 4 servings.
Have you gone plant-based or added any plant-based options to your way of eating? Have you noticed any difference in the way you feel or have you lost weight because of this? Please share your recipes, thoughts or observations here in my comments section.
For more plant-based recipes, tips and helpful information, please sign up for my free newsletter!