Do you eat vegan, but still want to celebrate Mardi Gras? Well, this tasty traditional Mardi Gras dish of red beans and rice given to me by my friend, Crazy Dick (Rich Curole) will let you stay with your plant-based plan, instead of letting it go out the window!
Being from the Northeast, Mardi Gras is not a tradition I have experienced like my good friend Rich who was "born on the bayou." Rich told me about Mardi Gras from his experience of growing up in New Orleans:
"Mardi Gras for as log as I can remember, has always been celebrated the day before Ash Wednesday. Ash Wednesday is the first day of the Lenten Season for that year. The Lenten Season lasts until Easter Sunday, a period of 46 days. Practicing Catholics are supposed to give something up for the entirety of the Lenten Season and Mardi Gras day is the last blow out day before Catholics begin to sacrifice. Directly translated, Mardi Gras means 'Fat Tuesday.'"
Because the specific date of Easter Sunday fluctuates, so does the date of Ash Wednesday and Mardi Gras day. This year, ash Wednesday falls on February 20-second, though the Mardi Gras season actually kicks off several weeks before Mardi Gras day. Throughout the Mardi Gras season parades, balls and other occurrences are held in celebration.
To my knowledge, Mardi Gras (or the idea of Carnival) started as an exercise of appeasement for the masses, orchestrated and financed by the royals and gentry of long gone oligarchies. How better to appease your loyal subjects and exercise your excessive habits than to throw a weeks long party offering shiny trinkets for your best peasants? Not to mention the license given subjects to be publicly intoxicated during the whole thing!
It is the most affluent that finance the most beautiful and most generous modern Mardi Gras parades and celebrations, whether in New Orleans or other areas of Louisiana. Many of these organizations also require good 'ol fashion connections to belong. Many of the trinkets thrown from floats in modern Mardi Gras parades are decedents of the trinkets offered during the earliest days of Carnival. Doubloons, which look like large shiny coins, and beads thrown from modern parade floats have no real cash value. But you get to pretend you're rich while putting doubloons in your pocket and wearing the new costume jewelry thrown to you from today's parade!
Red Beans and Rice is a dish traditionally served on Monday's in New Orleans. I can't tell you how this tradition started, but I would not be surprised to find restaurants in New Orleans still serving red beans and rice on Mondays as a lunch special. The Monday before Mardi Gras day is known as Lundi Gras or "Fat Monday."
Rich mentioned that traditionally, "Red beans and rice is made with meat and the dish is slow cooked after having soaked the beans overnight. Many use ham in the slow cooking process. Smoked or Andouille sausage would typically be involved too. I might also expect butter to be used while cooking down the onions. There are many variations, but the smooth and creamy nature is a constant in Cajun/Creole style beans. This dish would almost always be served over white rice."
Crazy Dick's recipe is a much shortened, plant-based, nutritious version changed to save time, animals and your health! First of all he avoided using meat. He use brown Basmati instead of white rice, and substitute olive oil for butter. Rich really likes his Smokey Cajun Seasoning in this dish because it reminds him of red beans and rice made with smoked sausage that he had as a child.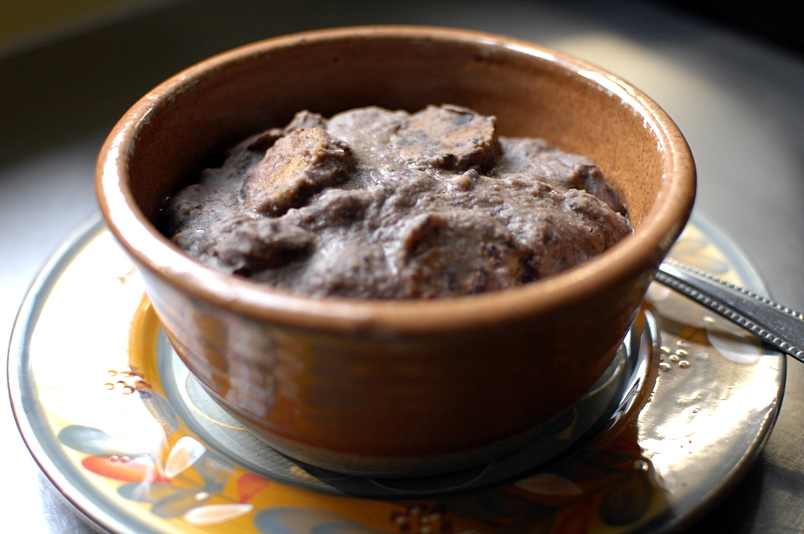 Crazy Dick's Red Beans & Rice
3 cups uncooked organic brown Basmati rice
5 cups of spring or filtered water
2-3 teaspoons organic olive oil
1 large organic Vidalia (or other) sweet onion, chopped
Crazy Dick's Smokey Cajun Seasoning (or non-smokey)
2-3 cloves organic garlic, minced
4 cans organic kidney (red) beans (no salt added)
1 12-ounce package Field Roast Apple Sage Veggie Sausage
To cook brown rice: Add water to separate pot and bring to boil. Add rice and decrease heat so rice begins to simmer. Brown Basmati will take around 50 minutes to cook, so best to complete this step first.
Chop the sweet onion and deposit the pieces into a cast iron skillet or Dutch oven. Add just enough olive oil to cook and caramelize the onions. Set heat to medium low and adjust as necessary while onions are cooking.
Add Crazy Dick's Smokey Cajun Seasoning to the cooking onions. Start with 2-3 level teaspoons. You should witness a definitive color change in the onions. If the color change is too faint you may need to add more. If the color change is too great, be prepared to eat some pretty spicy beans!
Peel garlic and place in garlic press. Press garlic into the Dutch oven full of onions and spices. Stir thoroughly until garlic is evenly distributed. (Take a moment to sample the aroma.)
Remove sausages from their casings (Filed Roast casings are plastic and must be removed before cooking) and slice into ¼ inch thick pieces. Add sausages to the cast iron skillet or Dutch oven, and stir thoroughly into mixture. Avoid stirring sausages too vigorously as not to break them into small pieces.
Open four cans of bean and drain the liquid from two of the cans.
Add the remaining two cans that still have their liquid to the onion mixture after the onions appear fully cooked.
Add the one can of drained beans to a food processor or blender along with about one tablespoon olive oil. Blend until smooth and creamy. Add them to the mixture in the Dutch oven.
If satisfied with the consistency of your dish, simply add the fourth can of whole drained beans to the Dutch oven. If you desire a thicker, smoother red bean experience, blend as much of the remaining can as necessary to achieve the desired result.
Any whole beans remaining from the fourth can? Simply add them to the dish and bring beans up to desired temperature for serving.
Ladle beans on top of generous portion of brown rice.
Makes eight servings.
Now you're eating Cajun! Enjoy!
For more quick and delicious plant-based recipes and tips, please sign up for my free newsletter.

CORRECTION: An earlier version of this article incorrectly identified Ash Wednesday as a Catholic Holy Day of Obligation.