Looking to get healthier, lose weight and feel better, but you don't know where to start?
As New York Times bestselling author Kathy Freston demonstrated on Oprah this week, it need not be a daunting task! Kathy helped Oprah and 378 Harpo staffers "go vegan" for a week, and it was a success story for many at the studio. I love Kathy's approach to trying a vegan diet: She suggests leaning into trying to make positive changes. Try a Meatless Monday or commit to a couple of vegetarian/vegan meals per week, for starters.
You can start this weekend with my delicious vegan version of a Super Bowl favorite: "Meg's Best Vegan Chili." If you have diehard meat-eaters in the family, it's not a problem -- add cooked beef to their portions! I agree that leaning in is what it's all about: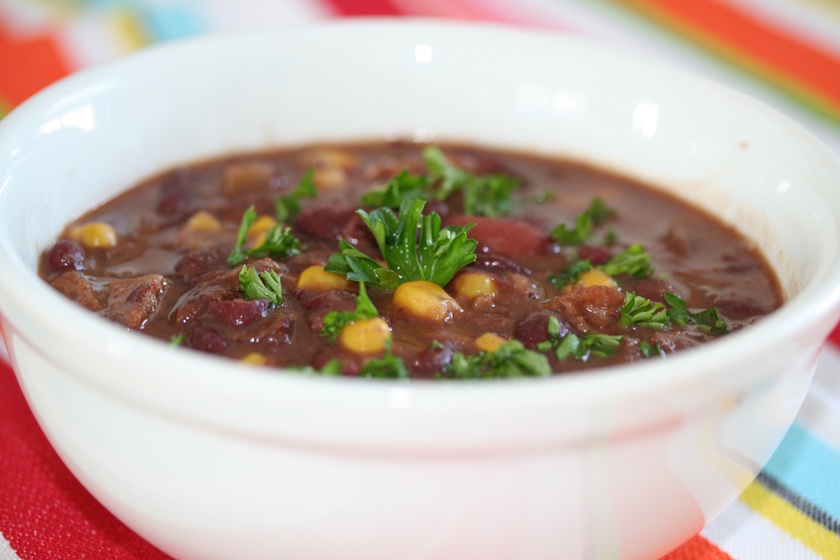 Consider serving my Best Vegan Chili over cornbread, polenta or brown rice, with a leafy green or side of other fresh vegetables.
Meg's Best Vegan Chili
2 cups kidney beans, soaked overnight, then drained

Optional: 1-inch piece kombu (a sea vegetable that aids in digestion of beans and adds minerals)

1/2 teaspoon sea salt

1 onion, diced

1 teaspoon olive oil
1/2 of 10-ounce package organic frozen corn (or fresh!)

1/2 teaspoon chili powder
1 teaspoon cumin
1 teaspoon paprika

1 cup salsa

Optional: 1 cup chopped seitan (a yummy wheat-gluten product)

1 tablespoon tamari soy sauce

1/4 cup fresh chopped parsley for garnish

Put beans in a soup pot with enough fresh spring or filtered water to cover. Add kombu (no kombu, no problem!). Bring to a boil on high heat, cover, reduce heat to low and simmer for 1 hour.
After an hour, check beans for tenderness. If not, cook another 15 minutes or more as needed. If tender, add sea salt and cook for 10 more minutes.
While the beans are cooking, sauté the onion in oil in a skillet over medium-high heat until translucent. Add the corn and stir until heated. Add spices if desired and cook for 3-4 minutes while stirring.
When the beans are done, add the onion mixture to the beans, along with salsa, chopped seitan, and soy sauce. Cook 5-10 more minutes. Add parsley to garnish.
Serve warm over cornbread, polenta or brown rice with a leafy green or side of other fresh vegetables. Serves 6.
****
Want an even easier chili for Super Bowl Sunday? Here's my plan B version. Like most people, I'm always looking for a plan B! On vacation this week, I cooked a packaged chili bean mix in our small efficiency kitchen. I found Lysander's Soup Mix: Bean Bag Chili at a health food store. It's SO easy because the beans - pinto, kidney and navy - (approximately 2 cups total) come in a plastic bag with a seasoning pack and directions.
For people just starting with cooking or just starting to lean in to eating healthier, it couldn't get much easier. I've found that for many people, too much thinking/figuring can lead to inaction!
Beans are usually soaked overnight, but this package gives directions that tell how you can bring them to a boil, turn off heat and then just let them sit in the hot water before cooking for an hour. The cook time is longer than what most Americans are used to, but can be easily done while you're doing other things around the house. Extra veggies can be add if desired. We added already-peeled garlic and sliced cherry tomatoes.
You could serve this with a steamed green and a super-quick whole grain. Try packaged quinoa (keen-wah), which cooks in just 15 minutes.
Do you have an easy healthy plant-based favorite? Share it here in my comments section. Would you consider leaning in to this way of eating?
I'm convinced that healthy vegan or plant-based diets need not be difficult! For a spectacular Super Bowl Super Dip, sign up for my newsletter and see my new cookbook.