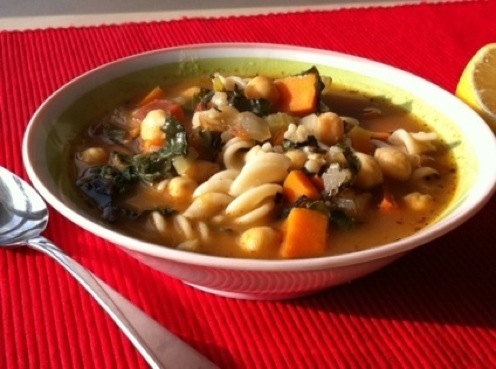 I cooked up this satisfying soup a few weeks ago and posted a photo and the ingredients on my Facebook wall. A few friends asked for the recipe, so this week I decided to make it again. This week's version is wheat- and gluten-free.
Over the holidays, I spent time with my 21-year-old daughter Cammie, who is now following a wheat- and gluten-free diet for a slight hypothyroid condition. Dr. Mark Hyman suggested this to her. Sometimes a wheat and gluten sensitivity can make a body attack its own thyroid (among other things). Dr. Hyman calls this the "silent killer."
Because I eat a whole-foods, plant-based diet with a minimal amount of processed foods, it isn't a huge stretch for me to remove wheat- or gluten-containing ingredients. It didn't take a lot to adapt this recipe. I used brown-rice pasta instead of wheat pasta. Then I examined the vegan boullion I bought to see if it's gluten-free, and it is (both wheat- and gluten-free). It does have maltodextrin, but on Wheatfree.org, it explains this as not having wheat.
I'm happy to support my daughter in this wheat- and gluten-free way of eating. For me, it's just another way of tweaking the plant-based way I eat. One benefit I've already noticed, after just a little over a week, is that I've lost a few pounds! I'm guessing this is from skipping wheat bread and sticking to whole grains and sometime brown rice pasta. This also eliminates many of the health store-bought "treats," so no more extra calories I don't need. I'll make homemade treats with brown rice flour if I really want something sweet. Or, I'll have a piece of fruit. What have I got to lose? A few pounds? I'll take it!
Watch how easily this can be made on my Good Day Maine cooking segment. Part one is here. Part 2 is below.
Hearty Winter Soup
1 teaspoon olive oil
1 onion, diced (or 3 cloves garlic, minced or 1 tablespoon pre-chopped garlic from jar)
1/2 teaspoon sea salt (optional)
1 teaspoon "The Blend," by Maine Accent (or other all-purpose seasoning)
4 ribs celery, diced
1 large carrot, diced
1 long burdock root, diced
6 ounces (1/2 jar) salsa (I used Drew's organic, mild.)
1/4 cup arame (dried sea vegetable)
3 cups canned beans (I used Eden brand chickpeas -- BPA free -- this time, but frequently use frozen Maine pesticide-free yellow eyed beans (that I previously soaked overnight, cooked and froze in baggies in 3-cup portions.)
1 cup "quick" brown rice (I use Tru-Roots, organic germinated brown rice, which cooks in 30 minutes.) If you use leftover brown rice that is already cooked, use 1 1/2 to 2 cups.
1 medium or large yam, diced
1 cup spiral brown-rice pasta
1 teaspoon vegan bouillon, diluted in 1 cup of hot water. (I used Vogue Cuisine's instant VegeBase, which is low sodium & gluten-free.)
2 cups pre-washed spinach
12 cups hot water (I use spring or filtered water.)
Heat olive or other oil in a soup pot on medium-high heat. Add onion, spices and optional sea salt and sauté for 1-2 minutes. Add celery, carrot and burdock and sauté for 5 more minutes.
While vegetables are sautéing, heat water on high in kettle on stovetop.
Add salsa, arame, beans, brown rice, yam and 9-10 cups of the hot water. Bring to a boil, turn to low and simmer for 30 minutes, covered.
Dilute vegetable bouillon in 1 cup of water, stir to mix, then add to the soup.
After 10 minutes add the pasta, and stir. Add up to 12 cups of hot water as needed. During the last 5 minutes, stir in spinach.
Serves 10-12.
If you're serving this soup the next day, add chopped parsley as a garnish to add color.
Do you follow a wheat- and gluten-free diet? Do you follow a plant-based way of eating? Or both? Tell me about your experiences with this here in my comments section.
For more healthy plant-based recipes, tips and other helpful information, please sign up for my free newsletter.
For more by Meg Wolff, click here.
For more about diet and nutrition, click here.