My husband loves any dish with white beans in it. If there is added pasta, that's even better. Having traveled to Italy over the years, Tom frequently enjoyed bean dishes like pasta e fagioli made with white cannellini beans, or just simple white beans served with a drizzle of olive oil as a small side dish. Because of this, white beans were the perfect bean to introduce into my family's meals.
This plant-based way of eating all start for me and my family 13 years ago because I wanted to increase my chances of survival from advanced breast cancer. I'd eat pretty simple, very low-fat yet delicious nutrient dense meals, based on whole (and some cracked) grains, beans and lots of vegetables. I slowly incorporated this way of eating into my family's meals, but with their portions I added a little more high quality oil and some spices. I started looking at bean dishes that they already sort-of liked -- because we didn't eat a lot of beans at that time -- and incorporated these into other dishes.
If you're looking to add more plant-based meals into your household, start with something your family will already eat, like burritos with black beans and rice, or maybe pinto beans. Begin your plant-based additions by making a vegan burrito dish, or another dish using blacks (and corn bread) like Corn Pona Lisa -- always a family favorite at my house -- from my A Life In Balance Cookbook.
This month we're in Los Angeles, where it's pretty easy to eat out and get delicious and healthy vegan food, but we're still eating in some and taking turns making simple meals. Tom bought a couple of packages of dried beans -- cannellini was one -- and I decided to make something the following day, so I thew a couple of cups of dried beans into a pan, covered them with water and soaked them overnight so that I could cook them the next day.
The following day when I made dinner, I cooked the beans for an hour (canned beans could be substituted). I decided to use ingredients that we had on hand, ingredients that Tom likes: bow tie pasta, onions, carrot, half a jar of water packed artichokes and a third of a jar of capers. Tom ran out to get some fresh parsley. (Parsley is worth adding as it's a great detoxifier!)
The final casserole-like meal was one that I will definitely make again. Tom gave it his seal of approval by going back for seconds and then having the leftovers for lunch the next day with a fresh green salad. We ate this meal with a steamed green and another vegetable at dinner, but it could be a complete meal as is.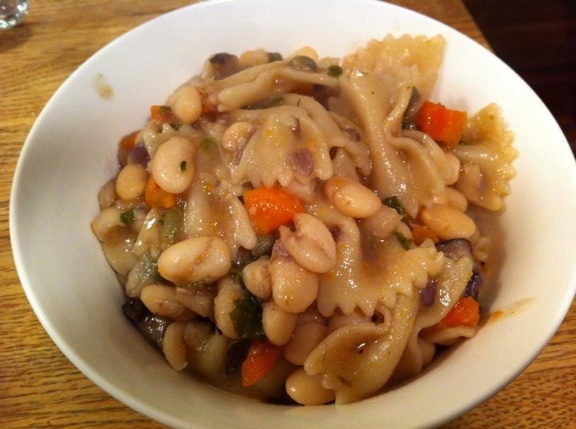 Bow Tie Pasta E Fagioli
1 onion, chopped
pinch of sea salt
1 carrot, chopped
1 teaspoon extra virgin olive oil (this may be omitted & 2 tablespoons water substituted for an oil-free diet)
1 1/2 cups dried cannellini beans, which is 3 cups cooked (2 cans beans could be substitute )
12 oz. bow tie pasta, cooked per instructions on package
1/2 cup water packed artichokes
1/3 cup capers
Optional: Garnish with 1/2 cup of fresh parsley, chopped
Heat a cast iron skillet on medium high, add oil (or water), chopped onion, sprinkle with a pinch of sea salt and saute for 1-2 minutes. Add carrot and saute for another 2-3 minutes.
Add cooked beans (or canned), cooked pasta, artichoke hearts and stir. Turn to low and warm for five minutes.
Stir in capers and half of the parsley. Garnish top of dish with remaining parsley when serving.
Makes 4-6 servings.
Is there a type of beans that your family already likes? White beans, like the cannellini or Navy beans? Black or pinto as used in burritos? Have you added some that you know they already like to their meals? Please share your successes here in my comments section on the Huffington Post. I love hearing from you!
For more plant-based recipes and tips, please sign up for my free newsletter!

Please visit my web site to learn more.