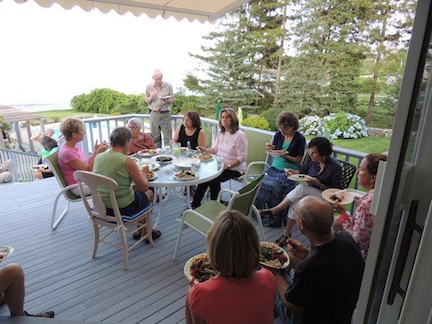 This week I held a vegan/macrobiotic/plant-based potluck at my home. I call it this today, but it was just a macrobiotic potluck when I started hosting potlucks about 14 years ago. I usually offer to have a gathering of this type once or twice a year because it is such a pleasurable experience! I love seeing my friends who also live this lifestyle, connecting with them and eating together in this delicious way.
Over time, scientific research has shown this way of eating to be very healthful and life-giving, so it is now extremely popular, with more and more people following similar plant-based philosophies. It has also become more inclusive and people are joining in, whether they are following a macrobiotic diet for serious health issues or just leaning into this vegan way of life because they desire to consume less animal foods, while increasing their vegetable intake.
I've been writing about ways to find the support needed when going through major life changes. I help people who are transitioning to a healthy plant-based way of eating make the necessary moves that help change old patterns of behavior, while getting much-needed support when challenged by serious health conditions; and the gathering I hosted over the weekend reminded me just how valuable a potluck can be to maintaining such a lifestyle change. By surrounding ourselves with other like-minded individuals, this healing journey can be both fun and successful. My potluck reinforced that no one need do this alone -- and should not!
When I first began my macrobiotic diet (hoping to increase my odds against the cancer returning within a year as had been predicted by my doctors), I started taking cooking classes to learn more about preparing the foods involved in this lifestyle change. Those classes were also where I met many others in the same boat as me, trying to either get healthy or maintain their current health. I was encouraged to find that I was not alone in my choice to go plant-based. I felt the support of the others and I looked forward to these classes.
When the classes finished, our teacher suggested that we organize monthly potlucks to help us keep in touch with each other. She knew the importance of staying connected and led by example, occasionally hosting a potluck at her own home. Soon, other students began hosting them at their houses or apartments, and eventually she became the inspiration for my own first potluck. I saw how she was able to set a date, invite people and not worry that things might not be perfect. If she didn't have time to clean her house after work (or after taking care of her then 2-year-old child all day), she didn't worry! She just did it and accepted life with all of its imperfections.
My teacher taught me what it is to truly live. She wasn't worried about people coming over and judging her, instead, she went with the flow and it was her relaxed manner that made her potlucks so fun and enjoyable. Her example gave me permission to "not be perfect," as well. If Lisa could do it, I told myself, so could I.
I dropped my fear of judgment (mostly my own over not being perfect) and I just started planning. My hair has falling out, I was actually on one leg because my prosthetic leg wasn't fitting well due to weight-loss, and yet -- it was wonderful! A number of new friends come over. I invited someone to speak (about his business of harvesting seaweed) and we all enjoyed eating, talking and then listening to something interesting that we knew very little about. I managed to arrange and host a potluck and relax and enjoy it -- even though I was still doing chemotherapy and things in my own household were far from perfect. What a fun, supportive and encouraging evening!
The benefits of a potluck are many. These get-togethers are a great way to see how others make major life changes work in their own lives. They provide time to reunite with old friends and meet new ones, to be inspired and made hopeful through the sharing of each others' successes and -- best of all -- to taste everybody else's food and try new recipes, a colorful feast of a multitude of whole, plant-based dishes, while preparing only one dish yourself! How perfect!
Your house, on the other hand, does not have to be perfect, nor large. If you have a small space, just choose a warmer month and allow people to over flow onto your porch or into the yard. Or -- plan a smaller group! Some of the best potlucks I have ever shared were held at small apartments. I can immediately think of two, really wonderful and right up there on my list of favorite potlucks. Both were small, second-floor apartments and the thing I enjoyed most was the genuine warmth among those attending and the hope it gave me. I highly encourage you to get out of your comfort zone and host a potluck -- or simply go to one -- but either way, get out of your comfort zone and truly live!
Three or four other people can be enough for a simple potluck. You need not be a gourmet chef since you only need to make one simple dish. (And to make dinner, you would do this anyway!) So, create your own community of support and nourishment. Plan the date and send an email reminder -- or create a Facebook event and invite your local friends. It really isn't necessary to assign certain dishes... Everyone always seems to bring the perfect dish.
Support yourself by finding the things and people -- the solutions -- to keep you on your own path to glowing health. You are worth the effort!
How do you get the support you need to maintain your plant-based lifestyle? Have you taken a cooking class? Attended or hosted a potluck? How did it go? Please share your comments and stories below in my Huffington Post comments section.
Please sign up for my free newsletter.
For more by Meg Wolff, click here.
For more on wellness, click here.