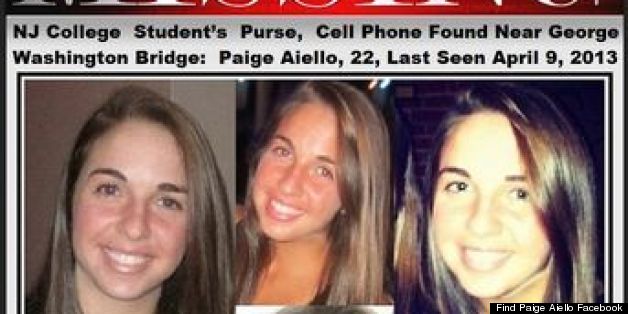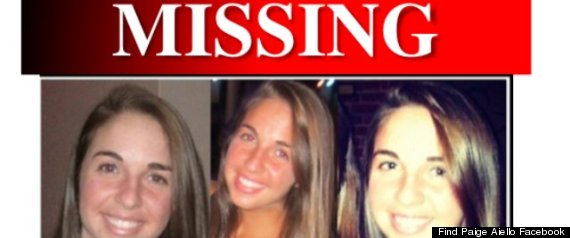 When a passerby found my friend Paige's wallet, keys, and cellphone near the George Washington Bridge in April, police began a missing person investigation.
Four weeks later, with no body recovered, a suspected suicide has turned into a real-life mystery.
And as a HuffPost Crime intern, I realized something: If I reported on this, it would get a lot of hits.
Because here's a sad truth: Paige makes for a good story. A tennis captain at The College of New Jersey heading to law school. An overachieving daughter. A pretty girl gone two days before turning 22. A possible suicide.
The headlines write themselves.
Here's a sadder truth: If I didn't know Paige, I might view the whole thing as entertaining. It'd be another Dateline episode, a new Nancy Drew novel, a water cooler conversation, an item on HuffPost Crime.
But it's not.
Instead, I've watched my town, Hillsborough, N.J., and Paige's closest friends enter a state of confusion -- a weird, uncomfortable mix of feeling sad and feeling numb.
And so, when the initial shock of it all wore off, I came to work with intentions of plastering Paige's face across The Huffington Post.
We'll write up a quick article, I thought. We'll make a new missing poster. That's the right step to take. That's what's sensible.
After all, missing posters make sense.
They relay facts. They reek of practicality. Paige stands at 5-foot-3. Paige has brown hair. Paige has a pretty smile. This is how a stranger can identify Paige.
The problem is, going missing doesn't make sense.
A missing poster reminds us that someone who was once there is gone. But a height and weight and hair color don't make a person seem worth finding.
And statistics don't remind us that a slew of someones is missing that someone.
We forget that a mother and father and sister loved Paige's 5-foot-3 when it was a 4-foot-2 and a 2-foot-5. We don't know that one time, Paige cut that long, brown hair for Locks of Love, even when her friends chickened out.
Missing posters don't tell you that.
Cropped pictures of Paige crop out more than pixels. They cut stories that make her Paige. They sever candid moments and memories. They erase her four best friends - a group of girls who've stayed together since they were freshmen in high school. They crop out the loyalty and commitment it took to maintain that friendship through high school's lunch table gossip and cattiness and, later, college's distance. Not everyone can achieve that.
Paige has.
Missing posters don't tell you that.
To strip Paige down to numbers and individual photographs makes it difficult to remember that she is a real-life, cannot-be-duplicated person -- a person who makes her friends mixed CDs of her favorite, underground songs -- a person who, with her mom and sister, starts planning Thanksgiving dinner in September -- a person who, senior year of high school, would whisper to me what happened in "Great Expectations" when I didn't do the assigned reading.
That's the Paige everyone wants found.
But before someone you know disappears, the "missing" concept seems foreign.

That people vanish everyday is a harsh reality. A harsher one is that we're desensitized to it. We've become immune to the bold, capitalized MISSING. We see the signs over and over again and maybe think, "How sad," but then we move on. We keep on driving. We continue scrolling down our Facebook newsfeed.
When you become the person hanging the poster up, that changes. You want to scream at each person that walks by and say, "Stop! My friend is gone! Don't you know what that means?" But they don't.
And that's okay -- empathy is hard to grasp in these situations.
When someone dies, that's not always the case. A child can look at you and think, "My dog passed away, so I know what death feels like." An adult can say, "I've experienced this before. Here's how I coped." Self-help books will tell you, "Death is a natural part of life."
But going missing isn't.
When a friend or a child is gone you're left without answers. You're stuck. You find yourself clinging to a hope that shifts between motivating and immobilizing you. And it's made harder when others cannot empathize.
Here's the thing -- I'm not asking you to change dramatically. You don't need to cry each time you see a missing person poster, or lose sleep over Paige, or stop watching mystery television shows. And I'm not calling for the abolishment of missing posters, either.
But maybe you can remind yourself that behind each missing person are those doing the missing. Maybe if you see a photo or article of someone you don't even know, you'll be more inclined to share it. Maybe you can spread the word about Paige.
It's important to communicate identifiable traits, but it's more important to remember the traits that cannot be constrained to a poster. Because that ensures that a missing person is not forgotten, and the urgency to find them doesn't fade.
That ensures that people like Paige have a chance at being found.
"Find Paige Aiello" Facebook
"Find Paige Aiello" Twitter
Peach Prayers For Paige
UPDATE: It is with a heavy heart that I tell you that authorities recovered Paige Aiello's body from the Hudson River on Wednesday, May 8. She was pronounced dead on the scene. Paige's sister, Erin, confirmed the news to NJ.com on Thursday. Thank you to everyone who took the time to read Paige's story. Her friends and family truly appreciated everyone's effort to spread the word.
PHOTO GALLERY
Paige Aiello