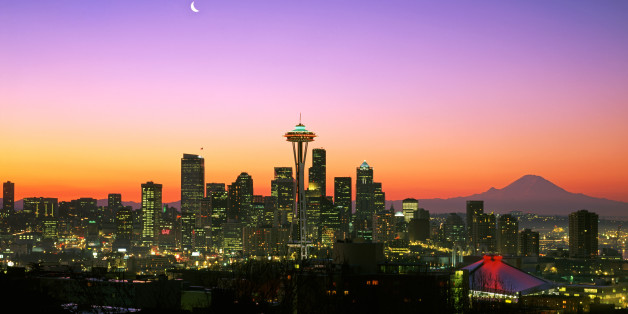 My first time to the city of Seattle was two weeks ago. A best friend from undergrad was there for a conference and I agreed to fly up from the Bay Area to see her. From drought-ridden California, the greenery of the drive from the airport was refreshing, the skyline painted into the ocean behind it. I had joked that this was beyond just a visit to see her -- it was actually a caffeine pilgrimage to see the first Starbucks. It was an opportunity to better understand Sleepless in Seattle and to see the Chihuly Gardens. On our walk to dinner that night, the group discussed work and I was overly focused on not getting the heels of my boots stuck in grates on the ground. As we came past restaurants and stores, I looked up to see a man standing across the street from me holding a cardboard sign.
NATIVE AND HOMELESS
He looked to be in his 30s and had a scar etched into his face that stretched from his right brow down to his cheekbone. His black hair was cropped on top but had length to it in the back. The "I" in "NATIVE" was a drawing of a feather.
I stopped walking. For a moment, I felt he was the only other person on the street beside myself. Everything slid back into real time as I reached into my recently torn wallet, pulling out crumpled bills and dropping change into my bag. Without counting the amount, I veered from the group. We made eye contact, and he was ready to take my hand as soon as I reached him. We held a grip with the bills crushed between our palms. I nodded my head and watched his lips move. I met my friend on the other side of the sidewalk.
"...I actually don't... know how much I gave him."
"What did he say?"
"...Thank you and God bless."
At dinner, I thought about him. I thought about our eye contact. I thought about the amount I had handed him. I guilted myself for thinking about the amount I had handed him. I couldn't get his look and the sound of "God bless" out of my mind. On our walk back, I looked for him. I wished he were standing in the same place so I could see him again; try to offer to buy him food. Tell him I was Native. Tell him I was NATIVE AND... something. Anything. Proud. Happy. Hopeful. Not treat him like a statue. Not act like I didn't know what to do. Tell him, I wish I could change your circumstances. Tell him, here's all the change I have.
NATIVE AND HOMELESS. Not HOMELESS AND NATIVE. The most important piece of his sign identity, the first word, was that he was indigenous to the ground he stood on. I thought about him drawing the feather on the "I". I thought about where he was from. If I could go back to myself in that moment on a Seattle street corner, I would have asked: what is your name? What tribe? What brought you here? I would have told him, I see you. I hear you. I would ask him if, together, we could cross out the "LESS" on his sign. I would tell him this land was home to him more than anyone else on this street. Spiritually. Traditionally. Not Native and Homeless, but Native and Home. God bless this land we have loved, as Native people. Not the American way. Not America. Mostly, I wish in that moment, that I would have told you "thank you and god bless you" too. I wish somehow you could know how much I will always remember you, and tell you, stay Native and Proud. Native and Fighting. Native and Safe. NATIVE AND HOME.