What do New Yorkers love most about New York? The new part.
That could be why Aspen Santa Fe Ballet -- which runs this week at The Joyce -- has developed such a solid fan base among Big Apple balletomanes.
It's not that the company is particularly new anymore. Founded by Jean-Philippe Malaty and Tom Mossbrucker in 1996, the contemporary ballet company has lived long enough to see a whole generation of dancers rise and retire. Nor is it really a novelty in New York: In addition to making several appearances in the Fall for Dance Festival, ASFB is now marking its seventh season at The Joyce in 14 years -- a record for an out-of-state troupe.
"Years ago, when no one had heard of us, The Joyce was willing to give us a chance," said Mossbrucker, the company's artistic director. "Now, it's remarkable how often we meet people in our hometowns of Aspen and Santa Fe who recognize us from our performances in New York."
So what's given ASFB staying power in a city obsessed with all things new? According to Martin Wechsler, director of programming at The Joyce, it's "one-of-a-kind programming that you can't see anyone else perform."
ASFB, as it turns out, is just as passionate about the cutting edge as New York is. While many companies rode out tough economic times with tried-and-true programming, ASFB was busy tapping both established and emerging choreographers to create new works, which now form the bulk of its repertory.
"It's no surprise that people like new things. It's human nature," Mossbrucker said. "By nature, dance is about movement; it must not be held static."
To date, ASFB has commissioned almost 30 works from more than a dozen international choreographers, including such venerable names as David Parsons, Moses Pendleton and Dwight Roden, as well as the more recently up-and-come Alejandro Cerrudo, Jorma Elo, Nicolo Fonte, Helen Pickett, and Cayetano Soto, to name a few.
In the triple bill to be presented at The Joyce, new works by Fonte and Soto represent the choreographers' eighth and fourth collaborations with ASFB, respectively. Jiří Kylián's "Return to a Strange Land" rounds out the program.
"We find the commissioned work to be such a good fit for our company, since it was created for our specific dancers and exploits their individual strengths," Mossbrucker said. "Over the years, with [Fonte and Soto] having created multiple works for us, they have defined our unique aesthetic, and have become part of our family."
Fonte in particular is credited with shaping ASFB's aesthetic, which company literature describes as having "a European sensibility, glossed with American ebullience." A native of Brooklyn, Fonte spent most of his early career with Les Grands Ballets Canadiens and then Nacho Duato's Compañia Nacional de Danza in Madrid, where he received his first ASFB commission in 2000.
"At the time, it was a small company that was in the process of figuring out its identity in the broader American dance scene," Fonte said.
Fourteen years later, the ten-dancer troupe is still small, but according to the choreographer, this has been a source of strength. With a leaner infrastructure, and roots in the adventurous arts communities of Aspen and Santa Fe, the company has managed to firmly establish itself on a foundation that most larger organizations would consider too risky.
"It's done an amazing job of fulfilling its role as a company geared primarily to the creation of new works," Fonte said. "They've been very ambitious in the right way. It's a small company, but that's allowed them to go big on ideas."
Repeat commissions have also allowed the choreographer to go further in his own ideas, he noted.
"When you have the chance to create several works on the same company, you get familiarity," he said. "But it's not just about familiarity -- you have to figure out what's going to be different the next time around. And when you figure out what's going to be different, you grow as an artist."
So what's different about his new work in the Joyce program, "Heart(s)pace"?
"It's bright!" Fonte exclaimed. "A lot of contemporary ballet is quite dark -- dark in tone, and literally dark. 'Heart(s)pace' is lighter. My starting point was compassion -- what it means, and how to convey it on a physical level."
ASFB performing Cayetano Soto's "Beautiful Mistake," photo by Rosalie O'Conner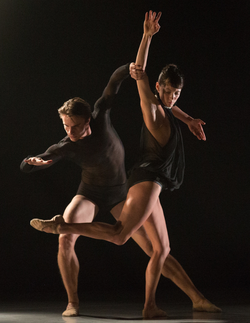 Meanwhile, the Barcelona-born Soto said that his work in the program, "Beautiful Mistake," was more personally inspired.
"When I started working, I said to Tom and JP: I'm aware that I made two huge mistakes in the last year. I need to work them out," he explained. "I never said what they were, but I allowed the dancers to understand what I was feeling at the time. All that I was going through, all those scary moments -- they're universal as well."
Soto freely admits that choreography is a form of psychotherapy for him, but "beautiful mistakes" are also a major part of his creative process.
"You have to allow yourself to make mistakes," he said. "Sometimes when you're creating, something happens that's unpredictable and it's even better than your original idea."
Now living in Munich, Soto is one of Europe's most sought-after contemporary choreographers, but he enjoys the new expressions his ideas find in American dancers.
"I like working with American dancers -- they try harder; it's their life there," he said. "I think that they see that you're from Europe and they want to prove that they can do your style as well. I never have confrontations with them; they really believe in me. They have more heart."
Trust and open-mindedness may characterize American dancers, but these traits can be harder to come by in American directors, Soto noted. While European companies generally have more appetite for artistic risk, thanks in large part to generous and reliable public funding, many American companies favor a more conservative approach that they believe reflects audience preferences.
"Not Tom and JP, though. They are so uncomplicated," Soto said. "They give you all the facilities and resources to produce; a carte blanche. It's like a little family -- they trust you and that trust is really important for creation."
Aspen Santa Fe Ballet is running at The Joyce from October 22-26. For tickets and more information, visit www.joyce.org.