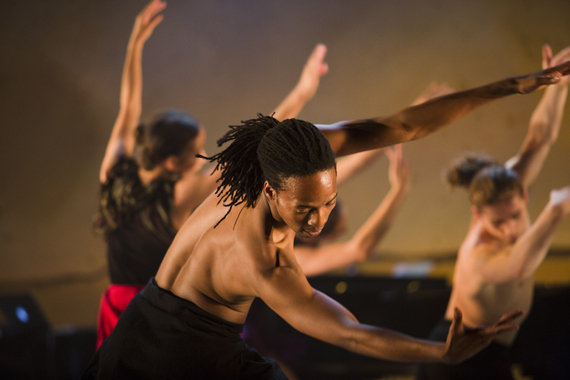 Photo by Giulietta Verdon
Twenty years of democracy in South Africa is ample reason to celebrate the coming-together of cultures. And that's what Inala, which kicked off a three-week national tour on Wednesday at London's Sadler's Wells, is clearly all about.
Described as "a Zulu ballet," Inala combines the soulful sound of Zulu choral group Ladysmith Black Mombaza (LBM) with ballet, contemporary and African dance. The cross-cultural intention is undoubtedly sincere: the Sisters Grimm production was born of composer and producer Ella Spira's "passion for and love of African music." According to a program note, co-producer and Royal Ballet dancer Pietra Mello-Pittman gave LBM its first taste of ballet in a performance at Covent Garden. In response, LBM invited the composer and dancer to South Africa to collaborate on the project that would become Inala.
But however genuine the intention, the result is hit-or-miss. At its best, Inala is a transporting showcase of great talent, spanning diverse disciplines, cultures and traditions. Hailing primarily from South Africa and the UK, the classical and contemporary dancers are well matched to the legendary choir in terms of both skill and soul. Costumes by Georg Meyer Wiel -- particularly his lavish avian headdresses -- also inspire with colorful tribal, mythological and natural influences.
Too often, though, Inala is simply trying too hard. Percussion provides a rooted bass line to LBM's heavenly harmonies, but the piano and strings make the sound a bit poppy -- like "LBM on Broadway." This effect is amplified by the presence of the musicians on stage. Although this is not in itself a problem -- in fact, the singers have marvelous physical presence -- their high kicks and hand gestures distract from their singing, and often look plain awkward beside the professional dancers. (Thankfully, the dancers were not made to sing.)
The choreography also has its highs and lows. I have to give choreographer Mark Baldwin credit -- it's a tall order to create a movement vocabulary that pays earthy tribute to Zulu dance, while accommodating both classical and contemporary styles. Ensemble pieces were generally dazzling and dynamic, but repetitive, and drew attention to the stylistic differences between dancers.
Solos and duets gave the dancers the chance to showcase their own interpretations of Inala's eclectic spirit, sometimes to delightful effect. Particularly notable were Rambert dancers Mbulelo Ndabeni, Dane Hurst, Adelene Stanley and Ashleigh Wilson, who danced with verve and authenticity. However, some of the more classical duets and solos were simply too classical. The effect -- surely unintended -- was an uncomfortable hint of imperialism.
Grumbles aside, Inala is clearly a labor of genuine love, by all parties involved. It's obviously designed to uplift and inspire, yet although I was probably one of the more curmudgeonly spectators at Sadler's Wells on opening night, not even I was immune to its effects. At the end of the evening, I left the theater smiling, as I suspect many more will in the months ahead.
'Inala' is running at Sadler's Wells in London through September 20 and then going on tour in the UK. For tickets and more information, visit inala.co.uk/