For dancers, the peaks of artistry and athleticism rarely coincide. But when they do, one amplifies the other, and the result is dazzling.
Such was the case Tuesday night at the London Coliseum, where Sylvie Guillem, 49, and Russell Maliphant, 53, reunited for Sadler's Wells' award-winning PUSH. Having earned international acclaim since its premiere in 2005, the evening-length production features four works created and danced by Maliphant and Guillem: three solos, and one glorious duet.
The program starts with "Solo," which celebrates all things Sylvie. Like many works that have been tailor-made for her, Maliphant's tribute draws ample inspiration from her renowned technique: extensions soar, arms ripple and lines are nothing less than Euclidean.
The flamenco guitar soundtrack -- well matched to Guillem's strong personality -- allows her dramatic talents to shine, but in a surprisingly lyrical way. Largely avoiding the tropes that characterize too many balletic interpretations of Spanish music, "Solo" uses the music as a bass line to exalt the dancer's extraordinary lightness, which is accentuated by a diaphanous white costume.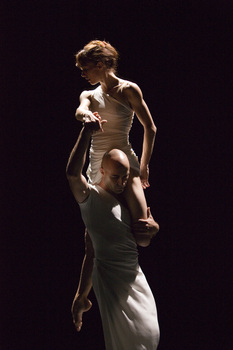 Sylvie Guillem and Russell Maliphant in "Push," photo by Johan Persson
The stage set for an evening of contrasts, Maliphant performs his own choreography in "Shift," his earth-bound elegance a striking counterpoint to Guillem's airy grace. It starts out as a solo, but he is soon joined by three shadows of himself, which appear on white panels behind him, as if by magic, thanks to ingenious lighting by Michael Hulls. Drawing on Maliphant's varied background in martial arts, yoga and many forms of dance -- arm stands, Capoeira kicks and slow, Tai Chi movement can all be seen here -- "Shift" is a meditative interplay between light and shadow, reality and illusion, dynamism and restraint.
In "Two," another solo choreographed by Maliphant and performed by Guillem, position and momentum seem to be the opposing forces at play. The physics reference seems especially apt here: the square spotlight makes it feel as though we are looking through an electron microscope, and even Andy Cowton's electronic music is darkly sci-fi-ish.
Thanks again to Hulls' lighting design, we mostly see Guillem's arms, head and torso, which sinuously curl, twist and stretch in repeating phrases. At first, the pace is very slow, and we can see every fiber of her muscles. But the speed of each phrase accelerates with the music, and by the end, only momentum is visible -- the dancer's precision combining with light and music to create a human laser show.
After intermission, Guillem and Maliphant come together in "Push," a gorgeous culmination of the program's "opposites-attract" theme. It begins with a series of vignettes, all starting with Guillem atop Maliphant's shoulders, and ending with a fadeout of light. In between, she slides, arches and rolls down his body in a way that is sensuous, but never sexual. As the work progresses, different relationships are implied, but never stated; balancing control and vulnerability, "Push" is an abstraction of the elements of any relationship.
After about 20 minutes, "Push" starts feeling a bit repetitive, but it's so thrilling to watch Guillem and Maliphant's partnership that it's hard to complain. They are very different dancers, but clearly equals: she sublimates his movement, and he gives hers gravity. Constantly connected in this duet, each reveals something about the other that may not otherwise be visible; she is the yin to his yang.
Watching Guillem and Maliphant embrace on stage during curtain call, it was clear that these two artistically restless souls had found a home in one another. With both now associate artists of Sadler's Wells, hopefully we'll be seeing more from them soon.
PUSH is running at London Coliseum through August 3. For tickets and more information, visit sadlerswells.com.