The temperature was a bracing 23 degrees F with high winds, but business was as usual in Istanbul's Grand Bazaar. Seated in an alley outside the Varol Çay Ocagi, a tea kitchen, I talked with Sefa Ulusan, one of the men who serve çay to the merchants and their customers on the north end of the maze of shops. Snowflakes fell on my face and shoulders as we spoke. What surprised me most about Istanbul in January was that despite the bitter cold and sleet, all the restaurants and shops that I was accustomed to seeing with their street-facing walls opened wide in spring, summer and fall, never shut their doors. Instead, waiters and store clerks as well as the diners simply added layers of clothing. Perhaps they did this out of necessity (lack of space inside) and because of their socially convivial nature.
I traveled to Istanbul to resume work on a book Street Wise Istanbul, essays based on conversations with vendors, artisans and others who make their living on the street. I found their commitment to a work ethic, to the sustainability of the planet and equal rights for all, were much like the concerns and wishes of people everywhere. Similarly, so were their grievances over the ensuing tragedies that week, in their own country and abroad.
Varol Çay services over 30-40 merchants, about 120 cups each of cay per day. They do it from a space that is easily one sixth the size of an average drive-thru coffee hut in the U.S. Sefa Ulusan often walks 70 kilometers per day. He likes that he's not stuck at a desk job, that he gets to meet people from all over the world and that he has even been an extra in three movies that were filmed in the Grand Bazaar. But he rarely has time to offer people tea, as he had me, and my interpreter Tuana Celik, the weather having something to do with the slower business that day.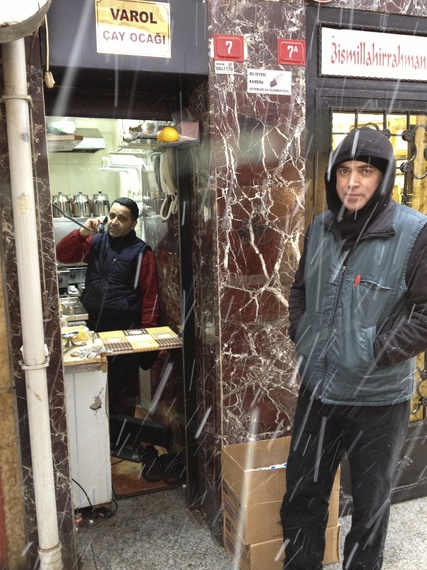 I took advantage of this moment of free time and asked Sefa about himself, what he's just finished reading (Les Miserables) and where he'd like to go first if he could be a tourist like me (Africa). Pressing him further about this he said he wants to go to Madagascar because he was watching a documentary about "very slow animals that live in trees." The species name became lost in translation but we settled on sloth. He was quite taken by them and explained that he is an environmentalist at heart. "We've tipped the balance of nature. If there were an organization in Istanbul to work against this I would devote time to it."
When asked Sefa what, if anything, is a wish he might have for Istanbul he explained that in light of the previous day's suicide bombing at the nearby Sultanahmet police station, which killed an officer and injured others, he wished "that we could all just live in peace. That people have a right to good work and live democratically."
On this very cold day, I also had a chat with Talat Sanir a shoe shiner who has been working near the Spice Bazaar in Eminönü for forty-five years. When I met him last spring I learned that he grew up in a village of Bingol in eastern Turkey that was struck by an earthquake in 1971. His family relocated to Gaziantep, where he bought one of his two antique shoe-shining stands. He then moved to Istanbul, where he has raised three children. Shoe shining is a trade he is proud of, he learned it from his father, who lived to be in his nineties.
Shining shoes in Gaziantep was much different than in Istanbul. That city is primarily industrial and most everyone wears similar, sturdy working man's shoes. In Istanbul, the footwear is fashionable and people come from all over the world to the Spice Bazaar. "I enjoy the challenge of variety."
When asked for suggestions of Turkish authors to read or music to listen to he said that after day's work he goes to the Mimar Sinan Café in Suleymaniye for a bite to eat, nargile, and to listen to Turkish traditional music. Sometimes he will visit the nearby bathhouse and "lay on the hot stones to relax."
Talat referred to himself as a ayakkabi boyacisi, a shoe dyer. When asked to share any secrets of the trade or what he learned from his father he turned to his stand and lifted one of many brass knobs, which serve as a cap to a square glass bottle. Showing me the paste inside, he said, "It is almond cream. I mix it with my dye pastes." He lifted several other brass caps revealing several other premixed dye colors. Pointing to a large, blue plastic jar featuring a mosque image on the label, he said, "Nurileflef. It's the best brand of shoe dye on the market."
His advice for a good life? "Get up early and go to work. This is how to live."
After visiting with Talat Sanir last spring I pondered what he'd said about the fantastic variety of footwear he now shines upon moving to Istanbul and I thought of two additional questions I wanted to ask him. My curiosity brought me back to his shoeshine stand this January. He wore a water repellent winter coat and a black cap with earflaps pulled snugly over his ears and he sat beside a brazier that gave off terrific heat. The coals, he said, are also good for drying people's shoes. Pulling up two chairs for myself, and my interpreter, he asked the çay seller to bring us the customary tea.
Meanwhile my interpreter told him the Western version of Cinderella, which he hadn't before heard. I wished to know what, if any, was his most unusual shoe? Did he ever polish a glass slipper? He smiled, and told us it actually happened one day in Gaziantep when he'd been working on men's work boots and along came a woman with "heels like he'd never seen."
Like hairdressers, shoe shiners must also hear personal stories from their customers. Has any one story stayed with him?
Without pause and with a straight face, Talat said, "Yes. One day an American woman came to sit with me and ask me about my work. I thought about her after she left and realized she had not given me her address or even the chance to shine her shoes."
I laughed with him, despite my embarrassment. Had I not left him my card? Did he not see last spring that his fellow shoe shiner Mustafa had just shined my shoes while I had waited to speak with him that afternoon?
Talat's words were a poignant reminder of how easily we become each other's stories. How readily we, though hemispheres apart, can either buoy or burden each others spirits with the narratives we sketch of one another.
Later, I met a friend Cengiz Tekin, owner of Barefoot Travel, who helps people to see a side of his country they might not otherwise, and return home with rich stories of their own. His office is located around the corner from the Sutlanahmet police station. The bombing had saddened him, as it would anyone, and he couldn't help but be worried for his family as well as for Turkey in general.
On a positive note, none of his clients had cancelled their trips to Turkey after hearing the news. His business has grown steadily since 2008 and he serves some 14,000 customers. Many come from India and the Far East and to a lesser extent from Europe and the Americas. He wishes he'd see more travelers in Istanbul from the West and that they understood that they are most welcome in Turkey. But he realizes that the regional wars and tragic events in Paris that same week don't help matters.
We met at Seflar Café for traditional Turkish food. Barefoot Travel offers food tours to restaurants that serve only at lunchtime called lokantalar, where the customer makes their selection of the day's offerings from a steaming buffet case. I opted for a traditional vegetable dish zeytinyagli parasa, braised lentils and carrots made with subtle spices, and a spinach soufflé.
Cengiz's designs unusual tours of the city, to haunts other guides rarely go. He even hires local guides as "companions" to accompany people as they pursue their own agenda in Istanbul. Photographers, other artists and people traveling alone have requested accompaniment by someone who wouldn't necessarily provide historical information about the city's sites but rather provide the "know how" on getting around and Turkish translation as needed. Similarly, Barefoot Travel works with employees of businesses who open offices here. Also, Cengiz understands the hassles that members of the gay community sometime face when traveling abroad with their partners (being asked to leave hotels, restaurants, cabs). His agency helps LGBTQ tourists feel at home in Istanbul.
Cengiz's innovative bent doesn't end there. He understands that people of any age might need extra assistance navigating the city. They may have mobility, dietary concerns and other special needs. In the future he hopes to offer specialized tours to address these challenges while assisting travelers in discovering an Istanbul where a cup of cay, a shoeshine, and a new friend might await them.