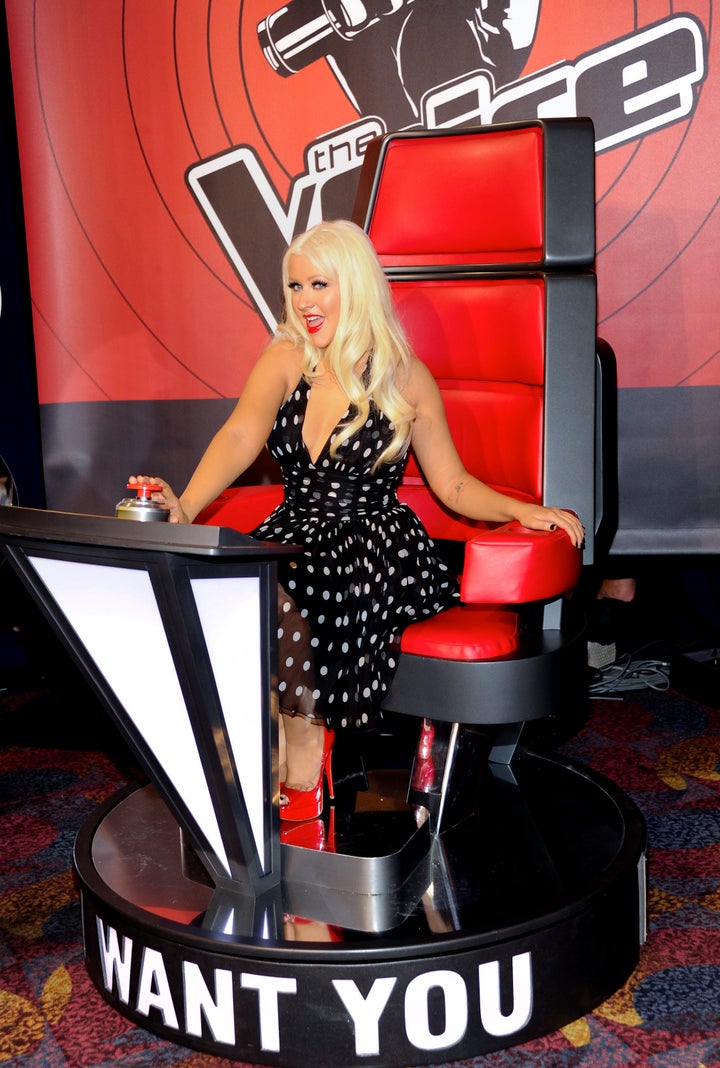 As Javier Colon stood teary-eyed beneath pyrotechnics and a waterfall of confetti, I'll admit that I also eked out a tear or two.
Alright, so maybe three or four.
And when Colon's proud coach, Adam Levine, ran onstage to envelop him in what looked like a truly genuine bear hug, I couldn't help but smile.
In last night's finale of NBC's breakout hit The Voice, the producers pulled out all the stops. Following a highlight reel of their 10-week journey on the show, each of the four remaining contestants was given the chance to sing a duet with a famous singer. Ferocious little Vicci Martinez joined Train frontman, Pat Monahan for an energetic performance of "Drops of Jupiter", which felt oddly similar to bald-and-beautiful Beverly McClellan's take on "Good Life" with OneRepublic's Ryan Tedder. And in a move that seemed a bit too convenient, the quirky Dia Frampton paired up with her coach, Blake Shelton's, wife, country singer Miranda Lambert, for a slow but heartfelt rendition of Lambert's "The House That Built Me." But I have to say, (and I'm sure many will agree) that the best performance of the night belonged to Colon, who teamed up with the immortal Stevie Nicks for a smooth, sweet version of Fleetwood Mac's "Landslide."
The fact that Nicks' hand gestures made it look like she was tripping on acid is of little consequence.
Early on, it was clear that Colon was destined to be a contender. During his blind audition, his goose-bump-inducing take on Cyndi Lauper's "Time After Time" inspired all four celebrity coaches (Levine, Christina Aguilera, Cee Lo Green and Blake Shelton) to turn around. Ultimately, a determined Levine persuaded him to join his team, and they went on to make a brilliant pair.
"I believed him when he said 'I need you on my team.'" Colon said of his decision to let the Maroon 5 rocker take him under his wing.
Despite Colon being an early frontrunner, the other three contestants put up a serious fight. And in the end, Colon only beat out Ms. Frampton by a meager two percent.
"Wow, thank you," a teary-eyed Colon said upon hearing that he won. "The three women behind me are absolutely awesome and it was a pleasure to be here with them."
But in the end, the 34-year-old husband and father of two from Connecticut was just too easy to root for. Despite the madness of the reality TV lens, time and time again, Colon managed to come across as a normal, humble guy. A guy who loves his wife, his kids and his family. And the fact that he has the voice of a velvet angel didn't hurt either.
"The most difficult part of the competition is not being able to see the kids." Colon told the cameras in his highlight reel. "But they know that daddy's singing. They might not know why, but they will. They will. I'm doing this for them."
And it would seem that his time away from his two daughters paid off. As the winner of NBC's first season of The Voice, Colon took home $100,000 and a recording contract with Universal Republic. After years as a struggling artist, he no longer needs to worry about being able to afford diapers. For this, it would seem, he is truly grateful.
Now, before I get too sentimental, I would be remiss not to include my initial trepidations about NBC adding to the long list of network television's "talent shows." I'll admit: I thought America needed this Dutch spin-off like we needed the swine flu. But somewhere along the way I experienced a change of heart, and I hate to say it, but it has a lot to do with the celebrity coaches. I loved watching four egomaniacs transform from competitive, bickering children to selfless, caring mentors. Maybe I need to lay off the Kool-Aid, but by the end, I swear you could really see the connections that formed between the coaches and their mentees. And before I knew what was happening, I wasn't just rooting for Beverly, Vicci, Dia or Javier -- I was rooting for platinum recording artists and Grammy winners, too.
Sneaky, NBC, very sneaky.
Truth be told, I'm happy that Levine and Colon came out the victors. It would have been too predictable for she-diva Christina Aguilera or he-diva Cee Lo to "discover The Voice," and Colon really was the best man. It looks like America is on its way to developing a more discerning palate. No offense, Scotty McCreery.