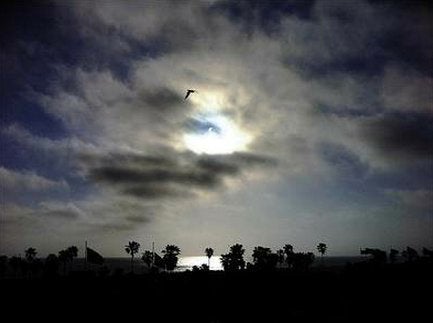 "Go forth boldly in the direction of your dreams; live the life you've imagined." -- Henry David Thoreau
It started, this past Sunday, with a solar eclipse.
The Love of My Life (LOML) Kiran and I sat sipping mango kombucha on the balcony of our room at the Hotel Erwin, waiting and watching. A few stories below us, amateur photographers camped out on the boardwalk with their cameras equipped with telephoto lenses. We hadn't built a viewing box, but we were lucky. As the 6:30 p.m. maximum eclipse moment approached, fog rolled in over the ocean, obscuring the sun just enough so that we could gaze directly at its mystically disappearing orb without frying our eyeballs. Cries of admiration for the astrological phenomenon echoed from Venice beach tourists and locals alike, along with incantations of street vendors and the haunting beats of dozens playing at the weekly drum circle.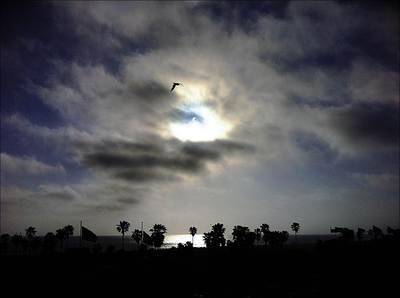 It seemed like the perfect omen for the beginning of our adventure, a blessing of mythological might. We were, as of 10 a.m. that day, officially homeless, carless, and jobless -- and ecstatic about it.
Let me back up to exactly one month ago.
Kiran and I revel incessantly in how our love deepens by the day. We have discovered a spiritual level to our union. We are amazed at how blessed we are to have come together just over a year ago. Our belated Paris honeymoon in early April proved the perfect celebration of our love and commitment.
What's more, I had just completed the rough draft of a manuscript that I have been co-authoring (more on that soon, I promise), and the publisher had gotten back to us that she was pleased. I'd be finishing the final polishes to the book shortly and receiving a generous advance.
But life, that noble trickster, always enjoys throwing its challenges into the mix. Just a week after we returned from Paris, Kiran walked away from the security of a paycheck every two weeks and corporate health insurance at his prestigious ad agency job in order to return to his true passion: filmmaking.
Meanwhile, we weren't yet pregnant -- no simple task at age 39. I am thankful every day for having had the foresight two years ago to freeze my eggs. We may be needing those "mini Meis" someday soon.
We had been planning for the past six months or so to buy a house in LA.
Happy marriage + stable income + baby = home ownership.
Isn't that the American recipe for happiness?
Suddenly, those plans didn't make sense anymore. Two pieces of the equation were missing: the baby and the stable income. But beyond that, our chosen path hadn't, for some time, felt right to either one of us....
"Consider this: Pack up our house and leave. Travel, surf, write."
My immediate reply: "You're on."
It didn't take any long conversations or making a list of pros and cons for us to commit to leaving just a month later. We both knew as soon as Kiran had thrown the door open that it was the one we wanted to walk through.
Did we really want to buy a house? No. It just had felt like what we should do. Realistically, it would prove a financial burden and limit our freedom. What we really wanted, what would make us truly happy, was not fitting ourselves into some prescribed mold but making our greatest dreams come true.
This is our dream (aside from becoming parents): Take Kiran's hard-earned money from his years of successful commercial directing and my money from years of co-authoring and freelance editing other people's books, and put it into a seed fund, make it an investment in our creative future. With our stuff in storage in LA, we can afford to take off for months of living in beautiful, tropical locations where we can live simply and healthfully, love deeply... and write.
Serendipitously, my sister-in-law Erica sent us this fantastic commencement address by fantasy author Neil Gaiman about succeeding as a creative. In it, he offers many wonderful words of wisdom. But perhaps my favorite advice is this:
"If you have an idea of what you want to make, what you were put here to do, then just go and do that. And that's much harder than it sounds... Because there's usually all sorts of stuff you have to do first."
But Kiran and I have spent over a decade doing that stuff. We have paid our dues. He has an MFA in directing from USC film school, spent years in Hollywood, and then years more running his own creative company. I began my writing career in 1999, have ghostwritten, edited, and coauthored more than 10 books, and have blogged for several years. We know we can do this. Yet neither of us has attained our greatest goals: Me, to write and publish a work of my own; Kiran, to direct a feature film.
What, then, could be more worthy of our time and energy than making our dreams a reality? Now, at age 40, with the wisdom and experience we have accumulated, fears we have overcome, and each other's love to fuel us, it seems obvious, natural, and utterly right to make our creative future our number one priority.
And we even know what it is that we were meant to create.
For months, Kiran and I have been jointly cooking up a young adult sci fi/fantasy trilogy called VAPOR. We will write the books and screenplays together, then Kiran will direct the films. One month ago, we had rough ideas for the story arc and the main character. But we hadn't sunk our creative teeth into the juicy morsel, biting into it with abandon and saying, "YES, we are doing THIS!"
The moment we made our decision to see our plan through and devote ourselves full-time for several months to writing the novels, the vision began to unfold as if by its own volition. It was as though making this turn in our life plans had not only taken us down a different road, but led us into a parallel universe where magic happens every day: A crystal clear overview of the trilogy's structure came to me on my Vipassana retreat. Kiran began having dreams of our characters and their adventures. The books began writing themselves.
Some believe God has a part in such creative outpourings. Carl Jung labeled it "serendipity." Psychologist Mihaly Csikszentmihalyi called it "being in the Flow." Johann Goethe wrote:
Until one is committed, there is hesitancy, the chance to draw back, always ineffectiveness ... The moment one definitely commits oneself, then providence moves too. All sorts of things occur to help one that would never otherwise have occurred. A whole stream of events issues from the decision, raising in one's favor all manner of unforeseen incidents, meetings, and material assistance which no man could have dreamed would have come his way. Whatever you can do or dream you can, begin it. Boldness has genius, power and magic in it.
Kiran and I agree with them all.
My hero mythologist Joseph Campbell said, "Follow your bliss and the universe will open doors where once there were only walls."
So here we go, walking through walls. And if we run into a few along the way, wind up with a bloody nose or two, so be it. We aren't afraid. We've each had our tastes of failure. We know how to pick ourselves up, wash ourselves off, and keep going -- this time, hand in hand.