At just 24, Andrew Parr already was a top-ranked golfer. He had won multiple amateur prizes throughout his youth in Canada, the U.S., and Great Britain, and competed collegiately as an All-American at Texas A&M University. After graduating in 2007, he won his first-ever pro tournament on the Gateway Tour.
That's when his entire life changed: He had a stroke.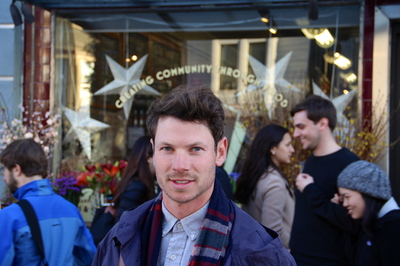 Andrew had presumed he was in great health. Yet his father had died suddenly at age 40, when Andrew was just 12. And now, here Andrew was with significant damage to the left hemisphere of his brain, which controls language and speech. He had to re-learn many skills that just weeks before he had taken for granted. Typing was nearly impossible. He stumbled in his speech. He struggled with many basic movements.
Yet in spite of the obstacles he faced, Andrew felt driven by one burning desire, one truth that inspired him to overcome: He had to return to his career as a professional golfer. "It's a beautiful game," he said. "When you golf, you are so present and aware. Golfing teaches me to live with passion, humility, and grace."
Six months later, in the summer of 2008, Andrew qualified for the Shell Houston Open on the PGA Tour, and tied for firsts before losing in a playoff on the Canadian Tour. He posted another second place a few months later. In 2009, he qualified for and briefly led the U.S. Open after a rain-delayed first day. In 2012, he competed in several European Tour events, finishing sixth.
I had the opportunity to speak with Andrew Parr and learn more about his journey from stroke back to wellness. He said that the period immediately after his stroke had been extremely frustrating. For months on end, he was pushing himself to the point of exhaustion.
At the same time, as he recovered, he discovered a whole new world that lay beyond the golf course. "There was so much unknowing of my future, but I was okay with it," Andrew said. "I felt this aliveness that wasn't covered with personal identity. I felt very curious about everything, about who I was and what I might do with my life."
In the years following the stroke, Andrew traveled around the world, questioning his beliefs and his path. He examined connections between good health, diet, and nutrition. He met amazing people and learned about their journeys.
Andrew said, "Before the stroke, the meaning of life to me was about getting to the top as a professional golfer. When faced with the possibility of not being that, I had to look elsewhere for meaning. I knew that the stroke meant my body was trying to tell me something: I needed to make changes in all areas of my life, from relationships to diet and wellbeing. I had to get better at managing my stress levels."
Andrew got deeply into yoga as a way to awaken his body, breathing and balance. He explored nutrition, choosing to eat more simply: tons of local, organic veggies, and little to no refined sugars. He began meditating, committing to doing at least five minutes a day no matter how busy he got. He spent many days alone in nature, without a phone, computer, TV or social input. "I wanted to hear what truly resonated within me," he said. Over time, he came to appreciate every day more, seeing the good in the people he met and embracing the rich diversity of beliefs and experiences that exist in our world.
Ultimately, Andrew concluded that there is no one "meaning of life" for everyone. We all experience incredible ranges of emotion every minute of every day. His goal has become to experience all those emotions in a loving way, to be more compassionate with himself and others. "Rather than just being about winning, now I'm about living," Andrew said.
Photo credit: Richard Fortin
Andrew is currently running an Indiegogo campaign.