All over the world, human culture and knowledge was once connected to lands and waters, sky and time. We need to listen to the surviving first cultures. They are a vehicle for connecting modern humanity to nature and wisdom. With the loss of climate certainty, now is the right time to learn from people with communal memories dating back tens of thousands of years.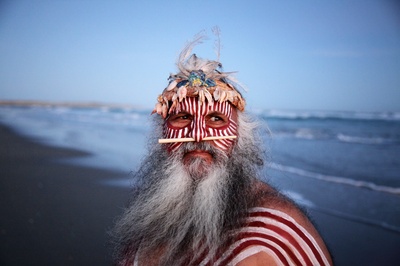 Uncle Major Sumner, Ngarrindjeri Tribe. Photo by Ali Sanderson
So says Ben Pederick, the writer and director of Ringbalin - River Stories, a geo-located documentary that invites you on a journey along Australia's great Murray Darling Rivers with Aboriginal elders from one of the oldest cultures on Earth acting as your guides. It contains dozens of traditional and personal stories and takes the from of a film, an iPad/iPhone App and a website. The filmmakers are currently seeking crowdfunding on Indiegogo to complete their four-year passion project.
It all began in 2010, when Ben, editor Jos Pederick, photographer/ cinematographer Ali Sanderson, and motion graphics designer Michael Duff -- who as a team form Goodmorningbeautiful Films -- spent ten days traveling 2,300 km down the Murray Darling with a group of Australian Aboriginal elders.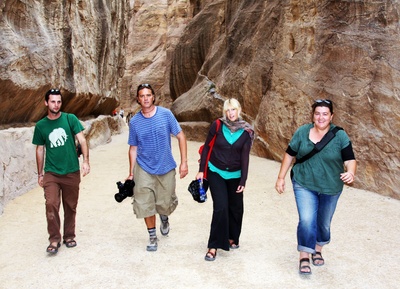 The Goodmorningbeautiful Film Team. Photo by MeiMei Fox
After 10 years of terrifying drought, the Murray Darling was dying. A group of Aboriginal nations had united to attempt to save the river and the life that relied upon it. The film crew's objective was to document the performance of the Ringbalin, a traditional rain dance.
Ringbalin proved a tremendous success. Rain clouds followed the group throughout their journey south. By the time the indigenous people had finished their dance rain was falling. What followed were the biggest floods on record in Australia. Uncle Moogy, the founder of the modern Ringbalin, responded, "People say it had to rain sometime. Of course it did. But it just rained when we danced."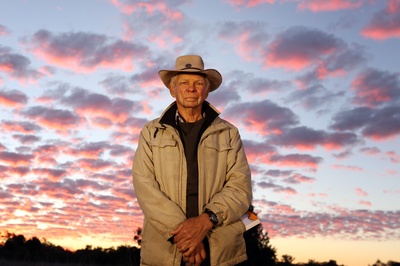 Uncle Herb Wharton, Kooma Tribe. Photo by Ali Sanderson
The film crew was profoundly affected by their Ringbalin experience. "Traveling with the elders opened my mind," Ben said. "It was like looking through a time scope 30,000 years back before the pyramids were built. All of the stories we heard had been passed down from person to person, mother and father to child, on and on and on."
As they realized how many wonderful, funny and wise stories the Aboriginal elders could tell that went way beyond the scope of the immediate expedition, Ben and his colleagues expanded their vision for the film. That's when they opted to create a geo-located documentary/app/website that uses Australia as a stage to explore issues of ancient wisdom, modern humanity and climate change. They wanted to create "something you could travel into, where elders of the 40 nations who share the rivers could create song lines of story and myth for you to discover." They longed for you to be able to see the world through the eyes of the ancients.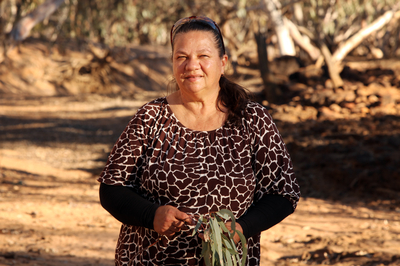 Aunty Cheryl Buchanan, Guwamu Tribe. Photo by Ali Sanderson
I wondered what advice the Aboriginal elders might have for us, in this day of furious debate over climate change policy. Ben told me that Uncle Tom Trevorrow, an amazing leader of the Ngarrindjeri Nation, offered guidance to the Australian government so powerful that it now sits on the front page of the legislation that changed how they run their seminal Murray Darling River program.
Uncle Tom said, "Our traditional management plan was don't be greedy. Don't take any more than you need. And respect everything around you." That's the management plan -- it's such a simple management plan, but so hard for people to carry out."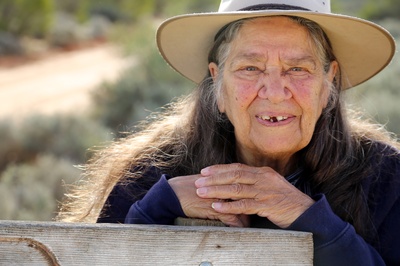 Aunty Beryl Carmichael, Ngiyampaa Tribe. Photo by Ali Sanderson
As far as Ben's advice for artists and entrepreneurs eager to start living the Life Out Loud, he said, "I don't really think anything counts but hard work. Follow your own gut feeling, hone your skills and instincts and do the hours. Line up the minutes until they are years of effort."
In conclusion, Ben urged each of us to learn about the First Nations and make the time to listen to the earliest stories from the regions we call home. "The words we speak rustled through grasses, crashed on sandy beaches, and broke from mountain crags before they tickled our tongues. You can discover a new connection with the world within these stories."