Projecting Change, which takes place each year in Vancouver, offers a new take on film festivals. Unlike Sundance, SXSW, and other well-known festivals where the objective is for filmmakers to find distributors for and generate buzz about their movies, the goal of Projecting Change is to provide a platform for dialogue about today's most pressing social issues.
This April, PCFF will open with Kicking It, a documentary about the 2008 Homeless World Cup in Brazil. It will host the Canadian launch of a power-generating soccer ball called sOccket, which has already taken much of the world by storm. And it will conclude with a talk by a member of the Vancouver Street Soccer League about how joining a team of homeless soccer players enabled him to get sober and turn his life around.
The next day, 200 kids will gather in Vancouver's historic Gastown district to test drive the sOccket. They'll experience for themselves how the soccer ball harnesses kinetic energy to power LED light bulbs. At the same time, they'll learn how transformative such simple technology can be in places where electricity is so expensive and difficult to access that children often can't study at night due to lack of light.
Not your average film festival fare.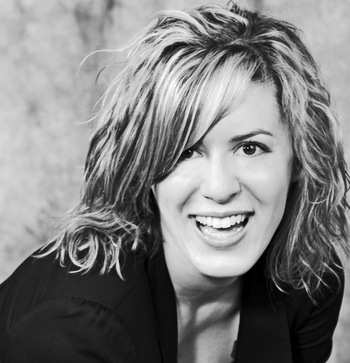 I had the opportunity to speak with PCFF's Executive Director and Curator, Katie Schaeffers, about the festival, how she got the coolest job in the world, and what motivates her to live the Life Out Loud.
When Brady Dahmer and Lindsay Nahmiache founded Projecting Change five years ago, the film festival centered on sustainability. But when she came on board last year, Katie felt it would be wise to expand the vision to incorporate a wider range of social issues. "We provide a platform for changemakers to share their stories," she explained. "It's about collective consciousness. If you can get a lot of people to think about the same issue at the same time, you can to move the world forward just a bit."
Katie started her career on a conventional path. She interned in Washington, D.C., and then took a job with the leading event management company in Vancouver. At the time, she knew that the entrepreneurial spirit was hidden inside her. She said, "I was just afraid of not knowing what to do next. I felt like I had to know where my next paycheck was coming from and how to do the job."
The critical change came when Katie shifted her thinking from how to why. Instead of asking, "How can I do this job well?" she started to wonder, "Why am I doing this job? What difference does it make in the world?"
That's when she took a job with TEDActive, a "mind-bending" annual conference in Palm Springs that runs parallel to big TED, as a member of the management team. She got a taste for the entrepreneurial life, helping to create new programs and coordinate with TED headquarters in New York.
After two years, Katie was ready to strike off on her own, joining PCFF. "Being an entrepreneur is like riding a bike," she laughed. "At first it's uncomfortable. But after you've done it for a while, it's like, 'Oh this is fun.' Now I thrive on the unknown."
Throughout the years, Katie has pursed a path of personal and spiritual growth, which has played a critical role in her professional success. Through yoga, she has come to appreciate the need for taking a break, and now realizes that life isn't always about pushing yourself to your limits. She said, "When you're driving something forward that you're passionate about, if you can do that from a place of extreme self-awareness you'll get there so much faster. And if you create a community that supports you, then you're kind of unstoppable."
I asked Katie what her advice is to people who long to live the Life Out Loud. She gave a three-part answer:
"One: Turn inward and look at your life. What is important to you, what are you missing, what you not seeing because you're too outward focused? Have uncomfortable conversations with yourself where you say 'I'm unhappy, I'm scared, I'm confused.' It doesn't always feel good, but you'll come out with a lot of clarity.
"Two: Don't be so hard on yourself. Tone down the negative self-talk. My mantra is 'Do less, do it well, and be happy with the result.'
"Three: It's important to remember that we all experience joy and pain, suffering and love in similar ways. Think about the world as a collective beating pulse, and then tap into that collective energy. People will start coming out of the woodwork to help you. And as you climb, you will help them. In that way, our entire society will experience a collective rising."
This year's Projecting Change Film Festival takes place in Vancouver from April 24-28. Tickets on sale now.
Photo credit: Peppa Martin, truth and beauty