I had this friend J.J. (not her real initials). With her biological clock on alarm, this publisher, a pillar of her community, fell madly in love with the man of her dreams: tall, dark, handsome, smart, successful, loved kids...in fact, he was married and had three of them.
For years I endured tales of their interludes peppered with waaaay T.M.I. Their romance was wildly creative; they were forever fated; they were mystically mated. She swore he was her twin soul, she was his anima, and my animosity grew. "He's a liar," I'd suggest. "You're an adulterer," I'd remind. Their endless break-ups and make-ups fatally frayed my patience and ended our friendship. But, later, I listened with compassion when he didn't call the the night she miscarried (he was at a Daddy/daughter dance); and when she couldn't attend his funeral, as her grief would have given their secret away, I was sad for her. At some level I understood her reach for the best man, in her warped definition, she could get.
I tell you this little immorality tale to encourage you to give Lori Gottlieb's "Marry Him: The Case for Settling for Mr. Good Enough" to your successful yet single girl friends this Valentine's Day before they doom themselves to a life of cougardom. Of course, you should include a brown paper jacket, as the title on its cover might offend their current lovers. (Does any man want to think he's merely 'good enough' for the love of his life? And if he's egoless enough to accept that status, would she still find him desirable?) But this incendiary title is creating much needed controversy about a sociological/cultural malaise.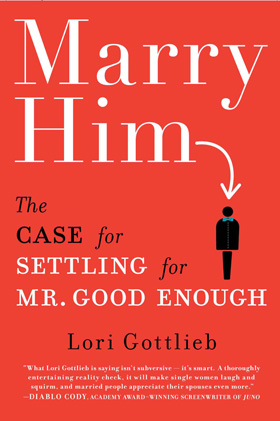 This impeccably researched tome is mandatory reading for girls who've not yet grasped the "unavailable parent" part of their inability to let someone love them. It's for the fussy feminists whose checklists forgot to include someone they can actually live with. It tells of the author's search for her ideal, and how her criteria evolved as she matured. How each stage and age presented different priorities and lessening possibilities as her donor-sired son became the main man of her life. How attracting a best friend who calmed her, rather than a knockout who made her heart pitter palpitate, became her goal. Her gut instincts had so often led her wrong, that she eventually concluded "my guts have shit for brains," and sought outside herself for wisdom.
Gottlieb makes herself a guinea pig, running the gauntlet of online meeting services, speed dating, coaches, matchmakers and finally, a rabbi. She navigates love's journey in true intellectual fashion. She computes the fiscal differences in maintaining one's physical upkeep for dating as opposed to marriage, and finds marriage the best deal by far, and longs to lounge in her sweats, cozy/comfy/messy with her man. She interrogates happily married women; she tracks the guys who got away. She interviews Indian colleagues from arranged marriages who explain that Western women's hard won freedom of choice can be a liability, that their empowerment can be a tower of isolation. They explain that arranged couples choose to whom they will attach from common grounds selected by their families, not sparks, but that sparks do ignite from a sense of honor and care, not lust. She's humbled to learn that their marriages work as well as or better than those made in the U.S.A.
Her reductive descriptions of dates (and we've all spoken them) are ultimately, reassuringly offset by the admission that she's not so hot herself. As she takes an honest look at her own liabilities, she takes a second peek at the geek, a third tour of the nerd. Character becomes more important to her than charisma, and, as she begins to see through her heart's eyes, her ability to compromise and forgive others' foibles and her own grows endearingly.
Sooth this holiday's horrors for high powered single gals, for whom absence of love has become a bleak presence as they power through their busy lives untouched. Their loneliness will be assuaged by learning from Lori's cautionary examples. Unmarried women who want to be partnered should quickly assess their baseline wants and needs, beyond the ebb and flow of hormones, then seek a man to love from their values, not their vanities.