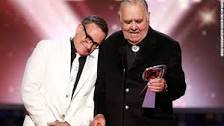 Shocked to learn he's gone, but, sad to say, I'm amazed Robin Williams lasted this long. Maybe he missed his late mentor, Jonathan Winters, who carved a permissive path for him, first through talented madness, and then death. Jonathan stuck around a long time, too, considering the uphill battle he waged against his own mind.
At a certain stage, the impossibility of a refuge in compulsivity becomes clearer to aging bodies. For Robin Williams, a soured sitcom deal, and for Jonathan Williams the loss of a loyal, life-long wife, perhaps became the death knells that youth and mass adulation no longer could counter.
Here's my contribution to the canon of Robin remembrances still pouring into the press days past his death at 63.
---------------------------------------------------------------------
Before we all knew the words for bipolar or manic depressive, we knew their performances were enhanced by something beyond the normal garden variety neuroses of most comedians. Both Robin and Jonathan had the advantage of insanity. While Winters was becalmed by legal drugs administered by physicians and a stable seeming marriage until 2009, Robin careened amongst women and lucrative contracts that afforded him the best of every illegal high on offer.
I had the misfortune of first working with, or more accurately, near Robin as a moonlighting NY theater actress struggling for a foothold amongst the funniest folks around in the late 70's. We met at Budd Friedman's Hollywood Improv Club -- the underground railroad for displaced East Coast performers enlarging our voices from New Yawk to American in scope.
But he was here first -- a Julliard trained California boy. Budd introduced us and Robin smiled sweet sympathy at me as I was unceremoniously bumped from my coveted midnight slot so he could improvise a set. My frustration dissolved into fascination. He free-associated, global tapping into worlds well beyond the scope of most Coasts for an hour. He impersonated inanimate objects, dialoguing with his own effeminate-sounding ass, spoke in spontaneous Shakespeare to the waitresses with a rapier wit that ravaged us all into adoring him. He made frenetic an art form -- the velocity and ferocity of his on the spot creations at the warp speed of cocaine seemed graceful.
I made the best of having to follow him by coming on applauding him as the room cleared. Handicapped by slipping in the pool of sweat he left center stage (I never saw a white collar guy perspire so heavily), and an exhausted audience, I mopped up the stage from him. After a quiet minute, my silly songs and character monologues got some disparate giggles, and guffaws. My confidence was renewed, until I realized these might have just been the dregs of leftover laughs from him.
A sober performer stood little chance of registering that night. Luckily for me Ann Meara and Jerry Stiller had stayed, following me out with parental pats. "You're terrific. We're not sure what you're doing yet, but it's very important that you keep doing it," said Ann. "Just don't go on after him any more."
I was grateful and stuck with it to become part of the wave of pilot deals launching from the Improv to TV that year. Both booked on ABC series in the early 80's, Robin and I would meet again at press events, and he was always unerringly warm and polite, tho remotely so, and not just with me. Amidst a crowd, he always seemed to be in an isolation cell of his specialness. Playing the alien was an ideal gig for him.
Then, one summer day, we were both hired to do some radio commercials with Jonathan Winters at a Hollywood recording studio. His hello to me was a set up for a bit, rather than a true greeting, as I was cast that day as the straight woman/salesperson. I knew my place. Within minutes I became a backboard for the two geniuses bouncing ideas beyond the control of the ad agency off me. I'd feed them the lines; they'd do the script for a few beats, then spin into brilliant parallel soliloquies, deferential Williams allowing Winters to soar. The engineering booth filled with bodies as ad execs exclaiming "look who we got!" piled into the hour long session. I never got a copy of the spots, which may just have been flimsy excuses for a command performance to entertain some clients, in which I got to play a supportive part.
It wasn't just their facile speed of retrieval and seamless access to wild ideas, there was the shared desperation for escape. Both fled frantically from something sad toward the lure of laughter. It was the lure of those desperately fueled flames that made us make them famous, and will make us miss them like crazy -- the crazy we'll all hide deeper inside ourselves than they ever could.
Need help? In the U.S., call 1-800-273-8255 for the National Suicide Prevention Lifeline.