There's an old Chinese proverb that states, "One generation plants the trees, and another gets the shade." I don't imagine the tree in this scenario was meant to be a Christmas tree, but in today's Beijing a new generation of families are finding reasons to celebrate under the shade of an 60-foot Spruce.
All around the world people are preparing for the festive holiday season. From malls in America swarmed with early shoppers and kitschy decorations, to the serene and magical displays that light Bethlehem, there's no denying the holidays are approaching. In China, the celebration of Christmas is more commercial and not nearly as religious, but still manifests the same reaction: a time to embrace family and friends, and maybe even give a gift or two.

I arrived Beijing wide awake and wired at midnight. The drive from the airport to the hotel took about 30 minutes and while I should have used that time to wind down and relax my mind, I couldn't help taking in all the sites as we approached the city. What struck me most of all were the green and red decorations that signaled someone big and jolly, and led by reindeers, was coming for a visit.
Throughout Beijing, wreaths are draped around buildings, hung on doors and placed on the back of rickshaws. Pine trees are perched in their rightful places and are slowly being decorated with gold and silver balls. Carols are streaming from car stereos and storefronts while lights twinkle in trees in parks and pubic space. It's so cold in Beijing you can see your breath, but that doesn't stop people from readying themselves for Christmas.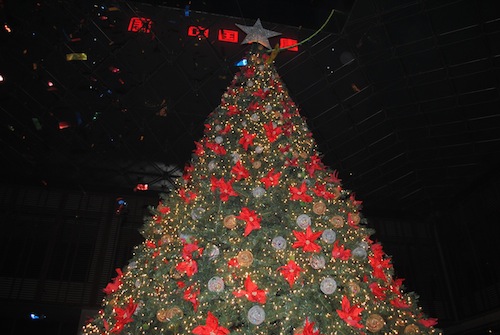 At The Ritz-Carlton Beijing, Financial Street, more than 500 guests, visitors, family, friends and residents gathered for the hotel's annual Christmas tree lighting, complete with Santa and a silent auction for charity. I stood in the horseshoe-driveway of the hotel wrapped in a jade green pashmina (the closest thing I have to a festive holiday color in my wardrobe) and attempted to stay warm with mulled wine while the crowd gathered around the tree to countdown the big event. As 10 became nine and soon approached one, the hotel exploded with cheer.
The tree lit up, confetti shot from a canon, and children jumped to catch the colored cellophane falling from the sky. Within seconds, everyone was covered with red, green and silver squares. Kids had started crawling under the tree looking for what I could only assume were the presents they asked Santa for a few weeks earlier. Inside, adults refilled their cocktail glasses and starting bidding on silent auction items (the proceeds would later go to a local children's charity). The night was young and the party was just getting started.
Along the walls in the hotel's ballroom were food displays ranging from sushi to pasta to Peking duck. In the "kids room" across the hall, grilled cheese sandwiches and cookies were being served. A choir took the stage to sing holiday songs (in Mandarin, no less) while Champagne flowed from bottles around the room. It was Christmas, and Beijing was celebrating. Only 16 years ago, due to government rule, this celebration around a tree wouldn't have happened.
While the religious aspect of Christmas isn't the focus of these celebrations, the tradition of Christmas seems to happily have made its way into the homes of Beijing residents. To many Westerners, the commercialization of Christmas would be offensive; to Beijing, it's another reason to celebrate life's good fortune.