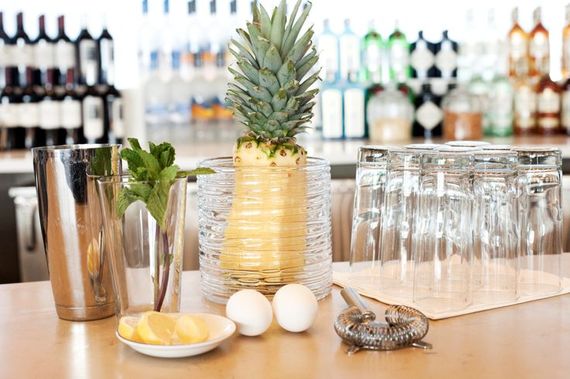 Don't drink too much on flights. Don't load up on fried or salty foods while traveling. Drink plenty of water. These "healthy travel tips" have been circulating for years, and they're dead-on accurate: bloating occurs at 35,000 feet, so if you don't want to bloat, don't eat and drink the foods that will make you feel like you're the size of a blimp inside a cylinder tube. It seems easy enough.
All that said, vacations are typically the time travelers let go of their dieting ways. We indulge. We savor. We taste-test our way through Five-Star restaurants and mixology classes at the swim-up hotel bar. And why shouldn't we? We work hard so we can play hard, right? And sometimes, playing hard means stuffing your face with a bowl of fresh-made guacamole and a pitcher of margaritas.
But too much indulgence can result in some uncomfortable travel. Swollen feet and ankles in flight, dark circles that look like tires under your eyes, bloated in your swimsuit on the beach, and the pants that fit when you packed them aren't really that forgiving anymore. In an effort to help travelers make healthy choices on vacation, hotels created healthy-option menus and make-your-own mini-bars, so guests would have more than just potato chips and candy bars to choose from in their rooms. Now, airlines are getting into the mix.
It's not uncommon to want a drink before boarding your flight. For some it calms the nerves of flying, for others it's a way to celebrate a few days off from work. Then there are those who just want to feel festive, without all the calories and after-effects of hard-core cocktails.
Leave it to the team at Virgin Atlantic to create the "Virgin Cocktail" for detoxing flyers. The premise was to offer a drink for those who entered the new year on a health kick, but the "mock-tail" was so successful, the airline is keeping it on the menu.
The Jumpstart Jetsetter, available at the airline's Clubhouses, combines pineapple juice, coconut water, ginger, agave, mint, angostura bitters, egg whites and fresh lemon into a blender to create a healthy alternative for those wanting to have a little fun without the alcohol. Sure, smoothies and blended drinks are nothing new, but the team at Virgin Atlantic have taken this one step further.
It's not just about what you put in your body, it's about how you prepare your body for travel that makes the most impact.
Mark Murphy, Virgin Atlantic's Food & Beverage Expert and former chef, has combined his in-depth knowledge of food with top tips from the airline's Chief Beauty Officer, Rebecca Creer, to create a health and wellness-inspired menu that includes ingredients to boost the immune system, enhance mood and detoxify the body.
New clubhouse menu items include super-food porridge, made with either water or soya milk, topped with dried cranberries and nuts, fresh fruit salad, bamboo steamed salmon, soy marinated Ahi tuna loin, and plenty of greens. And while you're waiting for your flight, Rebecca Creer, Chief Beauty Officer, offers a few beauty tips to keep in mind.
I've worked with Ms. Creer before and I can tell you first-hand, her in-flight beauty and health tips are worth adding to your list of travel rituals.
"The air in a flight cabin is dry; preparing your skin the day before you fly will really benefit you during your journey," she said. "Always thoroughly cleanse & exfoliate skin and apply a hydrating mask."
One of my favorite tips from Ms. Creer was to add a couple drops of lavender or eucalyptus to a scarf or small pack or tissues. Breathing in these essential oils in-flight will help you relax and, if you're lucky, you'll even get some rest on the flight. Just recently, Ms. Creer put together her perfect travel bag full of products she has tried and tested after hundreds of hours on flights. Her must-haves (for the ladies) include:
2 x eye solace capsules + 4 cotton rounds
Cleansing milk or facial wipes (10ml)
Rose day cream (10ml)
Clarifying toner (30ml)
Lip Balm
Regenerating eye cream (15g)
Hand cream (Full of travel size)
Foundation
Emery board
Deodorant
The airline created a Destination Wellness page full of tips to healthy eating and in-flight exercises.
Now that you're armed with what to eat, drink and pack, here are a few hotels offering some wellness retreat options:
Hooked on Juicing: Hotels and spas are taking note of this health craze and offering fresh-pressed juice at their properties. At Mii amo Spa in Sedona, Arizona, guests can partake in complimentary juicing classes to learn the health benefits of juicing. Guests at the Gramercy Park Hotel in NYC don't even have to leave their rooms to enjoy a glass of fresh-pressed juice from the hotel's new in-room dining menu, which features selections including the Green Machine (kale, apple, pineapple), Citrus and Spice (carrot, ginger, orange) and more.

Local Enrichment: Local is a buzzword in luxury travel, with globetrotters eager to immerse themselves in the destinations they visit. At the eco-friendly Hotel Vermont, guests can explore the town of Burlington with complimentary bike rentals from the local alternative bike shop, Old Spokes Home. At the Nines in Portland, business travelers are invited to explore the city with the Meetings in Motion package which allows groups to conduct their business meetings outside while they discover Washington Park and learn about the local sites.

Healthy Mind, Healthy You: De-stress your mind and body with new spa treatments that incorporate unique techniques at luxury spas. In Switzerland, the Dolder Grand Spa's new Violin Touch Treatment incorporates the sounds of live violin tones which work in tandem with the massage for a soothing effect on the body. In Telluride, Colorado at The Spa at Hotel Madeline Telluride the new ISUN Emerald Sun Signature Facial and ISUM Gemstone Massage use gemstones to open and balance the energy points in the body. In Milan, Hotel Principe di Savoia's Club 10 is offering the Precious Gift Treatment which includes the Polynesia, a ritual spa treatment that leads guests on a sensory journey to relaxation through warm fragrances and soothing body treatments. The treatment also includes the Sensai Wrinkle Facial Treatment.
Now that you're armed with all the basics for healthy eating, packing and prepping for your travels, and you've got a list of places to stay that support these healthy travel habits, pack up and enjoy your vacation. With these tips and healthy options in mind, indulging in another cocktail or taking a bite of that chocolate lava cake won't seem so bad. You deserve it!