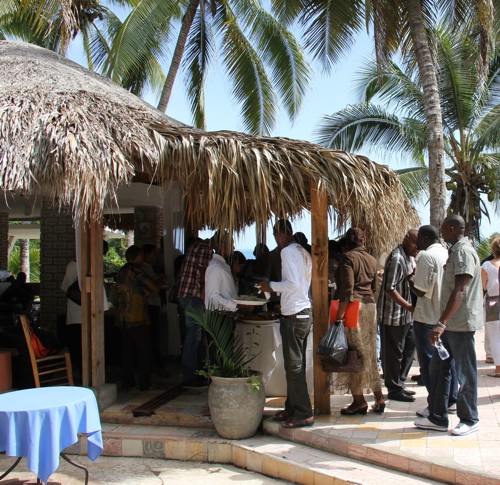 Local Haitians line up to submit their applications for the hospitality training program with Yéle Haiti Foundation.
Within minutes of the earth shaking on January 12, 2010, one of the Caribbean's most beloved islands became the center of international attention. The 7.0-magnitude earthquake that struck Haiti simply left the Caribbean nation in shambles. Business crumbled around homes, hospitals and centers of economic prosperity. The death toll was in the tens of thousands, and even after months of medical attention and relief efforts, Haiti still suffered in the aftershocks of its deadly quake. But a 7.0 quake couldn't stop the little island that could.
Haiti has historically been one of the Caribbean's most economically successful destinations, and the hospitality industry is set on ensuring it remains that way.
Derek Johnson, CEO of Yéle Haiti Foundation, and Parris Jordan, managing director of the hospitality consulting firm HVS's office in the Caribbean, created a partnership in which both organizations will educate Haiti residents in the hotel industry, The program is a vocational training initiative taking place in the port city of Jacmel, one of Haiti's renowned resort destinations, which suffered severe damage after the earthquake.
"We're still in the bowel of reimergence. As relief dollars disapate we believe that people desparately need to create and persue opportunity for themselves," said Johnson. "This series of vocational training initiatives are all aimed at sectors we believe the country must grow in if it is to reemerge from the catastrophic circumstances."
The 2009 Haiti earthquake devastated the beach-laden region, killing thousands and leaving millions homeless and in need of help - medically and financially. Yele Haiti, which was founded in 2005 by Grammy-award winning musician Wyclef Jean, was set up a grassroots, non-political, charitable organization focusing on emergency relief, employment, youth development and education. And develop and educate they have.
The Yele Haiti hospitality pilot program is a full six months - the first three months focus solely on customer service and expectations, and the last three months will focus on a specific area of the hotel business, like housekeeping, concierge or front desk.
"Our region experienced the greatest loss in hospitality and leisure tourism demand worldwide in 2009, and unfortunately Haiti stands at the bottom of the list in terms of tourism dollars," said Trinidad native Parris Jordan, managing director of HVS's office in the Caribbean. "The program initiated by Yéle Haiti combined with our expertise in hospitality and training, is needed to help the country increase its share of tourism revenue."
Here are the stats from HVS:
Over 80% of all tourism revenue generated by the Caribbean leaks out to outisde economnies and nations
Only 20% of funds remains in Caribbean.
1 of every 6 jobs created is due to the hospitality industry or result of.
Over20 billion a year is generated for Caribbean countries for tourism industry, yet the majority don't work in this industry.
"There is a link between what we're trying to do and the long term goal of sustainability and long-term growth through education," said Jordan.
According to HVS, the Caribbean market was one of the most impacted by economic recession. While recovery is on the mend, Jordan says analysts expect the same rebound for Haiti. "What we're doing with Yele is basically equipping the locals with the tools necessary to work in these hotels and become employable."
Seems the concept is working.
Haiti is still working to rebuild its torn economy, but the hotel industry in Haiti seems committed to making an impact. The hospitality program hasn't even started (it officially launches this September) and Yele Haiti has already secured job placements for 95 of the 120 students. Yele Haiti is working with Cap Lamandu, a business hotel in Jacmel (currently being reflagged as a Choice Hotel), and the Caponni's hotel in Jacmel, which opens November 2011, to ensure job placement for the Yele Haiti students.
"What we're after is the investment in human capital - giving people a chance to build a life whereby they can sustain themselves," said Johnson. "If we can work to develop a workforce, then business will come and the government will invest the resources. We hope Haiti will become home to the new next hot destination, that is comprised of a waterfront, a film festival, a bay experience, just like any other compelling resort opportunity in the Caribbean."
Hat's off to you, Haiti.