Santa Monica is everything Los Angeles isn't: relaxed and refreshed, and full of boutique restaurants and hidden gems that offer a certain shelter from the chaos of everyday life, instead of the florescent spotlight that beats down on LA.
When you arrive...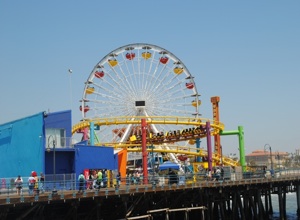 While celeb-sighting certainly takes place here, the mood is more old-Hollywood glamour, and less paparazzi-chase scenes. While Santa Monica might play little sister to Los Angeles, two days in this southern California town will leave you feeling recharged and ready for the Hollywood life.
Arrive Los Angeles International Airport early and take a flat-fare cab to Santa Monica for $42.
Check in: The Hotel Casa del Mar
The beachfront property is located off the beaten path but close enough to walk to Third Street Promenade and the Santa Monica Pier. Check-in isn't until 3 p.m., but you'll have full access to the hotel's amenities if you arrive early. Lounge by the outdoor pool that overlooks the beach, grab a cocktail from the hotel restaurant or just go explore along the beach. Immediately outside the hotel's back doors waits bike trails, running paths and volleyball pits.
If you're so inclined, head over to the hotel's sister property, Shutters, and cuddle up in the cabanas for a few hours while you're room is being prepped. Anything you order from Shutters can be placed on your room charge at Casa del Mar, so you needn't worry about money while you're relaxing.
Where to eat:
Santa Monica is full of freshness, thanks to twice-a-week farmer's markets and endless seafood, but where to go? With only two days in Santa Monica, you'll want to choose your meals with conviction. Thanks to fresh farmer's markets and endless seafood options, you can avoid the fast food joints that adorn most big cities. Go for something a little more unique and a whole lot healthier.
Breakfast: Le Pain Quotidien, 316 Santa Monica Boulevard. The breads are baked in-house and all the omelets and egg dishes can be made with egg whites only. The jams and fruit spreads at the table are amazing and also made in-house.
Lunch: The Lobster , 514 Santa Monica Boulevard. Located right at the beginning of the Santa Monica Pier, The Lobster not only serves up great views of the famous Ferris wheel, but some of the freshest seafood entrees on the beach. If you're going to splurge on something sinful during your two days in Santa Monica this is the place to do it: the truffle fries are out of this world and if you pair them with a nice lobster meat salad, you won't feel so bad about consuming the entire bowl of fries.
Snack: Interactive Café, 215 Broadway. Located just off the Third Street Promenade is a dark entrance that resembles something of a lonely night club, but two steps inside and you soon realize you stumbled into an organic escape. Complete with free WiFi and computers for use, the Interactive Café whips up everything right in their kitchen, from Panini's to pastries, to smoothies and freshly squeezed juices.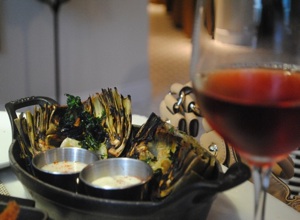 Dinner: Fairmont Miramar's Fig, 101 Wilshire Boulevard. The menu constantly changes, the tables are constantly sought-after and the food is consistently amazing. Fig is located inside the hotel and doesn't offer much by way of a good view, but what it lacks in ambiance it makes up for in taste. The menu offers something for everyone - vegetarians, seafood- and meat-lovers alike will find pleasure in the culinary creations. Don't miss out on the cherry and almond tart for dessert.
What to see:
Santa Monica beaches are some of the best in Southern California but to really experience all of Santa Monica, you have to set out and explore.

Pedal or Not, 1515 7th Street: The small bike shop is operated out of a renovated garage and offers guided bike tours daily. The bike tour will show you some of Santa Monica's most unique sights, including Muscle Beach, Skateboard Park and the Venice Canals. You can stop and go as you please, and the best part? If you get tired of pedaling, you just turn the throttle and let the battery speed you on your way.
Ocean Avenue: A stroll along this famous street will land you in front of some of the most historical buildings in California. The bright blue structure at 1415 Ocean Avenue is The Georgian Hotel, once a hot spot for celebrities and today, still operates a speak-easy in the basement (group bookings only). Stop inside and admire the old Hollywood photos, and relax with a drink on the hotel's front porch. Continue walking and turn down Arizona Avenue toward the Third Street Promenade.
Third Street Promenade is a pedestrian mall which has become the vital heartbeat of Santa Monica tourism. Third Street Promenade is known for its weekly farmers' markets, endless dining and shopping options and entertaining street performers.
You can't visit Santa Monica without a stroll down the famous Santa Monica Pier. The $45 million Pacific Park amusement park is complete with a Ferris wheel and roller coaster rides and the Santa Monica Pier Aquarium. There are plenty of street carts for picking up kitschy items and the views of Santa Monica from the end of the pier are some of the best in the city.

Wrap it up: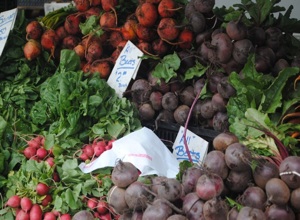 If you have a few extra minutes to spare before heading back to the airport, don't miss the little pleasures of Santa Monica that you won't find in a guidebook:
Enjoy the sunrise from the beach
Walk through the Farmer's Market (every Wednesday and Saturday) for some fresh snacks and organic amenities (soaps, candles, oils, etc.)
Ride the Carousel at Santa Monica pier