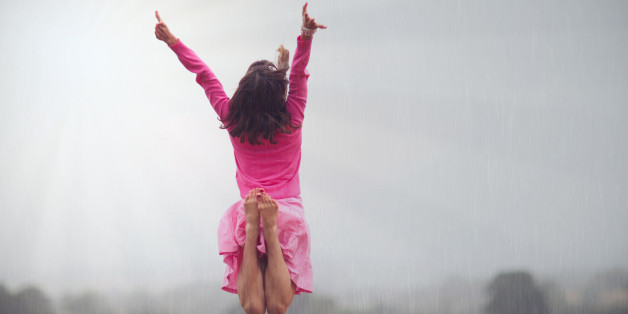 "You should be on 'Oprah'!" people say to me when I tell my story.
"You should be a keynote speaker at women's events all over the country -- like Oprah's Life You Want Tour or Arianna's Third Metric," said a friend. "You'd be a much better speaker than who we are listening to right now," she whispers in my ear at a local fundraising luncheon.
"You should be another 'Oprah' with your own show," says a PR executive friend. I wish I could afford her services to help me, only her opinion was free.
I am grateful for the vote of confidence and I don't disagree with their sentiments. But the word should sticks like a thorn in my side. I should be doing all these things and could, and may and hopefully will. However, I'm doing the best I can, so simply let me have that moment before making feel I should be doing more or better just as I landed on my feet at a new high. I am Team Me. I don't want to compete with myself or with anyone. My life is not a race. It's a balancing act.
Most of us are us doing the best we can in the time we have. Sure, some of us could be doing more or better, and maybe we should give it more of an effort, but many of us are just fine with what we have and what we are doing right now. Sometimes to thrive is simply to enjoy being alive and not always to strive. I think we all need to pat ourselves on the back for what we have accomplished rather than kick ourselves for not achieving more.
For me, the pressure of should comes with anxiety and - worse- guilt, two of my least favorite sentiments. I am an alpha female born from brilliant, accomplished parents. Early on I was told I should be a better student, should be successful, should find a nice man, should be a generous person, etc. For years I focused more on what I should be doing rather than enjoying what I was doing.
With two published books, two radio shows in the works, a happy marriage, good health, a successful career and caring friends and family why should it matter what others expect of me? Why should I be anything less than satisfied with what I have done with my life to this point? I may not be Oprah or Arianna but I'm doing okay.
And that's the lesson for all of us: The only expectations that really matter and should be managed are the ones we set for ourselves. What others expect we should or should not be doing is their opinion, but we should not make it our concern or obsession. And if we set our own expectations so high that believe we will fail ourselves, maybe it is time to take a reset.
When people say you should be doing this or that, how does it make you feel? Do you take it as a compliment or criticism or neither? And how do you respond? One way is to say: "Why, thank you! Great idea! Would you like to give me a hand?" Usually people are generous with advice on what you should be doing and thrifty with offering to help. If you find someone willing to do both, be gracious.
I bet Oprah would tell the young girls at her Leadership Academy in South Africa the same thing I tell young girls here in the United States, "You can do whatever you set your mind to. Believe in yourself. Accept advice; act on your best judgment. Own your reality and value your self-worth. The only size that matters is how you measure up to yourself."
Hey, Oprah! Are you listening?
To see more posts please visit http://melanieyoung.com