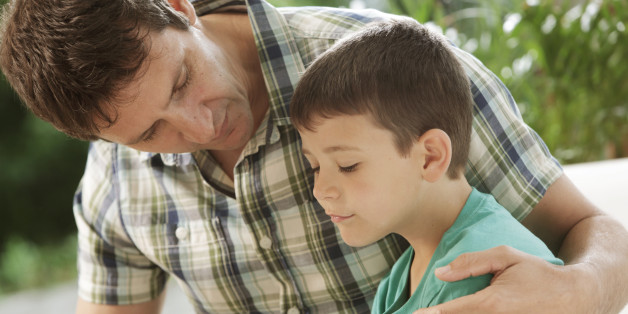 Dear Family Whisperer,
I've read your last few columns and need your help. I have two children, a 12-year-old boy and a 6-year-old girl. Their father, my husband, was recently diagnosed with terminal cancer. The current medical plan is chemo and radiation in hopes of extending his life. During those treatments, the doctors expect that he will be tired, in pain and most likely experience hair loss. I have no idea how to begin to tell my children about what is happening and what's to come. I feel like I am in mourning myself and won't be able to help them. I feel like I am drowning.
-Frightened

Dear Frightened,
You're not "drowning" alone. Your husband and children are also trying to tread water. Even if you haven't yet told them, your kids feel the presence of something different. When serious illness invites itself into a household, all of you are affected. What to tell the kids is only one small piece of a complex puzzle. The challenge is considering everyone's different needs and dealing with it together.

Start with your partnership. Try to listen empathically and without judgment. Respect each other's style of crisis management as you tackle the hard questions: How will you get information? Whom will you tell and ask for help? How will you plan for contingencies?

You of course want to "spare" your husband more pain, but be careful not to shut him out. For example, if you're the better researcher, don't automatically take over. Ask. Your husband might prefer that you take on the lion's share of reading, note-taking and phone calls. Or, not -- this is his cancer. What matters most is that you respect and support each other. Being in synch as partners will make you better parents, too.
You might feel like "circling the wagons," but don't go it alone. "There is comfort and grace in allowing others to help," offers a cancer survivor. Ask family and friends to listen and pitch in. Talk to other patients and their partners, to a lay or spiritual counselor, and to a lawyer and/or an accountant who can guide you in contemplating the future. And don't forget to take care of you -- the often-overlooked "well spouse."
When you tell the kids, refer to other times when you pulled together as a family ("Billy was rushed to the ER -- and we all kept calm") and when family members and close friends helped ("Uncle Rick let us use his car after the accident"). Encourage questions and answer what they ask. Be honest. Dad might feel sick after treatment; he might lose his hair; he might get angry or sad.
Solicit their opinions ("Would you rather have Aunt Sara or Josie come when I take Dad to his doctor appointments?"). Stress that you and Dad are taking care of business but that they can be helpful, too -- by being extra quiet when Dad comes home from his treatments, supporting each other instead of fighting and offering to take over household jobs without being asked. Share the news with teachers and coaches. Your children need a support system, too.
Children who are informed and respected tend to rise to the occasion. Yours might become suddenly kinder and seem older. They also might get sad or angry. Personality and age will affect their reactions. Your son might tell just a few close friends. Your daughter might share the news with her entire class. At 12, he probably understands that doctors can't cure Dad; at 6, she might have more difficulty grasping future realities.
As much as you can, stick to your usual routine. Your "new normal" should incorporate whatever you usually do -- kids' games, pancakes on Sunday, play dates and sleepovers, an annual July 4th picnic. When Dad can't attend, take photos or videos and watch them together.
Seize small moments of pleasure. If your kids like a particular TV show, watch it with them. If Dad's always wanted to go to a Monster Truck show, now's the time to have an adventure. Use silliness to relieve stress -- like the divorced mom who made everyone eat dinner without utensils and called it "Pig Night." Laughter is always good medicine.
This a difficult and all-consuming trial for your family. You can't change your husband's diagnosis, and there's no magic bullet for the powerlessness you all feel. But by cleaving together, you give shelter to each other-and gain a collective strength that becomes part of who you are as a family.
Have a family question for Melinda Blau? Tweet #DearFamilyWhisperer or email us at DearFamilyWhisperer@familywhispering.com. Check back next week to see if your question is featured on the Huffington Post! Real names will not be used, no topics off limits. Adults and children are welcome. These columns are brief. You'll find more in FAMILY WHISPERING, co-authored by Melinda and (the late) Tracy Hogg. For more info, check out the website: FamilyWhispering.com and follow @MelindaBlau.