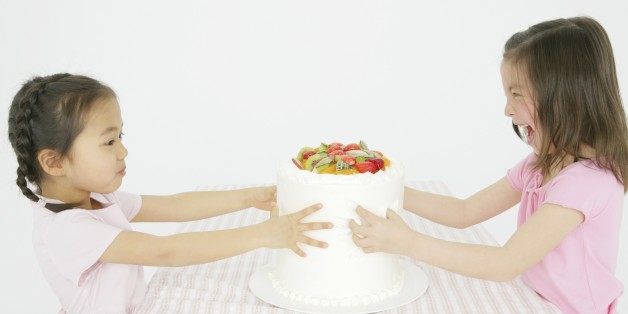 Dear Family Whisperer,
My sister and I are a year and a day apart; I'm the older one. Until I was 13 years old (and went away to boarding school), my mother planned our birthday parties together, so she would only have to deal with one event. I hated it. I guess it was the practical thing to do, but it wasn't like celebrating MY birthday. I never felt special on that day. We had only one cake with both names on it. Sometimes, our friends gave us only one present that we had to share. We're now in our fifties, and it's taken us almost that long to get past our differences. Maybe having our own birthday parties might have helped me (I can't speak for her) be less resentful -- or maybe not. I don't have children, only nephews and nieces. But if I did, I'd never force them to share a birthday celebration. What would you do?
--Cheated Adult Child
Dear Cheated Adult Child,
Having children born 3½ years apart (now grown and therefore throwing their own birthday parties!), I never had to deal with this problem. But based on a quick search of the Internet, apparently many parents weigh the pros and cons of joint birthday parties for kids.
Their decisions are often colored by their own childhood memories, which run the gamut from sweet ("The most memorable birthday parties were the ones my parents threw for us together") to bitter. One, in fact, sounds a lot like you: "My parents made the incorrect assumption that we wouldn't mind sharing parties from age 1 to 12. Starting at age 5, we did mind. A lot." Others remark casually, "It's all I knew. That's how it was in our family."

Today's parents plan joint birthdays for the same reason your mother did: It's convenient, cheaper and theoretically easier than throwing two parties. But their online ruminations suggest that they worry about making the right choice.
The truth is, there's no "right" answer. Having children with close birthdays presents one of the many deciding moments that give parents pause: Will we regret it later? Will the kids resent it?
I wouldn't categorically rule out joint celebrations. Some bring siblings closer; others, not so much. Success depends on the kids, their ages, the parents, their budget, the venue, who's coming -- and, most important, whether the children are included in the process. As Chris K, a Circle of Moms member, reasoned, "If they are old enough to care or object, they are old enough to make the decision."
The opportunity is long passed in your case, but who knows? You might have been less resentful if your mother had explained, "Mary's and your birthday are a day apart. We can't afford two parties, so how can we make each of you feel special?"
Kids can be amazingly resourceful and reasonable if parents give them the chance. They can help with the planning, the guest list and invitations. Most important, they can help the grownups imagine what a party with two celebrants might look like -- the menu, whether to have one cake or two, the theme (or two themes), the decorations and the games. If your house or the party venue permits, they can help decide whether to be together for all of the party or to designate separate rooms for activities.
When you sit down as a family, it helps to focus on the meaning of the day, not just logistics. One's "birth day" (or adoption day) signifies when each of you became part of your family. However it is celebrated, and however special it makes the birthday boy or girl feel, it should also emphasize "the joy of being together."
One heartening trend is toward simpler, do-good parties, which work well with one celebrant or two and does wonders in combatting the gimmees. Internet entrepreneur Maya Bisineer convinced her initially unenthusiastic 4-year-old to contribute her gifts to a local hospital's toy drive by, first, recalling the orphanage she helped when she was a child. She said she wanted her daughter to have a "similarly awesome" experience. "In turn, we (my husband and I ) would buy her a gift she would love."

Ultimately, families are defined and solidified by their rituals. At their best, predictable, recurring traditions, like breakfast in bed for anyone celebrating a birthday, remind family members of their "We-ness." But we also have to change traditions that no longer serve us.
In the Mad Men era (when, presumably, you grew up), these ideas would have seemed preposterous to your mother. Children weren't consulted about their birthday celebrations nor asked about them afterward. At least by sharing your recollections and feelings, you've given today's parents something to think about. Thanks!
Have a family question for Melinda Blau? Tweet #DearFamilyWhisperer or email DearFamilyWhisperer@familywhispering.com. Check back next week to see if your question is featured! Real names will not be used, no topics off limits. Adults and children welcome. These columns are brief. You'll find more on this topic in FAMILY WHISPERING, co authored by Melinda and (the late) Tracy Hogg. Also check out the website: FamilyWhispering.com and follow @MelindaBlau.