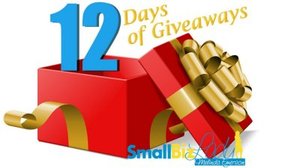 December is here. It's the most wonderful time time of the year. I love the decorations, going to New York City to see the Rockefeller Tree and the ice skating in Bryant Park. The food and all the holiday cookies are big on my list too. But the best thing about holidiays is giving to others and that includes all of you hard working small business owners out there. It's time for you a get a gift to help you grow your small business in 2017. If you follow me online, you know that I love to give away FREE stuff. Start December 1st, my annual social media contest SmallBizLady's 12 Days of Giveaways is kicks off. From December 1 to December 16th, every business day, I will give away a free gift that will boost your small business. But you must enter for a chance to win. Sign up for the 12 Days of Giveaways contest today bit.ly/SBL12Days
I've teamed up with some of America's top brands that provide products and services to small businesses including ADP, App Data Room, Quill, Nextiva, Infusionsoft, Reachlocal, and Intuit Quickbooks, and you'll also have a chance to win a VIP coaching day with me live in Philadelphia.
I have over $35,000 in gift cards, products and services to give away, so don't miss out. Sign up for the contest today bit.ly/SBL12Days
How the #12DaysofGiveaways Contest Works:
Step 1: Join SmallBizLady's email list at bit.ly/SBL12Days
Step 2: Starting Dec 1, 2016, check your email each morning for the secret social media post and giveaway details.
Step 3: Between Noon and 6pm EST you'll need to share the secret social post on Twitter, Instagram or SmallBizLady's Facebook fan page @SmallBizlady and the hashtag #12DaysofGiveaways to qualify to win.
Step 4: Participants must be a U.S. resident. Only one entry per day, per social media account is permitted. Here are the official contest rules.
Sign up to register today at bit.ly/SBL12days. Remember, you must use the hashtag #12DaysofGiveaways to enter contest.
I don't know about you, but I can't wait for December 1st to get here.
Don't miss the chance to win amazing small business prizes in our #12DaysofGiveaways in December!
Here's the list of prizes you can get:
ADP: One year of free payroll for a company with up to 25 employees
ADP® is thrilled to offer one year of free payroll to the winner*. More than 450,000 small businesses rely on RUN Powered by ADP® for timely, accurate, anytime, anywhere access to payroll and reporting. Backed by live, 24/7 support, RUN saves precious time so you can do what you do best: run your business.
* Free payroll applies to companies with 1 to 25 employees that sign a complete ADP sales order and to all features of standard payroll processing invoiced on client's regular processing cycle and does not include additional non-payroll services; excludes pass through costs, courier and other delivery fees, including off cycle fees, hardware, or penalty and interest fees. Must be a new ADP Client processing on RUN Powered by ADP® in the Continental US. Must be set-up for direct debit of fees ("DDF"). Not redeemable for cash. No rebate, refund or credit for less than 12 months of processing.
Nextiva: Up to five lines of VOIP phone service
Up to five lines of VOIP phone service for your small business for 12 months. This is perfect for your virtual team to look seamless with your communications to the outside world.
App Data Room: The flagship mobile sales enablement tool
App Data Room is the leading mobile sales enablement platform that assists sales and marketing teams to organize, store, share, present, and track content. Use their cloud and mobile app technology to assure you have access to the sales and marketing content with or without internet or wifi.
Intuit Quickbooks: 1-year subscription to QuickBooks Self-employed software.
If you want your finances made simple, you need this mobile app. Untangle your business and personal expenses on the go. Use the mobile app to track your income with a swipe and they are throwing in an $150 VISA gift card to sweeten the deal.
Basket of 10 Top Business Books:
As an avid reader, it's my belief that you must grow yourself to grow your business. I have assembled 10 top business and marketing books to help you take your business to the next level including Built to Sell John Warrillow, Whale Hunting by Barbara Weaver Smith, Profit First by Mike Michalowicz, and Abundance Now by Lisa Nichols
Reach Local: A $500 credit toward an online marketing campaign
ReachLocal helps local businesses grow and operate their business better with leading technology and expert service for clients' lead generation and conversions. They offer search engine marketing, social advertising, display advertising, local listings, website solutions, live chat, lead management software and more. One of their marketing experts will manage the program from beginning to end and report back on the results. Use their service to build your online presence and drive more leads.
Infusionsoft: Two tickets to ICON conference
Infusionsoft is an awesome email marketing platform. For this giveaway, they are providing two tickets to their annual ICON Conference April 25-27,2016 in Phoenix, AZ. Infusionsoft brings together over 3,500 entrepreneurs to learn, network and share growth strategies. This year's keynote speakers include Marcus Lemonis, from CNBC's The Profit, Best selling author, Lisa Nichols and Millionaire Mentor, Scott Harris.
Quill: Star Wars wrapped copy paper + gift card
Quill.com, an online business and medical product marketplace for small-and medium-sized businesses and subsidiary of Staples Inc., now offers Star Wars wrapped copy paper. Each ream of paper is wrapped in an eye-catching Star Wars design and comes packaged in a reusable Star Wars themed box. They are also tossing in a Quill.com gift card so that you can grab more products to promote your small business.
SmallBizLady Giveaways:
1) SmallBizLady BYOB Powerpack: You'll receive a signed copy of my best selling book Become Your Own Boss in 12 Months, The Workbook: Are you Ready to Become Your Own Boss, and the audio course 10 Things You Must Never Forget In Business.
2) Become Your Own Boss 6-week Mastermind Course: This six week automated course will walk you step-by-step through my Emerson Planning System, from my book Become Your Own Boss that will help you transition from employment to entrepreneurship. This prize also includes an autographed copy of my bestselling book, Become Your Own Boss in 12 months and the workbook, Are you ready to Become Your Own Boss.

3) Social Media Ninja Kit: Learn how to build a powerful social media brand with my ebook How to become a social media ninja, the audio courses How to become a Twitter ninja and How to Become a Social Media Ninja

4) VIP Coaching Day with SmallBizLady: One of the coaching services I offer is a VIP coaching day with me live in Philadelphia for
I have an amazing line-up of giveaways for this year's 12 Days of Giveaways contest. But you must sign up for a chance to win. Click here to enter SmallBizLady's #12DaysofGiveaways contest, you'll get email each day with directions on your chance to win a top prize to boost your small business.