#1) Set Out To Do Well But Then Don't
Few things in life can compare to standing in front of your giant name in glowing red and yellow lights as you bomb on national television. It is amazing the amount of people who feel entitled to approach you afterward and let you know how they think you did on the show. "You looked stiff." "That could've been really big for you, a game changer-- too bad." And simply "My dad hated you."
Bombing on national television is a real conversation starter and a real conversation-ender. Sometimes it can be hard to tell if you're actually bombing or not so here are some tell-tell signs: At one point you are saying things and people are laughing and then they are not and it transforms into what feels like giving a eulogy at the funeral of your self-esteem. When the approval of 3000 people, three celebrity judges, and 20 million TV viewers dissipates into a shocked quiet, one may observe that without laughter, stand up comedy is just a sad person talking.
#2) Don't Be a Crowd Pleaser
"I'm thinking about performing on Americas Got Talent." I declared to my managers at Brillstein Entertainment, six months prior to bombing on America's Got Talent.
"That show is for amateurs, you're a professional comedian," my manager said. "Brillstein represents professionals. There is no difference between you and our other clients, Jennifer Aniston and Natalie Portman. Except that they have millions of dollars in the bank and you do not."
"Well," I reasoned, "My comedian friend did it last year and it went very well for her."
They pulled up said friend's clip online and watched it.
"Ok, this person is an impressionist. Impressionists are crowd pleasers," my manager said and further clarified, "You are not a crowd pleaser."
My other manager added, "Melinda, they boo people on that show. Do you want to be booed? Picture it: tons of people yelling 'boo!'"
"Guys, I've thought about this and the audition is only 90 seconds of jokes. I'm used to doing 4 1/2 minutes of jokes on other shows like Craig Ferguson, Bonnie Hunt, Comedy TV, etc. I mean, how hard could it be?"
"Well ok," my manager joked, "if you want to end your career this as good a way as any."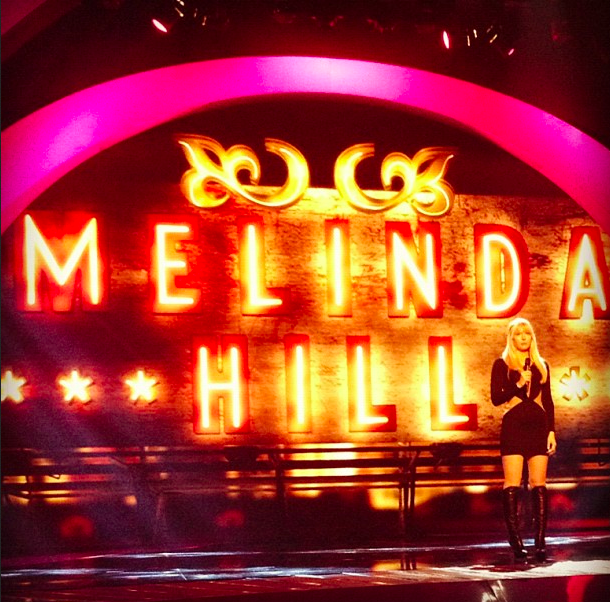 #3) Refuse to Give Real Answers
Before my audition a producer interviewed me on camera backstage. I'd just signed an 80-page contract that said, among other things, the show doesn't pay unless you win and may also "cause psychological damage to you and your family." Reality shows are known for earnest interviews exposing people's pain and personal triumphs but I thought it'd be more appropriate as a comedian to give silly answers.
"Do you feel like you can win this contest?"
"I'm really only here to meet my real dad who I have reason to believe is celebrity judge Howard Stern."
"How'd you get into stand up?"
"I've always wanted to do stand up so you can imagine how sad it was when I was born with no legs. Stand up? I couldn't even sit up!"
The producer put down the camera, exasperated and said, "We need you to give real answers."
#4) Do a Rape Joke
For my AGT audition I did these jokes.
"I'm thinking of joining a religion but I don't know which one to join because there are so many options. Religions are like rappers, they all claim to be the best one and the more popular they are the more they get away with rape."
"A lot of people have a personal motto or creed that they like to live by, my personal creed is no matter how bad things are they would definitely be worse if a Creed song was playing."
"I think it's so important to value the sacred institution of marriage. I'm not personally married but I do have a boyfriend and he's married." And so on.
They didn't air my initial audition but instead flew me to New Jersey to perform as one of 12 YouTube finalists in the quarterfinals of the show. My producer said NBC wouldn't allow me to do the aforementioned rape joke and that in fact I'd need to do all new jokes, ones the judges hadn't seen yet. I hadn't had to readjust so abruptly since I'd moved 27 times while growing up with a bipolar dad. Reluctantly, I replaced the set with some older jokes that I'd already done on other TV shows. As I regrouped from being censored, a fellow contestant was excelling in the contest with a talent that consisted solely of getting "kicked in the nuts."
#5) Refuse to Jump up and down
After my initial audition for celebrity judges Howard Stern, Howie Mandel and Sharon Osborne where I was told that I'd been chosen to move to the next level, I walked off stage and a camera woman asked how I felt about going to Vegas. I didn't know how I felt because I was unclear of how it had gone. There was one yes, one no, and one yes that seemed more like an "I guess," not necessarily cause for celebration.
Two producers pulled me aside and angrily told me to be more excited, gesturing to the bands and dance groups jumping around, crying tears of gratitude about moving on to Vegas. They told me to jump in the air and I told them that's not something I really do regardless of how excited I am.
"OK, let's try this again -- how does it feel to be passed by the judges and validated by America?'"
"Well I'm not technically validated by America, I mean I had a set that went OK, the judges were on the fence and I'm not even sure if this is airing..."
"Is this the biggest night of your life?"
"I mean... it's exciting..."
After I failed at the enthusiasm handjob they tried to compensate by provoking me to belittle the other contestants.
"How do you feel about being the only female comic on the show? Do you think you can beat the two guy comics in the competition?"
"I don't know. They're both solid."
"Yeah but you're going to bring something new to the table as a female, right? You'll bring something they can't?" They pressed on.
What did they want me to say?
"Yes. What I intend to bring to the table is a giant vagina that America can climb up into!"
I guess nobody turns on a reality show to see a twice-daily meditator say there's enough for everyone and we all have a special gift to share.
#6) Have the Internet Agree You're Not a Crowd Pleaser
In my hotel room after the show I sat on the Best Western Plus plether business chair and fell into a downward Google spiral of nasty comments eviscerating me: "She's not funny. " "If she writes two hours a day then why did she use the same jokes on Ferguson four years ago?" "She needs to brush her hair." Even the formerly kind Wikipedia had turned on me, adding to my previous list of credentials: "Her act was not well received by the judges or the audience." Wikipedia was being a real dickipedia.
I thought of my sweet mom in Kansas who'd organized a viewing party at a local hot wings bar and wondered if I should text her from the sad future of my east coast time zone to let her know it wouldn't go well, saving her the embarrassment of going through with the party. I wondered if I'd ruined my life and if now would be a good time to hang myself from the floral drapes in the Best Western Plus.
It became my own personal Vietnam. I felt embarrassed, disoriented, and jealous of the contestant whose talent had consisted of playing bells in a bird mask because even though the judges destroyed him he still had his anonymity. That's right, I was jealous of a guy who wore a bird mask. To work.
I was afraid my managers would drop me when they found out but they never mentioned it and to this day I don't think they ever saw it so please don't tell them I bombed on America's Got Talent.