It is no doubt Turkey's women are tech savvy. They're laughing all over social media at conservative ideals and throwing slippers to oppose violence against women in Turkey. Women with access to technology and the know-how are taking Twitter by storm, turning to online means to surpass the lack of transparency in local media and tell the world their stories. But in reality, how many women in the country actually have access to a computer? How many know how to use the internet? And what would happen if we made it a priority to educate women and give them access to join the conversation?
Early this month, Turkey's deputy prime minister made a speech on the nation's 'moral collapse' to celebrate the Islamic festival of Eid al-Fitr. Bülent Arınç, member of the Justice and Development party (AKP) stated "[A] woman must not act in an alluring manner but must preserve her purity. A woman must not laugh in public ... Where are our girls, who blush delicately, lower their heads and turn their eyes away when we look at their faces, our symbols of chastity?" This comment took social media by storm.
Turkish women rebelled by posting photos of themselves laughing and tagging it #direnkahkaha (Resist Laughter). The campaign spread internationally, reaching even some celebrities, including Emma Watson, who supported Turkish women by tweeting a photo of herself laughing in public. Always creative, Turks are known for their innovation in the world of social media (see Gezi Park), but recently, the spotlight has been on women.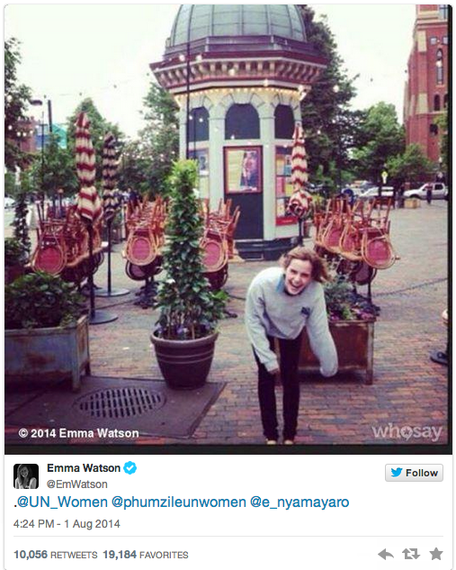 Just weeks after the laughing spree, one of Turkey's most active female lawmakers, Aylin Nazliaka, member of the Republican People's Party (CHP), gave a speech on violence against women. During which, members of the Justice and Development Party (AKP) mocked and taunted her during her speech, making reference to her having received Botox. Nazliaka's response was revolutionary and typically Turkish. She threatened to take her shoe off a hurl it at the taunting men, stating, 'The devil is tempting me to take off a shoe and hurl it at you!' This might not make sense to an outsider, but the reasoning behind the slipper throwing is quite cultural, indeed.
Typically, mothers threaten their children by saying that 'a slipper is coming' if they don't stop misbehaving. Nazliaka's action spread like wildfire, and soon everyone was tweeting photos of their slippers accompanied by the hashtag #GeliyorTerlik (the slipper is coming).
While it seems to be a laughing matter, the subject Nazliaka was discussing is quite a serious one. Violence against women in Turkey is at its worst state in years. Between 2002 and 2009, the murder rate of women exponentially increased by 1,400 percent. An estimated 28,000 women were assaulted in 2013, according to official figures.
There is a huge disconnect between the women that are tweeting about laughing in public and throwing slippers and the reality that faces are large portion of Turkey's traditional societies. Nazliaka was standing up to discuss this problem. Close to 50% of women in southeastern Turkey cannot read or write. Violence against women reports stated that while 55.8% of women were subject to violence if they had no educational background, a much less 27.2% of women with at least a high school diploma are susceptible. The findings are stark. Women need an education, not just for their future, but also for their safety. Coupled with education, women in Turkey drastically need access to information.
There are organizations already tackling this issue in the smartest way possible. Educating Turkey's women should be of utmost priority, followed by teaching computer literacy.  Days consists of soap operas, local news stations, cooking and cleaning. When it comes to a woman's mind, in the eyes of her husband, she has no opinions or thoughts, even when it comes to voting.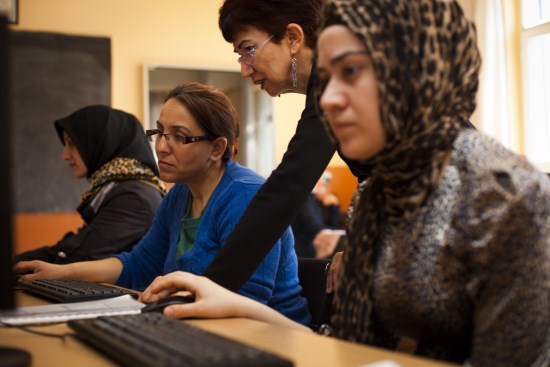 Women without access to the internet or that rarely leave their homes are only hearing what is being said on TV, which is not reliable. Local news stations are clogged with misinformation. During last year's Gezi Park protests, where international news stations focused solely on the violent clashes between protestors and police, CNNTurk famously was broadcasting a nature show on penguins, whereas other local stations aired a cooking show and a full-length documentary on Hitler.
Turkish NGO, Mother Child Education Foundation (ACEV), has been operating a center called the "Melek Erman Koni Center" in Esenler, Istanbul. This center operates with three main purposes. The first is to educate the increasing population of rural migrant women to Istanbul through literacy skills.  The second is to involve children into the center. By allowing children to participate, mothers have freedom to take classes while their children use computers and read. Lastly, ACEV teaches computer literacy to its attendees.
By inviting these women to technology and giving them access to read what the rest of their country is discussing, they have the ability to join the conversation. An international organization, World Pulse, has taken this theory one step further on a global scale. Through internet cafes in rural Aghanistan to a mobile phone in India, World Pulse is global platform where women can share their stories for the world to read. From violence against women to local success stories, women in all regions of the world are amplifying their voices for a much wider audience.
More and more organizations are realizing the importance of technology and are coupling it alongside with literacy. In Turkey, especially, where news censorship is high and women lack access to information from their homes, we would all benefit from hearing the stories women could share if we gave them access to technology. The world has seen the impact Turkey's women are capable of when they have the right tools and it's time to hear from all women.