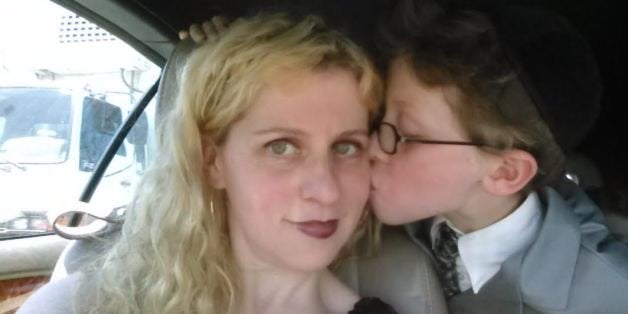 When I was a little girl I remember telling anyone who would ask me the question, " How many kids do you want when you get older?" AT LEAST FOUR.
Of course I never anticipated that the actual act of getting pregnant for a second time would be so arduous. I feel grateful for my gem of a son, my little fighter who survived in my womb when his twin simply vanished at 11 weeks, on so many levels. At this precious age of 9 -- these nine years which have seemed to whiz by -- I've learned so much about myself and yes about boys and about the capacity of my heart to stretch in ways that never cease to shock me.
While I wanted to smother him with kisses this morning he told me, "One kiss is all I need." And so I must figure out a way to make that all I need as well. But on this day -- I feel this need to share all that my 9-year-old boy has taught me.
1. The act of dunking a nerf Basketball into a hamper is NOT AS EASY AS IT LOOKS. My son can and has spent hours upon hours perfecting his dunking shot, hours that I've been instructed by him to carefully watch his every move, and I can say with all certainty the shot requires skill and precision and my boy has demonstrated such patience in trying to help his dear mom get that shot just right. I love my boys!
2. Gender truly has no bearing on who we innately are. My son has squashed every stereotype I believed about boys. I've watched him gently cradle our 15-year-old Shih Tzu Mellie with so much compassion I could barely keep from weeping.
3. Life's simple pleasures are everything. Jackson needs so little, actually next to nothing, to keep him entertained and content. A game of hangman on an errant piece of scrap paper can illicit such joy from him, he has me convinced HANGMAN might be the answer to solving world peace.
4. The present is all we have. I know I can't hold onto him forever, even though I want to freeze him in this very moment, and never let him grow up and explore and travel and fall in love with someone else. Of course I want those things for him, but the selfish part of me wants all his love directed at me -- and so for now, while I still have it, I will marinate in it -- I will let it wash over me and I will cherish it.