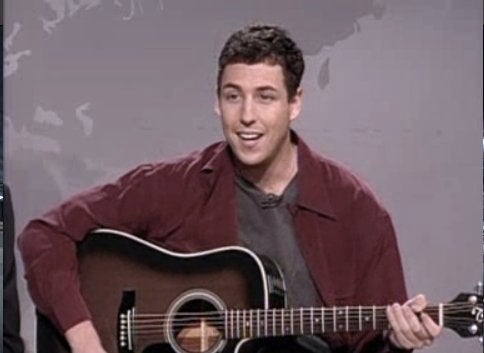 I am a member of the tribe -- a.k.a. a Jew. Which means that while December is afloat in all things jingle bell and merry ho ho's, my kids and I are not able to revel in all its glory without feeling guilty that we're forfeiting our religion for another, if only for a month.
At first, I tried rationalize it to my daughter when my son begged us for a small bush to call his own. A bush he wanted to string with popcorn and adorn with an angel. I said it was akin to a decoration, that it is art, beauty and the same as admiring and collecting paintings and statues, which we do anyhow, and so perhaps we could view these Christmas decorations in a similar light. But -- there was a big but -- somehow our conversations always trickled back down to the manger, Mother Mary and the baby Jesus and ultimately, I've always found myself bombarded with the questions like, "Wait, wasn't Jesus a Jew? Did he convert to Christianity? Did he start a new religion?, landing me smack in the middle of a theological mess I just was not prepared to muddle through.
Being a member of the J tribe during the month of December, when the glare of multi-colored lights, sparkly reindeer and the possibility of a jolly old man climbing down your chimney, leaving you with more brightly wrapped presents than your heart can handle -- well, it can send a 10-year-old and her 6-year-old brother over the brink. And no amount of menorahs and frying up potato pancakes can compete with the lure of jingles and a culture which is so utterly absorbed in the impending Christmas holiday.
So what's a Jewish mama to do? Here are my top three tips.
1. Don't try to compete
You'll never win! Forget the Hanukkah bush and stringing blue lights in the shape of a star of David across your windows. Bottom line: It won't be nearly as eye-popping as your next-door neighbor's robotic Santa and his reindeer resplendent in Swarovski crystals. Instead, do your own thing; create your own family tradition of decorating your house. We do a lot of drawings, and yes, I even allow my kids to bring out the glitter and Play Doh -- and just let them go gaga creating dioramas, figures, just about anything that has to do with the story of Hanukkah and anything that will take their minds off mistletoe and a manger scene.
2. Remind your kids that the beauty of this world is that we live in a time and place where each and every one of us can take pride in our religion and customs.
In other words they should not feel jealous of their Christian friends, rather they should feel grateful that we live in a society where a Star of David and a baby Jesus can co-exist, and both can bring joy and beauty to a neighborhood in their own individual ways.
3. Take comfort in the fact that the holiday season is only a month long.
Soon, you can channel all of your parental guilt and anxiety into not sticking to your New Year's Resolutions. See, if you look for it, there's a silver lining in every situation!
How do you help your Jewish kids navigate the Christmas season?