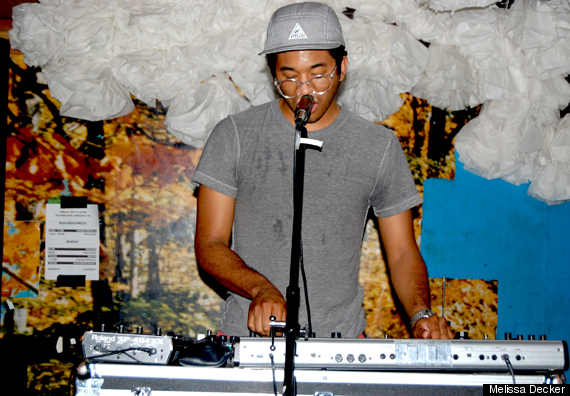 Chaz Bundick is a 23-year old with a BFA in Graphic Design from University of South Carolina, who happens to make dreamy pop music (commonly referred to as "chillwave") under the name Toro y Moi. Bundick played a sold out show Thursday night at Glasslands Gallery in Williamsburg with Rewards (the solo project of Chairlift's Aaron Pfenning), Idiot Glee (James Friley of Kentucky), and Body Language (Angelica Bess, Ian Chang, Grant Wheeler, and Matthew Young of Brooklyn). Jake Rosenthal of PopGun Booking planned the night about a month and a half ago, including an after-party for the show featuring a DJ set by Taken by Trees.
Thursday night's show sold out despite Toro y Moi's free show on Friday night at the Whitney Museum, filling the eclectic lofted venue with young twenty-somethings enjoying music ranging from the lo-fi indie pop songs of Idiot Glee to the disco-inspired music of Body Language. The beginning of the night was calm but enjoyable, and peaked with a giant dance party during Body Language.
Although the venue became incredibly hot during Body Language's set, the crowd never paused from dancing, and cheered ecstatically every time anyone from the band mentioned "disco." At this point in the night, the vibes of the show transformed into that of the typical sweaty summer dance party, but moved back towards the hanging-out-with-your-friends-on-a-roof-vibes during Toro y Moi, whose music sounded like a perfect summer blend of the Beach Boys and J-Dilla.
Toro y Moi featured two extra members this time, Patrick, Chaz's friend from elementary school, and Andy, Chaz's friend from college. The crowd enjoyed themselves, getting especially excited during "Blessa," the first track from Toro y Moi's first full-length album, Causers of This. Chaz also played his newest song "Leave Everywhere," bringing in traditional rock/pop elements, as seen with the new additions to his live set.
Chaz was incredibly personable, talking a bit with me about his Filipino/African-American heritage, and about how much fun he was having playing music as Toro y Moi. Well, good news for Chaz, we're all having fun watching you.
Toro Y Moi, "Blessa" by HuffingtonPost