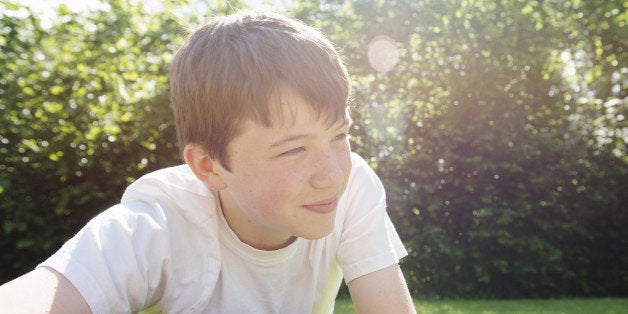 They are BACK. Already. School supplies are back in stores. On the heels of the 4th of July, while I am still in hamburger-inhaling, watermelon-slurping and pool-swimming mode, I've seen them. The golden square boxes of crayons stacked up and standing tall, almost grinning. The rainbow colors of spiral notebooks, the familiar squatty bottles of Elmer's Glue, the little-people-hand-sized scissors. All of it, lined up in what was just a few weeks ago the sunscreen aisle.
Attention, retailers -- can I just have a moment? And can that moment be called SUMMER? I still need popsicles, sunscreen, hot dog buns, and beach shovels and pails. My brain and my kids' brains are still currently on hiatus from structure of any kind. So when I see reams of wide-ruled notebook paper and protractors staring at me from store shelves in the third week of July, I get a little tense.
I am not ready, people. Not. Ready. I still have long, lazy days to enjoy, mornings to sleep in, lunches to NOT have to pack and plan. I need our seasons of life to not be determined by the front-of-store displays. I need it to still be the season of SUMMER, not the season of Fall Planning.
To add insult to injury, the kids' back-to-school gear catalog from Pottery Barn came in last week. Phew -- now we can all breathe a sigh of Ivy League elementary school relief. I was starting to get a bit nervous that my only back-to-school gear options were gonna be from that gawd-awful red bullseye place, you know the one we sorta pronounce in quasi French. I mean, I don't want to buy my kid's lunchbox in the same place where I buy my tampons, just sayin'. So when my mailbox unloaded those back-to-school pages of fall catalog euphoria, I skipped into my house, practically giddy, holding all of their glossy goodness. Thank God. Now I can sit down, relax, and have a perfect bird's-eye look at everything my own children and my home are NOT.
Ahhhh, just looking at the cover, with its classic autumnal hues and wool-cap-wearing 7-year-olds sporting sueded dirty bucks, tweed blazers and bow ties (they appear to outfitted for a frat meeting at Ole Miss -- not the 2nd grade), I am immediately transported to the happiness that is the first day of school. Except that it is 99 degrees outside, and, oh yeah, STILL JULY. But hey, I am inspired by what I see, so I jump on the PBK design blog, you know, just to see the latest and greatest in lunchbox, backpack, homework "station" and dorm trends. And here they are:
Your kid's lunch better be bento style.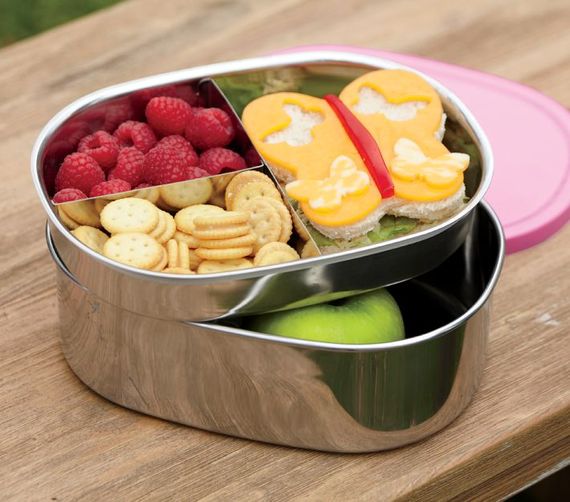 And also prepared by the staff from Whole Foods, and served in a $50 stainless steel divided feng shui style box. Because PB&J, a banana and some chips are so 2005. Do you get a wee bit peeved when your kid loses a $1 Ziploc container? Just think how delighted you will be when he or she comes home without this beauty.
Your kid needs his or her own home office.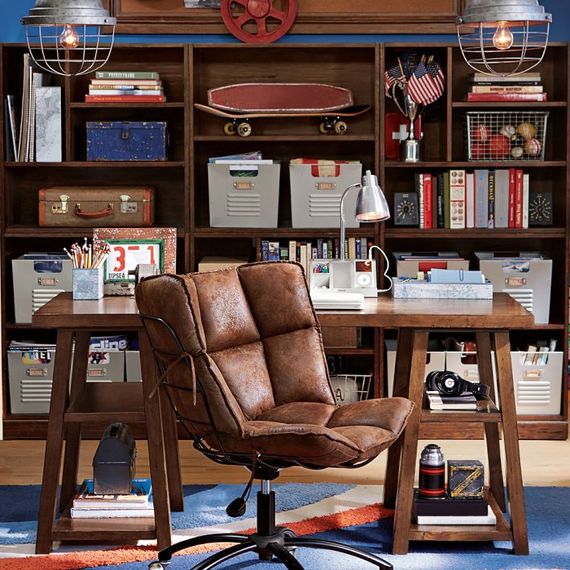 Complete with an adjustable leather chair that costs hundreds of dollars, an old beat-up suitcase a la thrift store, hanging industrial-looking lights that scream jailhouse, a magazine sorting system and a tin lunchbox from circa 1940. Sorry, mini CEOs, but I did my times tables on the kitchen table, and turned out just fine. As a matter of fact, I am able to actually concentrate and write this post from my current office, the laundry room.
College dorm closets are not just for beer anymore.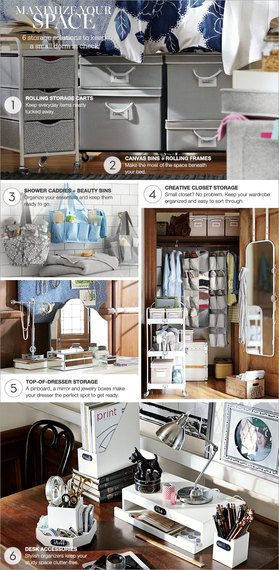 Because you definitely need someplace to store the 30 pairs of shoes you brought with you. And your typical dorm room has plenty of space for rolling carts and boxes made of linen. I am sure those will never, ever see pizza grease or vomit.
High school is hard on your daughter, so she needs a "lounge" room.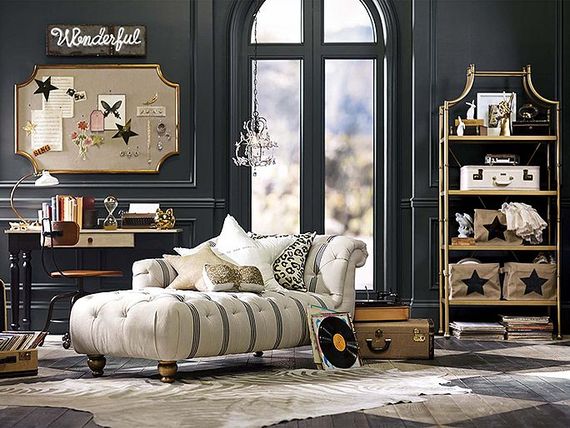 After a long day of 19th-century lit and negative integers, I too like to come home and lie down like a Kardashian on a soft chaise with star pillows under a chandelier, a wall light reminding me how 'Wonderful" I am, surrounded by old vinyl records and suitcases. Again with the vintage suitcases! Memo to self -- next time you see one at the Hospice Thrift Store for $5, BUY and EBAY. ASAP.
Everything your kid owns needs to be personalized.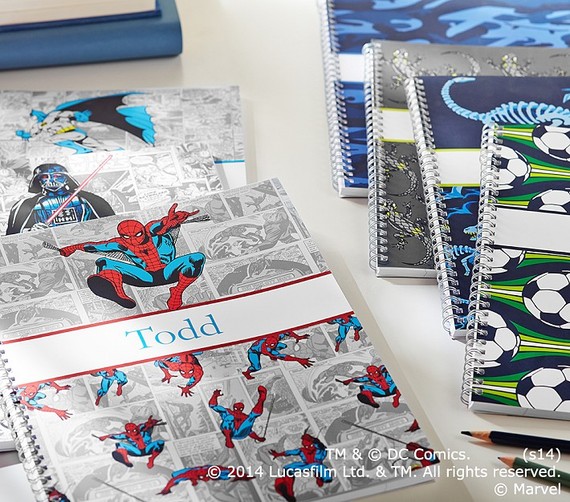 Yep. Even that. My kid's school supply list says he needs six spiral notebooks. No biggie, this will only set me back about $60, and they will stay as crisp and fresh-looking as they are in this picture all year long. And honestly, it is such a pain in the ass for my kid to have to WRITE his name on all his stuff. It's not like there are local children currently living in poverty, whom I could entirely outfit with a backpack, a lunchbox and every school supply they need for the whole year with that same $60. Charity, shmarity -- little Todd needs to know Spidey is all HIS.
So I am happily tossing out the fall catalogs, and sticking with corn on the cob and lemonade for a few more weeks. We will all be ready soon enough. I am sure, a month from now, having done every summer activity we can think of, I will be singing and pushing my shopping cart down the school supply aisle with enough glee to garner my own musical number. And then, a week later, the Christmas trees will show up.
PHOTO GALLERY
Seriously Ridiculous Baby Products