It's a question I asked myself over and over again before meeting Amanda Beard. You might know her as the gold medalist Olympic swimmer, but on the day we were hosting an event for her at Equinox, she was just another mom talking to other moms about motherhood and life.
We sat together on yoga mats and treaded carefully with our line of questioning at first. But she was prepared to talk about much more than we anticipated. After all, we were there to also talk about her book, In The Water, They Can't See You Cry.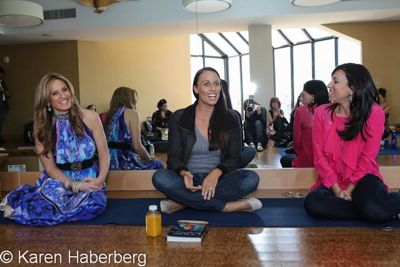 The book is an honest journey about Amanda overcoming the pain and suffering she faced while growing up and competing for and earning her Olympic medals. I sat and listened intently, as I wanted to understand the pain that one endures to push oneself enough to cut her body. I quickly learned she wanted to really tell her story. She was fearless and open about it all.
As I sat next to this beauty and took it all in, I had such a difficult time comprehending this self-abuse. Did it stem from her parent's divorce? Was it the pressure to excel in swimming at such a young age? Do I have to worry about this with my own children? Did her parents see signs as she was growing up? What should we look for? Are some people just born to self-harm?
I couldn't even relate to the poor self-image Amanda had of herself. I am and have always been a confident person. I can't even compare my accomplishments to her triumphs and successes and yet, I feel confident in most everything I do. Is that from incredible parenting or is that just me?
Amanda has learned to outgrow her insecurities, but she still fights these demons, even today.
The room was still when she began to talk of her cutting days. You could hear a pin drop when she discussed how it all began over a fight with an ex-boyfriend. The descriptive stories she told of scratching herself, which turned into stories of slicing herself, were enough to make one cringe. Then she explained in great detail that it was a release. I still couldn't believe this, but tried to comprehend the "why" in her abuse. I was shivering and shocked that it made sense to her.
I applaud Amanda for her bravery to come out and tell her stories of pain and suffering while competing around the world in a bathing suit. I don't think anyone could ever imagine that an Olympic swimmer could feel this way.
Although she may have gold medals and more success than many of us will ever have, Amanda Beard is just like so many girls, women and people who are fighting through pain while striving for self confidence. Yet it still makes me wonder, was she born this way?