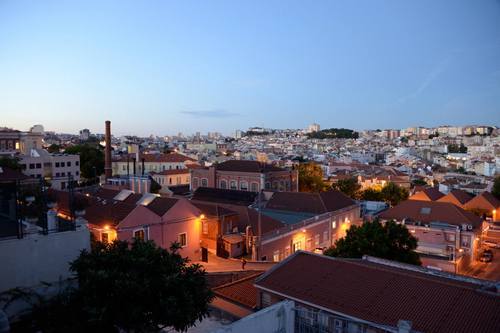 *Photo Credit:Manuel Billiones
During the summer months of Portugal, the weather is sunny and warm and the cool nights are made for jean shorts and cashmere sweaters. I arrived in the early afternoon, taking a cab into a city that is located only fifteen minutes away from the airport. Besides cultural festival and fire jugglers, going to the beach and hanging out at sidewalk cafes are probably the main activities to do in Lisbon. That, as well as touring the numerous castles and abandoned fortresses. My favorite part though, was driving along the coast of Lisbon, which is known for its perfect beaches, like Estonil and Carcavelos.
The Portuguese landscape provides good grounds for some outdoorsy and not-so-outdoorsy camping adventures. Before I get into that part of my story, I'd like to take a minute to complain about how much stuff I trekked across the globe and still felt like I had nothing to wear. (Except for a purple Violet Lake bathing suit I got on sale at Net-a-Porter.com; but I'm not sure if being half-naked counts as being stylish.) Everything that I packed seemed to not work, due to the weather, or the European culture. The only items that were of use on my holiday were my workout clothes from Athleta, a green leather skirt I bought at a consignment shop a few years ago, my James Bond neoprene yellow jacket I copped from Second Time Around, and my Sam Edelman white leather sling-back sandals I purchased at the beginning of Spring. I didn't even wear the heels I packed.
Though, Lisbon's style is a jigsaw puzzle, the surroundings make up for it. You can look good any and everywhere you stand. You can appreciate the country for its surfer attractions and cheap accommodations. I stayed one night at Carcavelos Beach Hostel, which was located two blocks from the beach and even had a pool and picnic tables in the backyard. Also staying there that same night was this 19-year-old French girl and her 50-something-year-old mom, who was on their way to O Porto (west of Lisbon) to meet her boyfriend. The mom use to work as a patternmaker for a French seamstress. She didn't make it seem like she worked at a fancy atelier, and the only thing she explained to me about it was that she use to make patterns for some designer, but the rise of Chinese manufacturing ruined her career. However, bored and no longer wanting to work, the 50-something-year-old French lady who rolls her own cigarettes (with filters) enjoys being a mom. When I met her, she was steaming Cauliflower in the hostel kitchen. She offered me some, but I politely declined. Although, in retrospect maybe I should have accepted her food offer and she wouldn't have been so cold to me afterward. I don't remember her whole theory on dating, but she didn't think it was cute that I liked to travel. She pours me tea and says, "And after you've seen the world, then what? Traveling gets boring." I grin and walk out onto the wraparound porch because I knew the debate that was coming next. The daughter was much more inviting, wanting to know who I think is the leader the fashion community, after I tell her that I (sort of), work in fashion. It's such a huge question, but she answered confidently "Kate Moss" with ease, and expected me to do the same. I could agree, but Kate Moss is slowly passing the reins to the Cara Delevingnes of the world. Ms. Delevingne is in dozens of magazine spreads, commercials, runway shows, on your favorite singer's Instagram and is even a stylish supporter of climate change.
Besides being in a swimsuit for most of my stay in Portugal, what also seemed to work and make me feel a bit fancier were my two Equipment blouses in hues of green that I purchased last season. My few pieces of clothing were perfect for the beachy countryside of Comporta. And although I only spent a short time there, it was enough for me to say that I officially have fallen in love with the food, the people and sunsets.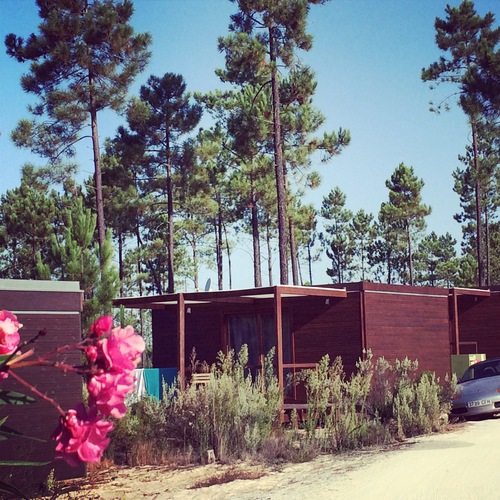 In Comporta, I decided to stay a night at an eco-friendly resort--sans the restaurants, spas and droves of people around a small pool reeking of chlorine. For one, to get to the camping grounds, there's a eight-kilometer drive on an unpaved road leading to a key-coded gate, then a few kilometers more to the actual cabins. My camping experiences from sixth grade sleepaways, music festivals in the desert, and even camping out on the beach in Hawaii couldn't trump "glamping" at Cocoon Eco Lodges, with an actual bed made for a princess and a pond made by a biologist. Interestingly enough, even with this fancy lodging setup, I still felt some of the elements of camping. For example, we arrived an hour or so before sunset with no food or water. I'm not sure if we expected a local Whole Foods, but anyone whose camped before knows to bring food because you won't want to go too far around camp when night falls. However, If you can understand why people travel such distances for tranquility, beauty and luxury than you can understand glamping. According to Glamping Hub, a start-up that promotes unique lodging experiences all over the world, Matthew Mcconaughey rented out "pods" for his wedding guests in Austin, Texas because he wanted people to experience nature and still feel comfortable with getting dressed up for his nuptial ceremony. Although I didn't see any famous people walking around the resort, I did recognize why this would be a good destination for families and creative couples.
This was definitely a unique breed of hospitality after my nights at an old four-story walkup house in old town Lisboa and sharing a bathroom beach hostel. If one were really to match a wardrobe to the landscape, I'd envision Marc Jacobs' recent showing of his Spring 2015 collection as a perfect setting (and climate) for satin and trenchcoat mini dresses with oversized pockets. Leather Birkenstocks and Stella McCartney's black and white plaid blanket coat to keep you cozy while chillin' on the porch of your cabin or watching the sky change colors while you rest on the dock, would also be fitting compliments to a proper camping escape like this one. Glamping was definitely an experience, with all the camping features that come with it. That is, being eaten up by the mosquitos, sleeping under a net, not realizing that I should have brought food to the campsite, getting up early, taking a dip in a man-made pond, and going to sleep early because there's nothing else to do when the wifi connection is bad.
Anyways, after eating the most delectable fish called "Halibut" at Restaurant Sal, highlighted in Condé Nast Traveler, I'm convinced Portugal is for drifters.