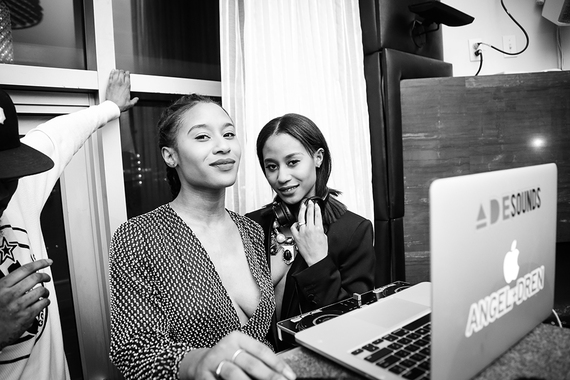 There are some shitty things about "doing" fashion week (insert your woes here) that are among the highest on my list. But there are some good things about New York Fashion Week. Like this year, All-Star Weekend was also happening, so there were lots of events to choose from and people to see. Noticeably, there was a rapper present at almost every fashion show and after party. If you're reading this, it's too late: Here are highlights of what people did last week.
The Best Twin DJs At New York Fashion Week: Angel + Dren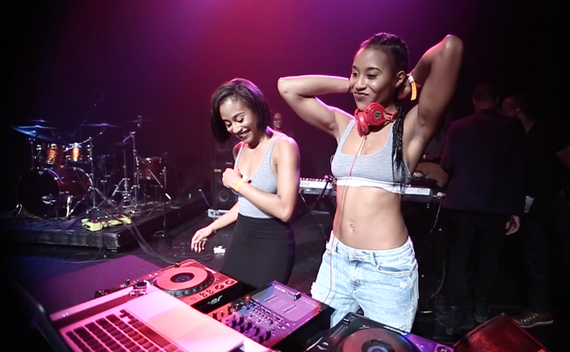 Angel + Dren's biological chemistry is evident, especially their shared style on spinning since they even learned to DJ at the same time. But Angel says that they don't always like the same songs, so playing it on repeat to either, 1) persuade her sister or 2) until it becomes annoying, is usually how a clash in music taste is settled. At the beginning of fashion week, I finally saw the twins perform on the rooftop at the Gansevoort Hotel for the Essential Homme magazine party. During their DJ set, Angel + Dren took turns playing international remixes from the Top 100 list, along with popular Rap and R&B songs, which had the crowd dancing and looking genuinely entertained. Although, I'm not quite sure who or which twin started playing some 90s tracks, that genre is always a good thing. The twins also DJ'd the Jonathan Simkhai presentation and often make appearances in Atlanta.
Rapper of the Event: Chingy
Best Finger Foods: Express x Stephen Curry Launch Event
Although, I didn't get to talk to NBA player and Creative Director Stephen Curry (maybe his GF's resting face deterred me), the food caught my attention. Shrimp cocktail on plastic straws, bite sized Tuna Tartare, mini burgers stacked on trays, and yummy cheese balls were heavily circulated around the room. Sports people get hungry.
Rapper Of the Event: Ludacris.
Best Crowd: Hyde Miami at Bounce on 21st Street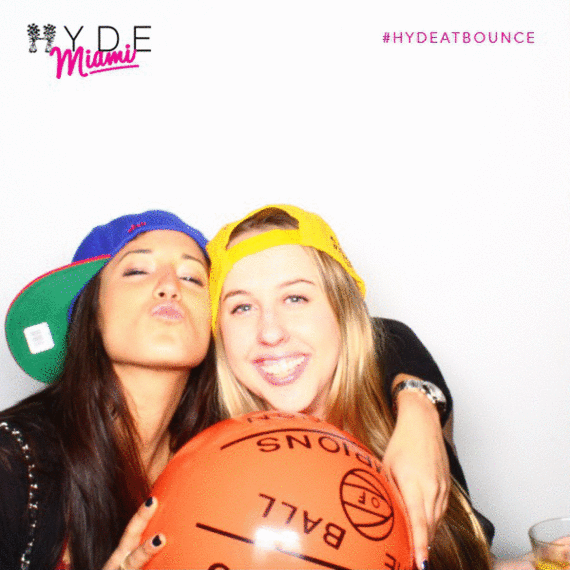 Bounce is a known stopping spot for Dwyane Wade and Gabrielle Union. Kendall Jenner was a no show even though she RSVPed (probably had to get her beauty rest), but that didn't put a damper on the crowd who was dancing and watching the game, and drinking all at once. The best of Bounce clientele and the best of Miami came together to bring some serious heat to New York. And we really needed it. Miami is known for throwing some of the best events in the world, so it was nice to see the Miami step into the New York scene and truly make a difference.
Rapper of the Event: Fat Joe
PHOTO GALLERY
NYFW Parties: The Scene After The Show Ends
Best Hospitality: Purple Magazine + Rag & Bone Party
Around 1 A.M on Monday, I headed downtown to the Standard East with a few writers and industry people to check out the crowd Purple Magazine managed to drag out of their beds. Upon arrival, I headed over to the super stocked bar for a glass of champagne and did not return. During a conversation about a It Girl throwing a fit because of the politics of the front row, a cute bottle girl topped off my champagne glass with Moet, and kept visiting us so we didn't have to push through dozens of people hanging at the bar. A writer from Guest of A Guest (which ironically described my status at this party), said that this was the best place to tonight and the whole week. However, the novelist I was with said differently because no one was dancing. Still, it was nice to see vinyls used during the DJ set, though I can't comment on the genre of music because I'm still not so sure what I heard.
Best People Of The Event: ATL Twins and Uma Thurman (mutually exclusive)
Best Music: Jeremy Scott After Party at Space Ibiza New York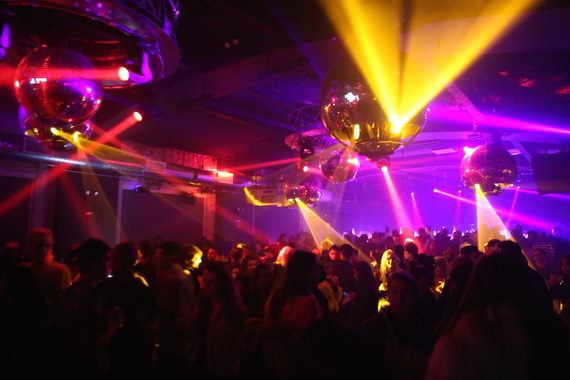 As one of the last parties of New York Fashion Week, after Kanye West made his umpteeth appearance at a fashion show, this time to see Jeremy Scott's collection, I was excited to see the crowd who would make it out to the west side highway. Scott's team did not disappoint to invite an eclectic mix of 80s inspired club hipsters with space inspired plastic head pieces and oversized sunglasses amongst many more rainbow, alien like costumes in a smoky, remodeled warehouse off of the West Side highway. Thankfully, I checked my coat, which consisted of registering it through a kiosk. My ticket was replaced with just a text messaged straight to my phone- nice! By 2 A.M. I spotted ASAP Rocky in VIP, along with a few other well known bloggers cutting up the dance floor. But 2:15 AM, this party girl needed her bed, but I was leaving behind a crowd turning up by the minute, and I'm sure that After Party lasted way past 4 A.M.
Rapper of The Event: A$AP Rocky
Overall Best Party Place: Up & Down / Duh NYC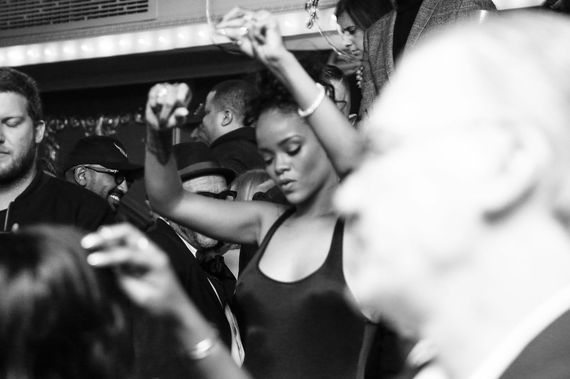 This is Up & Down's third season contributing to fashion week, and they've managed to host all the major and new musical acts on repeat. Influencers, musicians, artists and the fashion set including: Makonnen, Rihanna, Mark Ronson, Ludacris, J Cole, ASAP Ferg, Naomi Campbell, Rihanna, Kate Nash, Russell Simmons, Alexandra Richards, Hannah Bronfman, Kyleigh Kuhn, Chelsea Leyland, Timo Weiland, Leigh Lezark, Mia Moretti, ASTR, Brandee Brown, Wynter Gordon, Theophilus London, Becka Diamond, May Kwok, DJ Kiss, Richard Chai, Shaun White, and more people who were probably in the cut, all came out to show the club some love. There were always musical performances by some up & coming artist, like Justine Skye who performed at Galore Mag's Valentine's Day party. Interestingly the club almost acted as an official stopping place for anything at anytime of the night, as lines were down eighth avenue. Passers by had no idea what was going on, gawking at what people were wearing.
Rapper of the event: Dej Loaf (Although there were many more present)