I spent a few days in San Francisco about a week ago, after getting word that fashion editor-turned-blogger turned NorCal boutique owner Alicia Lund was hosting a unique pop-up shop and all her social media lovers, favorite bloggers, friends and family were invited. It's never too hard to consider a legitimate reason to head West (given the temperature here in NYC), so I packed my bags, turned on my OOO message and in the blink of an eye, I'm waking up on a 747 landing in the foggy 66 degree terrain far away from my boyfriend city. Prior to my arrival to the city by the bay, the city of digital techies, the land of Facebookers, Googlers and the capital of the gay community, I knew I was in for a treat; yet I was quite surprised to discover a rich, artistic culture and meet interesting people who quickly became new friends. That experience was unforgettable.
Aside from a much-needed break from the East Coast, I was excited to check out the clothing and the special collabs that you can really only get on the West Coast.. Alicia Lund from Cheetah is the New Black recently partnered with Cointreau for a special pop-up shop in San Francisco. Most recently, they have supported amazing events with various individuals in the creative, art and design world, just search #cointreaurickey on your social media platform of choice.
I chatted with Alicia at a delicious lunch spot called Bouli Bar, located right on the bay in the Ferry building. We discussed her career goals and in addition to her new store, Syllabus, that is located in her hometown Chico California. I couldn't help but sense a Southern vibe despite Alicia being a true California girl at heart. After a few years in New York, Alicia moved back to her hometown and expressed how weird the change was, but also how much of an inspiration it served for her store and its philosophy.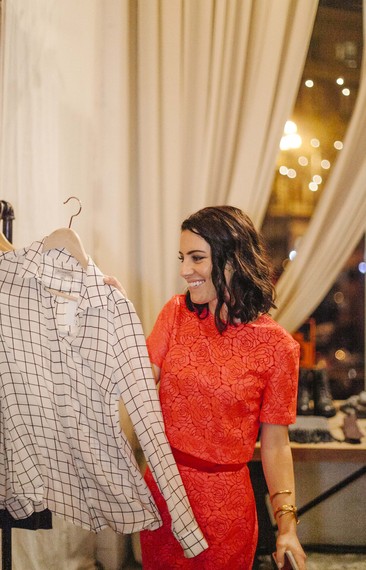 *Alicia looking radiant in an A.L.C. crop top and skirt.
"I'm thrilled to be partnering with Cointreau to bring a curation of my new women's store, SYLLABUS, and [introduce] some of my favorite New York brands to San Francisco. San Francisco will always be the city that feels most like home to me! I lived in here for over six years before moving to New York, and it's where Cheetah is the New Black began", continues Alicia. In the midst of this conversation, one of her people announced: "You're flowers have arrived!" And a big smile materialized across her face. I didn't know how exciting that statement was until the opening night of her pop-up shop, when everything started to make sense as I was surrounded by beautiful people drinking bottomless rickeys in an old piano barn. Still though, I got the feeling I was attending a special event, and as Alicia and I chatted more about herself, I think that it's admirable that someone who worked at Elle Magazine was able to transform and grow her career as a blogger and a purchaser of the trendiest clothing both in the market and in the magazines.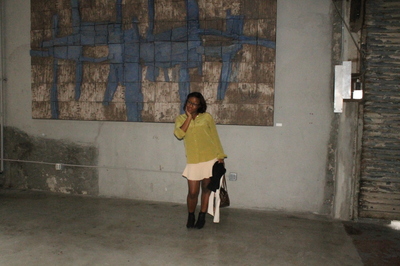 *Me touring HEATH CERAMICS factory
The next morning, I woke up super early to tour the Keith Haring exhibit at De Young Museum, I thought about all the events that ensued, and maybe the situations that fell short, yet still admiring the city for more than the men it attracts. Out of all the cities I've visited in the US, San Francisco can definitely top of the list for the most American-European landscapes. Sweater weather in the bay was the perfect way to end my stay with the most incredible pop-up shop presentation, as well as dinner at Bar Tartine, a restaurant owned by friends of Alice Waters.
In between shopping at stores like Unionmade, hanging out in Haze Valley, and going to museums, I made last-minute plans to see the Golden Gate Bridge. I took a cab to Chrissy Fields where Alicia told me to get coffee and walk along the beach, which was perfect because there's a cute little beach cafe, lots of bikers, runners and instagram worthy scenery. One thing to keep in mind is that there are no cabs or buses located nearby, so make sure you have enough time to get lost before you find yourself contemplating which person to ask for a ride to the nearest 7/11 in the Chrissy Fields parking lot. True life, it almost happened to me.
Overall, the Cali style and weather also reinforced the reasons why I love the designers I am currently rocking. That is, Equipment blouses for an easy and effortless look; Miansai: I finally got the bracelet on my wish list from the pop-up shop; and A.L.C , the brand Alicia wore the night of her party as she matched her decoration. It was all that can be envisioned if a fashion editor and a fashion blogger had a boutique where all their favorite things would be included in some way in addition to displaying any item they ever told their readers about. All in all, I got to attend a chic so-cal fashion party, toured a great city with nice views, and drank some amazing concoctions with meeting some amazing people along the way.
PHOTO GALLERY
Fashion Editor Turned Blogger Turned Boutique Owner's Pop Up Shop