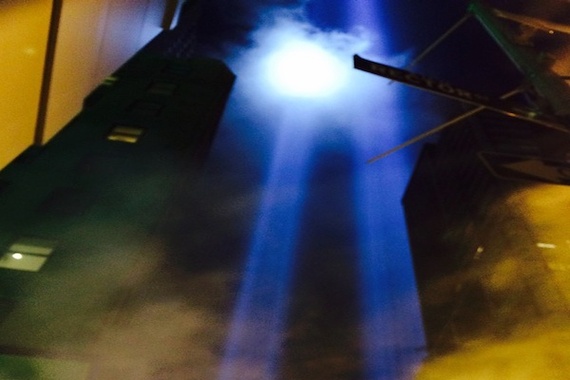 It started out like any ordinary Tuesday morning. I walked along 26th Street in Chelsea carrying my strawberry and granola parfait, and waved to the fortune teller sitting on the corner.
"Good morning, Summertime," she said, as I winked at her.
The phone was already ringing when I arrived at the news bureau to begin preparing the rundown for our live news hits that day. When I picked up I heard my NASDAQ reporter on the other end yelling, "the World Trade Center is on fire!" I turned on the TV and saw the first tower blazing like something out of a sci-fi battle scene. Our camera crew called and said they were racing to the financial district, where a number of our regular morning-show guests worked. Suddenly, an airplane hit the second tower. I screamed. Moments later, our colleagues in Washington, D.C., called to report that the Pentagon was attacked by a third plane.
"We're under fire!" said my producing partner, Jessica. And then. The earth stopped.
Our small production team worked until midnight that day and every day of the month after 9/11.
The next morning, I walked to catch the bus on my corner in the Upper East Side at 6:00 a.m. The streets were dark and empty; all of their colors had slipped into the sky. When I reached 26th Street, my fortune teller wasn't there.
I'll never forget the pain and sorrow in the faces of people who posted countless Missing Person signs on the subway station walls. I lost my college roommate earlier that year in a tragic accident, and I still hadn't recovered. "How will an entire city and country ever recover from this?" I wondered.
I'll never forgot the feeling of despair pervading New York, and I'll never forget the bravery of the FDNY and NYPD and the overwhelming pride and solidarity that kept the city breathing.
I'll never forgot the bomb scare alerts that sounded off daily for weeks after the tragedy occurred, and I'll never forget the outpouring of calls from friends and family members reaching out to see if my friends and I were alive and to say, "I love you."
I'll never forget the anthrax attacks that hit the country triggering more fear, making us all afraid to open the mail, and I'll never forget the kindness of strangers in the streets.
Most of all, I'll never forgot feeling for the very first time that Manhattan was more than just an unforgiving microcosm of the world dominated by rapacious ambition. For a brief moment in time after 9/11, NYC felt like a community, like a soft place to land. "We'll recover from this," I thought. And so we have, and so we will again.