As a person whose closet tends to bear out the idea that fashion people and New Yorkers alike wear a tremendous amount of black, the love that I have for neon may come as a surprise. But I've started to think of it almost as a perverse neutral -- highlighter-bright puce goes with nothing as much as it goes with everything. But I've come to realize that my affection for certain shades has reached somewhat embarrassing levels of collection. Yesterday, my fellow editor noticed me slipping off my flat neon green-trimmed sandals for my similarly hued suede high heel sandals -- both of which coordinated with swath in my plaid dress. Embarrassing, yes, but made even more so by my own internal self congratulations that morning for leaving my matching bracelet (Tom Binns acid bright crystals, swoon), my matching headband and my matching clutch all in my closet.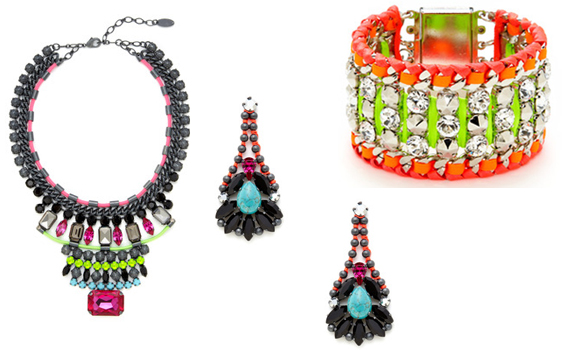 So how much is too much neon and how much is the drop that brightens up your whole look? Limiting the pops of color to 1-2 items per outfit and spacing them out on your body over an otherwise neutral color palette goes a long way towards a chic look, where as three or more neons in one outfit may make you look like you are dressing up as an '80s pop star for Halloween. Black and white take on neon shades particularly well, with the high contrast working perfectly. A little black dress with one fabulous piece of neon bright jewelry (I'm particularly fond of these LK Jewelry by Leetal Kalmanson with a strapless cocktail dress) or a white silk blouse and cuffed boyfriend jeans with a bright sandal look so fresh for the summer.
If you are wearing a piece of neon clothing, then dial back on the color in your accessories -- bold gold or silver pieces without stones and true neutrals for shoes and bags. A rich tan or beige leather looks fantastic with electric brights, especially with a hint of a tan. So, however you want to wear this season's acid colors, you can -- just really take to hear the old axiom about taking one thing off before you leave home, especially if that something is a multiple neon.