When I was little, I wanted to be That Girl, from the TV show starring Marlo Thomas. In my 20s I moved to New York and set about to define my career and conquer the city. It worked for awhile, but before I knew it, I was married with children, living in the Maryland countryside and driving a minivan.
Most recently, after a series of unfortunate events and a nearly empty nest, most of which I've written about in this blog, I'm back to square one, but with a lot less vigor and verve. I've learned plenty about life along the way -- so much so that if I were able to go back in time and take something non-material with me, it would be the knowledge I've accrued about relationships, money, and career. That said, I know there are no guarantees I wouldn't have made the same mistakes twice. Conversely, if I were to leap forward from my 20s to today, and bring something with me, it would be my younger self's sense of wonder. It's not that I'm jaded exactly, or that I don't look forward to new things. It's just that the level of joy I feel at this stage of life might be compared to the lowest setting on a fan, and it's not enough to cool me. Luckily, the past and the present sometimes converge in unexpected ways.
Last weekend, on a cold and snowy Saturday evening, my husband and our teenage son -- in New York to visit a college to which he was accepted -- strolled the busy sidewalks of Times Square. They came upon tourists and Disney characters, Spiderman with a fanny pack, a man painted in gold and carrying a golden cardboard ATM box, and a night sky lit up by the glow of giant neon signs. The soundtrack to their evening spectacle was a cacophony of voices, car horns and street musicians. It was far from the suburban landscape of our son's middle-school years and light years from the countryside he had known before that. My husband saw him take it all in, watched him forget it was frigid and his boots were wet, forget he was a self-conscious teenager, and let him just be. And while our son was looking here, there, and everywhere, his father recorded the image of him, accompanying this blog.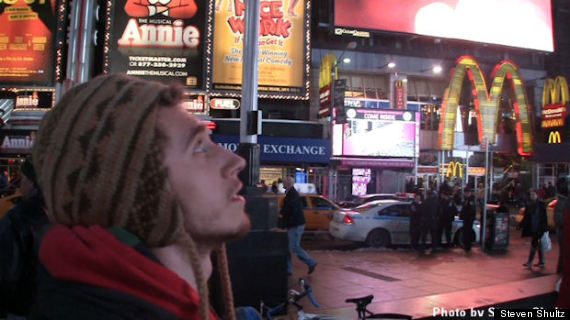 The moment I saw it, I was transported. The expression on his face was my expression 27 years ago. Not only did it thrill me -- after all, my college-bound kid was happy, engaged, and aware -- but when I saw him against that New York City backdrop I thought, it's That Boy. That Girl had a baby who grew up to be That Boy, which now makes me That Woman, and maybe I've still got some career defining and city conquering of my own to look forward to.

And I didn't even have to time travel.
Join me next Monday for another installment of The Pre-Empt Chronicles, as I transition from full house to empty nest.

Earlier on Huff/Post50:
PHOTO GALLERY
Milestones Through the Years