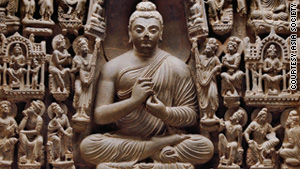 The Buddhist Heritage of Pakistan: Art of Gandhara at the Asia Society -- What happens when an irresistible force meets an immovable object? Melissa Chiu's diplomatic coup.

When considering Asian art, Pakistan (particularly of a Buddhist nature) might not be the first place to come to mind, but the more worldly Americans realize that Asia covers a lot more than the "Orient."
There is a continuance from the Turkic tribesman of Asia minor to Uyghur (Chinese Muslims) to the Mongols to the Han Chinese as well Japan, Korea, Vietnam and all of East Asia. Even New Zealand and Australia are represented by the Asia Society.
The Asia Society takes on all of the above and more. It is in the process of sharing Buddhist art from as seemingly unlikely a terrain as Pakistan, a country where Buddhism predated many other of the area's religions. This collection, well covered and reviewed in the New York Times and other media turned my interest towards the Asia Society in general, and led me to Melissa Chiu, President and Director of the Society's Museum. I recently conversed with Melissa at the offices of the museum -- a bright and modern space, as opposed to the relaxing and exotic sanctuary that lay below. Chiu, who was raised in Australia, of Chinese and Aussie parentage, seems to be born for her role in the promotion of Asian art.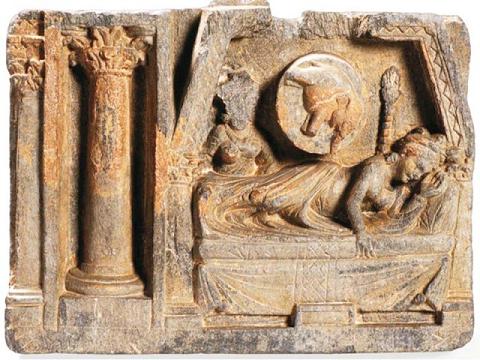 A noted author (Chinese Contemporary Art, Art and China's Revolution ) and prolific lecturer (Harvard, Yale, Columbia, just to name a few) Ms. Chiu is surprisingly young. She is slight yet formidable, almost like a heroine in a romance book. But Ms. Chiu 's world is the opposite of a gothic novel, it is more a thriller of high-powered deal brokering and delicate politics.

Chiu (as recruited by the AS) came to the society in 2001, leaving her post as the founding director of Sydney's Asia-Australia Arts Centre. In New York, she became the first curator of contemporary Asian art in the U.S. and was named museum director in 2004.

MBG: You chose to model your career around Asian Art -- was it because or despite of your background -- or is it a non issue?

MC: Although I was raised in Australia, I did spend much time in Hong Kong -- I have much family
in Asia and visited often. Things are complex these days...
MBG: So, you would consider yourself a "Citizen of the World?"
MC: Yes, that is a way to look at it.
MB: Considering the vast amount of geography and religions in Asia, does it even make sense to
identify as "Asian?" Some people are, at least on paper...
MC: The people of different countries do see themselves defined by their nationalities rather than
the continent itself.
MBG: Are you yourself an artist?
MC: (a quick and gently firm) No...
I found myself smiling at that, as so many people I have met who have ended up working on the periphery of the art world were "struggling" artists at one time. This was not Ms. Chiu's case, nor did she come across that way.
MBG: Was the Asia Society always so inclusive of these several cultures? Did it always represent the diversity of the continent as it does today?
MC: We were founded by John D. Rockefeller III and yes, from the very beginning he was
looking to establish communication and relationships between the countries themselves and the rest of the world. Initially established to promote greater knowledge of Asia in the U.S., the Society today is a global institution.
MBG: There is a lot more that art being tossed around here.
MC: Yes -- with offices throughout the U.S. and Asia -- educational mandate has been filled through a wide range of cross-disciplinary programming. As economies and cultures have become more interconnected, the Society's programs have expanded to address this.
MBG: Has there been any shift away from or towards the Islamic projects since 9/11? Is Islam
a more sensitive subject to approach? Were you involved in the politics?
MC: Yes I was in constant touch with the representatives in Pakistan and the situation has
become even more difficult since the recent events (I had asked her about the bin Laden effect on
the project). It was six months late.

MBG: What were some of your challenges?

MC: People had trouble getting visas as U.S.-Pakistan relations are probably at their lowest ever,
The bin Laden raid, the Raymond Davis incident ( Davis -- a private contractor for the C.I.A. killed two reportedly armed men in Lahore). Lahore was the city where the art was -- in its museums. It put the show in jeopardy. The death of a major advocate, Richard C. Holbrooke -- senior diplomat for Pakistan and a former chairman of Asia Society, also complicated matters. There were problems with getting American visas for the Pakistanis chosen to accompany the objects to New York. I could travel easily to Pakistan, due to my Austrailian citizenship. I was in contact with Shahbaz Sharif (minister of the province) knowing that I would have to persuade him to help me set up meetings and I had great assistance from the United Nations.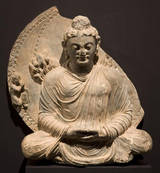 Buddhist civilization of Gandharat flourished in northern Pakistan 2,000 years ago, almost foundered. Ms. Chiu said her argument to Pakistani authorities -- that showing the antiquities in New York could help counterbalance the image of Pakistan as a dangerous place, was a tough sell."I persisted because this is a unique opportunity for us to show the cultural heritage of Pakistan."

As we wound down during our chat I asked the rather naive question if the sharing of art could
cause "world peace." Chiu wisely made no assurance of that being the case, but we both agreed it
couldn't hurt!
Images courtesy of the Asia Society.