Last night, girls across Los Angeles who were lucky enough to score a coveted invite gathered to fete the debut of Shareen, Shareen Mitchell's flagship womenswear shop on West Third (8377 West Third Street LA CA 90048). Shareen Vintage has long been hailed as the place to go for the best vintage in Los Angeles, but this shop isn't about vintage. It's devoted to showcasing Shareen's line of gowns and ready to wear pieces. And as much as I love vintage, I loved her line, and the space it is housed in, even more.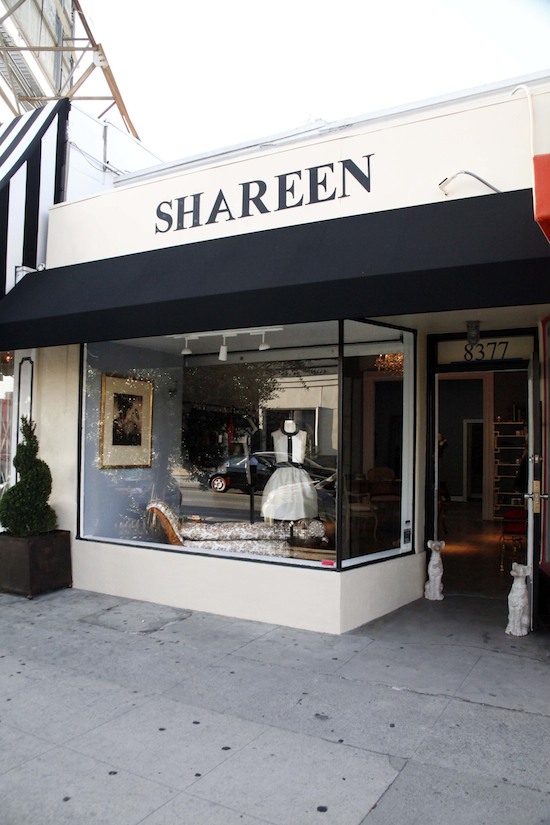 (Photo: David Cortes)
Shareen on West Third is like Shareen Vintage's chicer, Parisian cousin. Here, Shareen Vintage's romantic, "no boy's allowed," warehouse has been replaced by a perfectly appointed atelier devoted to gowns, gowns and more glorious gowns. Anyone who has been invited to a red carpet event or wedding lately and was less than impressed by upscale department stores' exorbitant pricing and lack of fashion imagination will fall in love with Shareen Mitchell's collection. Each dress is more exquisite than the last, with rich colors, flowing silhouettes, impeccable tailoring and lush fabrics. Prices range from $98 to $ 698. The best part? If they don't have exactly the color or fabric you're looking for, Shareen offers made-to-order gowns as well (for brides as well as their maids).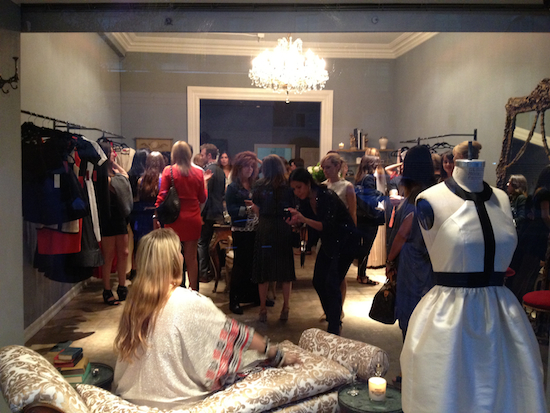 (Photo: Aaron Godfred)
The opening event made it abundantly clear what Shareen is all about: uncompromised glamor that caters to the everyday woman. Champagne in flutes was tray passed around the room, along with delightful bites as attendees were invited to indulge in what was literally a feast for the eyes. Between the decadent gowns and the gorgeous yet subtle pieces of furniture and accessories in the store, I simply didn't know where to look. The highlight of the night was when guests were invited out to the street for an impromptu fashion show, with an eclectic array of models making their way down the street in Shareen designs. The sidewalk instantly transformed into an urban runway, perfectly lit by the city lights as the girls literally stopped traffic.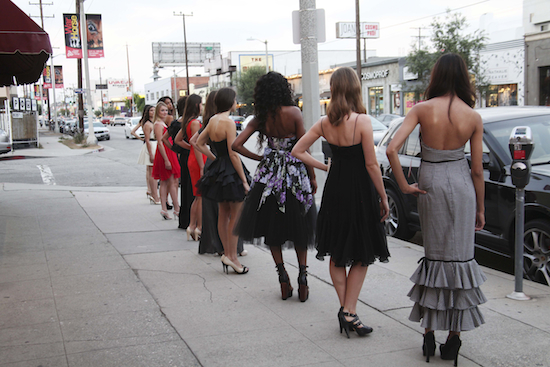 (Photo: David Cortes)
Mitchell noted her extensive, vintage fashion education over the past nine years as what prepared her for debuting her collection. After studying every piece, every seam and every designer from every era, she was ready to use her inherent appreciation for beauty and the female form to conceive a line that is truly breathtaking.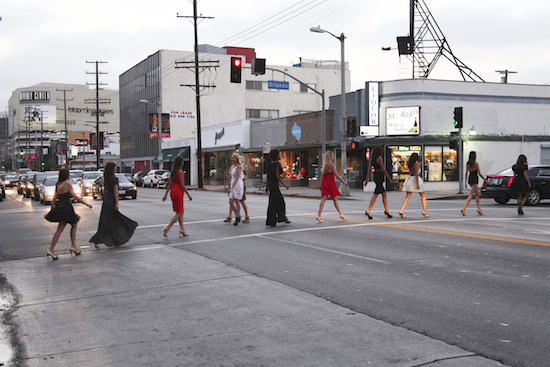 (Photo: David Cortes)
As all "Shareen girls" (as Shareen followers are affectionately called) will tell you, Shareen Vintage is one of Los Angeles' best kept fashion secrets. If the debut last night was any indication, there's no way Shareen on West Third will stay a secret for long.