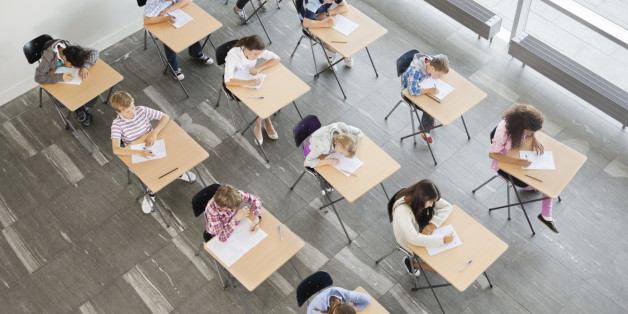 On June 5, 2014, Oklahoma Governor Mary Fallin signed legislation repealing the Common Core State Standards (CCSS). Fallin told Politico that the CCSS term had become so tainted that it was time for CCSS to go:
"The words 'Common Core' in Oklahoma are now so divisive that they have become a distraction that interferes with our mission of providing the best education possible for our children," Fallin said.
Initially it seemed like Fallin might exercise a pocket veto in favor of "rebranding" CCSS as "Oklahoma standards" (see my May 24, 2014 post). After all, she is the current chair of the National Governors Association, part owner of the CCSS license.
Initial reports noted that Fallin had until June 2 to sign Oklahoma's CCSS-repeal bill into law. However, in her June 2 article, Susan Berry of Breitbart noted Fallin's deadline was June 7.
Fallin did not wait for the deadline.
In an interesting twist, Jeb-Bush Chief for Change, Oklahoma State Education Superintendent Janet Baresi said she supports Fallin's decision. As Politico reports:
Oklahoma state Superintendent Janet Barresi, also a onetime supporter of the Common Core, said that as the standards became tied to the federal government, she changed her mind.

"At one time, as it was emerging from Republican and conservative ideas from individual states, I did support Common Core," Barresi said in a statement. "As it has become entangled with federal government, however, Common Core has become too difficult and inflexible."
Jeb Bush, who continues to show outspoken support for CCSS, has foundations that have accepted millions to promote CCSS. He is even willing to sacrifice America's children's self esteem for some perceived international superiority magically achieved by an untested CCSS. As Bush told the Miami Herald in April 2014:
Bush has repeatedly explained the [Common Core] standards, implemented and controlled by the states, are designed to make the United States more competitive with the rest of the world. He said those who oppose the standards support the "status quo," oppose testing and are worried too much about children's self-esteem.

"Let me tell you something. In Asia today, they don't care about children's self esteem. They care about math, whether they can read - in English - whether they understand why science is important, whether they have the grit and determination to be successful," Bush said.

"You tell me which society is going to be the winner in this 21st Century: The one that worries about how they feel, or the one that worries about making sure the next generation has the capacity to eat everybody's lunch?" [Emphasis added.]
I guess Oklahoma Governor Mary Fallin isn't so interested in "eating everybody's lunch."
Here is the post I wrote detailing the legislation Oklahoma lawmakers approved on May 23, 2014, outlining the process to replace CCSS with state-based, state-decided, stakeholder-vetted English and math standards.
The Oklahoma legislation involves a careful process that legislators realize takes years. The Oklahoma process is nothing like the instant "process" Indiana exercised in supposedly "repealing" CCSS.
Until the new assessments are in place, Oklahoma will return to its former state standards. This is a major difference between Oklahoma and South Carolina, a state that supposedly dropped CCSS on May 30, 2014 -- but not until the 2015-16 school year. South Carolina is still in CCSS for another year -- which places it in a dangerous, CCSS-retaining position.
Of course, CCSS-peddling Mike Petrilli of the Fordham Institute tried to convince Oklahoma to keep CCSS. Petrilli has been travelling from state to state as a standards "expert"- whose "expertise" is in selling CCSS- even in states that had standards Fordham Institute graded as equal to or superior to CCSS.
Ironically, Petrilli told Oklahoma that repealing CCSS would "breed cynicism and distrust among educators and interrupt real progress"; that repeal would "waste money," and that Oklahoma would no longer be part of the CCSS "wave of innovation."
CCSS "wave of innovation" = Bill Gates' desired education "scale" that will "release powerful market forces" right into Pearson Education coffers.
When Oklahoma signed on for CCSS in 2010, Petrilli did not bother talking Oklahoma out of their decision despite the fact that Fordham Institute graded Oklahoma's standards in both English Language Arts and math as "too close to call" in comparison to CCSS.
Thus, according to Fordham Institute's own 2010 state standards/CCSS grading, Oklahoma's decision to adopt CCSS in the first place was a lateral move- both disruptive and unnecessary as concerns "improving" education in Sooner state.
Governor Mary Fallin is restoring some order. And wonder of all wonders, State Superintendent Janet Baresi appears to be following along.
A version of this post was originally published on 06-05-14 at deutsch29.wordpress.com