By day, Beatriz Cardenas (who goes by Bea) is the director of global communications for Bumble and Bumble, the salon and haircare company beloved by celebrities and fashion folk. But after she got engaged two years ago, Cardenas took on a second full time gig: planning her June wedding with characteristic attention to detail.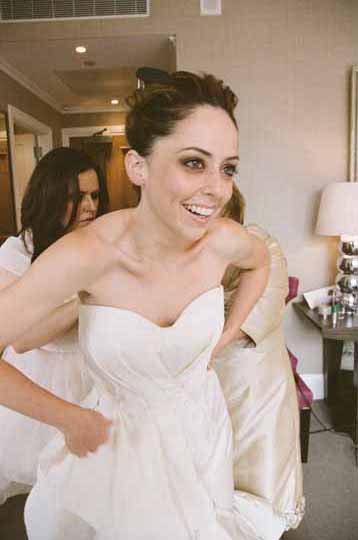 Cardenas getting dressed for her wedding
"I do so many events because of my job -- it was like planning one big PR event, but way more personal and way more intense," Cardenas told Leah Chernikoff, a regular contributor to The Inside Source, eBay's digital style magazine, who wrote the article in its original form.
Here's what she means by "way more personal": Save the date cards were photos of Cardenas and her now husband, John McMonagle, as Samantha Baker and Jake Ryan in Sixteen Candles recreating that famous dining table scene. On their first date, Cardenas and McMonagle bonded over their love for all things by Wes Anderson, especially the Royal Tenenbaums, so the wedding party had a Royal Tenenbaums-themed photo shoot in advance of the wedding, and photos as well as props from the shoot were scattered throughout the venue. Escort cards were vintage lockets with table numbers printed inside, affixed with bits of lace to vintage suitcases. Invitations were printed on vintage napkins and RSVP cards were vintage postcards with imagery of the Manhattan bridge, since Smack Mellon Studios, the wedding venue in Brooklyn's Dumbo neighborhood, provided a clear view of the bridge. And the list could go on...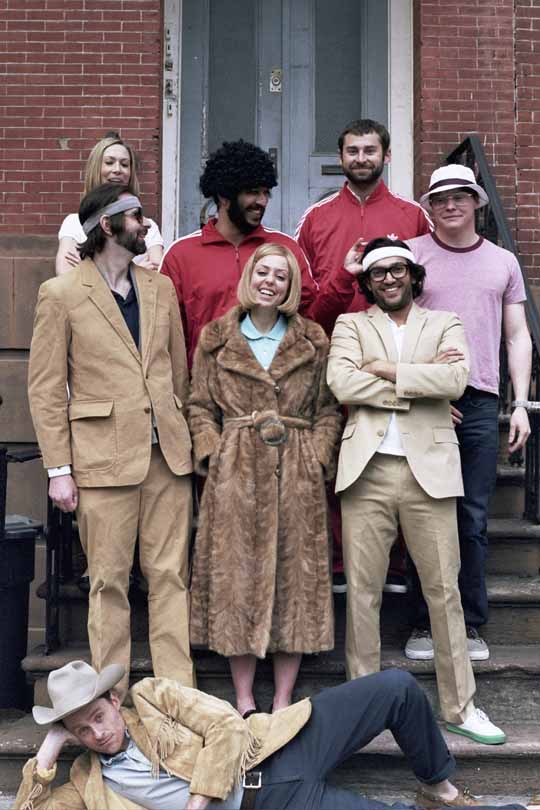 The wedding party had a

Royal Tenenbaums-themed photo shoot.
"What attracts me to eBay is you can find whatever you want and make it completely original," she said. "It's a pretty handy tool for making your wedding personal. Especially when you want stuff that's on a very specific theme." Like, say, Royal Tenenbaums, or, as Cardenas puts it: "third grade in the 1960s... old and eclectic."
The dress she wore to channel Molly Ringwald in Sixteen Candles for her save the date cards? eBay. The costumes and props for the "Royal Tenenbaums" shoot? eBay. The vintage napkin wedding invites? eBay. The vintage postcard RSVPs? Also eBay.
One of the best examples of Cardenas' eBay wedding mastery is her escort cards (she had to explain to me that these are the little note cards that tell guests where they're seated). "Every single element is eBay," she said. "The typewriter that I used to type guests' names on the hang tags is from eBay, and I sourced all the vintage lockets from eBay... Then I wanted vintage lace to tie the hangties to vintage suitcases, and that came from eBay, too." Of course, the lockets hold personal meaning, too, beyond serving as a thoughtful favor for guests. "The first present John gave me was a vintage locket," she explained.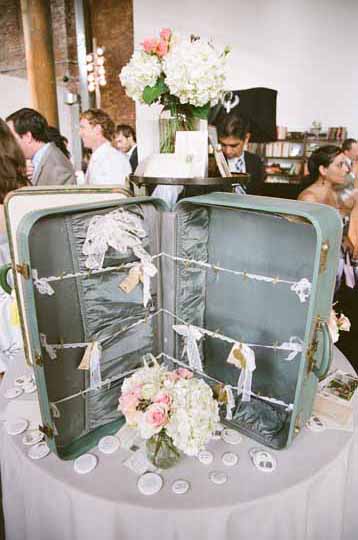 Escort cards made of vintage lockets tied with lace onto antique suitcases.
To learn more about Cardenas' wildly creative wedding, see more photos and check out her eBay picks (and favorite sellers), click here. For more eBay wedding stories, click here.
Follow The Inside Source on Twitter and Facebook.
This article was written by Leah Chernikoff. Photos courtesy of Bea Cardenas.