Designer Billy Reid, who was recently awarded the 2010 GQ/CFDA Best New Menswear Designer in America prize, says he is devoted to "well-made pieces that look better with age...from a turn of the century antique lamp to a wax cotton hunting jacket."
It turns out that Reid appreciates this timeworn aesthetic in both fashion and in interiors. On the occasion of Earth Day, he told Chris Frey, a regular contributor to eBay's digital style magazine, The Inside Source how he has used reclaimed materials to furnish his home and stores.
The following is an excerpt. For the full article, click here.
Designer Billy Reid describes his forthcoming fall collection as "Southern preppy meets workwear junkie meets East Village folk." These days, while many designers are producing collections that strive to emulate American country life in the early 1900s, Reid has gone a more authentic route, striking partnerships with classic Americana brands like Levi's and Stetson.
His New York flagship store, where you can peruse the collections while sipping a sweet tea or bourbon, is completely furnished with reclaimed materials. Reid says of the painstaking, but ultimately rewarding process: "We searched and gathered for several months to stay true to this project... We transported things like antique apothecary cabinets, 20 black walnut church pews, heart pine floor joists that we milled into flooring, and 35 paneled doors from an abandoned school in Jackson. I love antiques and taking something with a sense of history and making it useful in a modern world."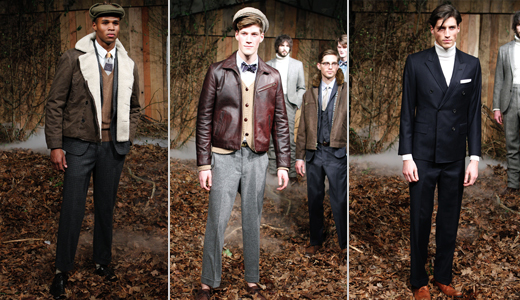 Click here to read the rest of the article.
(Images provided by Billy Reid)