The following is a post by Matt Shepatin, a regular contributor to The Inside Source, eBay's digital style magazine.
Entering these NBA Finals, many experts opined that for the Dallas Mavericks to outlast the star-studded Miami Heat, Dirk Nowitzki would have to give an MVP performance.
Nowitzki led his team with 27 points and eight rebounds in Dallas' Game 1 loss, scored the final nine in the Mavs' stunning come-from-behind 95-93 victory in Game 2, and finished Game 3 with a game-high 34 points, accounting for 15 of the Mavs' 22 points in the fourth quarter.
Sounds like an MVP performance to me.
Only problem is that Dallas is down 2-1 while the Heat are two games away from subjecting everybody outside South Beach to the most nauseating victory dances in history.
The cruel twist of fate, if you're a Mavs fan, is that previous playoff runs have stalled as a result of a swiss-cheese defense letting down a dynamite offense. But thus far in this series, it has been the exact opposite.
The Mavs have done an admirable job defending against the Heat. Sure, the Big Three -- Dwayne Wade, LeBron James and Chris Bosh -- have resembled the Harlem Globetrotters for stretches. But Dallas has also been able to clamp down on Miami in the second half of games and give themselves a chance to win at the end.
If Dallas is to derail Miami's momentum and buck history -- none of the 11 teams who lost Game 3 after splitting the first two in this 2-3-2 format have gone on to win the championship -- they need to start fighting fire with fire. Based on what we've seen from the Mavs over the first three games, don't hold your breath.
In Dallas' Game 3 loss on Sunday, Jason Terry was the only Mavs player not named Dirk to score in double-digits, and even Jason "The Jet" Terry is shooting an uncharacteristic 38.2 percent from the field and is an anemic 4-for-12 on 3-pointers in the series.
Along with Terry, guards Jason Kidd and J.J. Barea have also had their fair share of open looks, yet have failed to find the bottom of the net. As for veteran sharpshooter Peja Stojakovic, he hasn't been an effective scorer either.
Nowitzki has to be praying that one of the guys wearing the same color jersey as him steps up to become a deadly offensive weapon for the rest of the Finals. Either that, or that Mavs billionaire owner Mark Cuban can successfully clone the 7-foot German star forward before tonight's tip-off. At this moment, we're not sure of the better odds.
Finally, if fan spirit if any indication of a team's success on the court, consider the following: During the month of May, "Miami Heat" boasted 83 percent more listings on eBay and 56 percent more in sales than "Dallas Mavericks".
But excitement for the Mavs is growing: Sales for "Dallas Mavericks" rose more than seven-fold from April to May, while those for "Miami Heat" only tripled. Further, the average price of Mavs-related goods is higher (at $143) than those from the Heat ($119.08).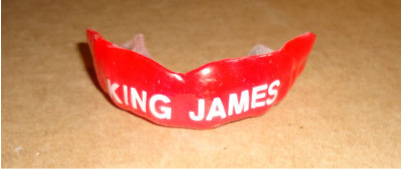 Show your team spirit with souvenirs from the NBA Finals. We found LeBron James (used!) mouthguard, yours for a mere $999.99. For more clever finds, click here.